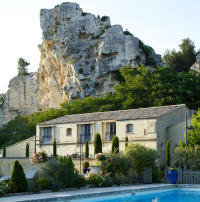 Thanks to a ruined fortress, shop-filled alleys, an expansive view over the plain and an enchanting sound-and-light show in the Quarries of Lights, Les Baux-de-Provence is an in-season crowd pleaser. But Corinne LaBalme prefers to be pleased without the crowds, so she came in October to visit Oustau de Baumanière and La Cabro d'Or, sister Relais & Chateaux-member resorts with all the trimming.
* * *
In 1954 three Michelin stars landed on Les Baux de Provence, an isolated hilltop aerie 9 miles (15k) north of Arles. They fell specifically on Oustau de Baumanière, a hotel/restaurant nestled in the trees below the fortress. The personal automobile gave gourmets the means to get there by way of the winding road that snakes through dramatic white walls of rock leading to Les Baux, testament to the mining for bauxite, a mineral that took its name from the village. Offering magnificent glimpses of the Luberon, Mont Ventoux, the Rhône Valley and the local vineyards, the route alone makes for an exhilarating approach.
Michelin's weren't the town's first stars. The first settlers claimed kinship to Balthazar, one of the three sky-gazing kings in the Christmas story. After that, the history of Les Baux falls into the ill-starred category befitting of a zone that would come to be called the Valley of Hell.  The most notable former residents include beautiful black widow Queen Jeanne, smothered to death by a jealous cousin, and evil Raymond of Turenne, who laughed as he pushed his enemies off the town's vertiginous cliffs. In 1632, weary of policing a precinct that thrived on internal conflict and political chaos, Louis XIII's right-hand man Richelieu ordered the ramparts to be razed while taxing the residents to finance the demolition.
The result of Richelieu's meddling is a romantic ruin of a fortress, the stuff that postcards were invented for. All through the summer, the slim mountain access road is choked with tour buses, slowing traffic to a diesel-scented standstill.  Sightseers dream of parking places that may never materialize, making the 'Valley of Hell' appellation quite understandable. Yet, on a sunny day in October, we had to watch the dashboard to make sure we weren't speeding. Off-season, the road is almost vacant.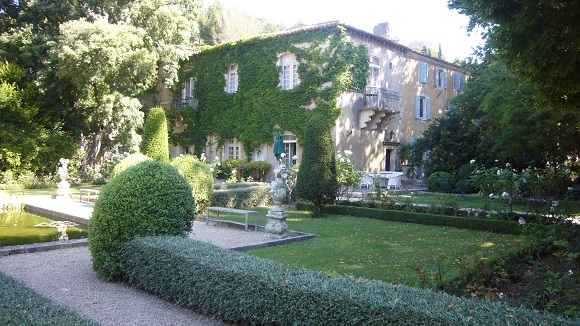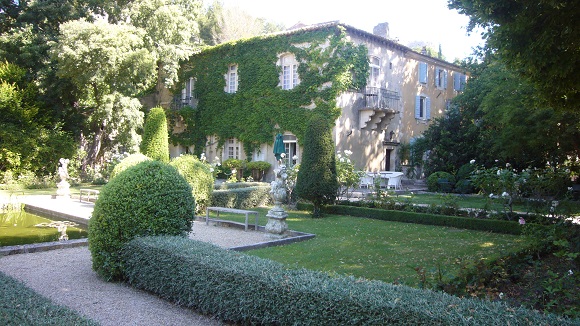 Oustau de Baumanière, a 5-star hotel, is a sprawling ensemble cluster of buildings (14th, 16th and 18th centuries), tennis courts and heated swimming pools. Queen Elizabeth stayed in the main hotel in 1972. Her ex-suite, N° 2, has a working fireplace that wouldn't be out of place in Buckingham Palace. The hotel still houses Les Baux's premier restaurant (currently awarded two stars by Michelin).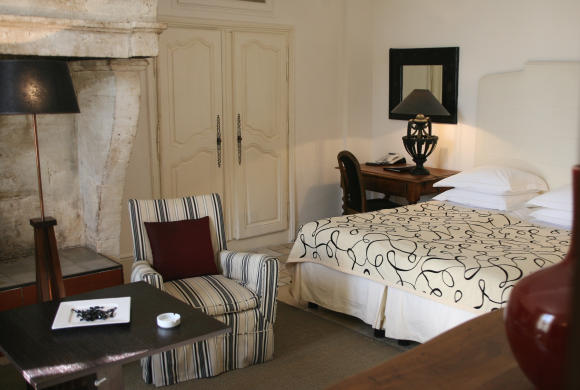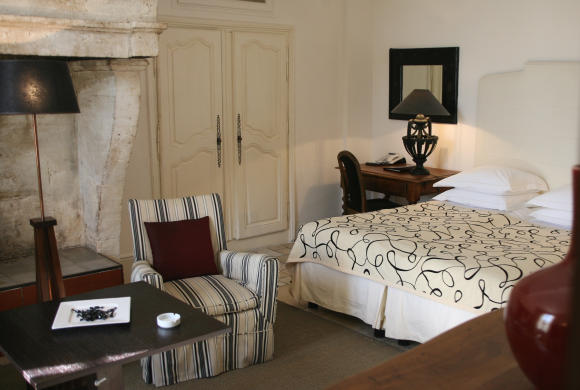 But for sheer romance, nothing beats the portion of the complex called Le Manoir, an 18th century dream-house with its own private rose garden. Here, the suites are far bigger than necessary (of course, one doesn't come here for the bare necessities). Room 15 has two ballroom-sized rooms and two rough-hewn marble bathrooms, one with an oval bath-tub and the other with giant walk-in rain shower. There are two stone fireplaces as well, along with excellent wifi, cable tv, minibars and coffee machines.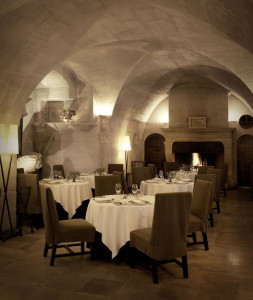 There's no restaurant at the Manoir, a half-mile from the main building of the Oustau, so that means heading through the woods to the enclave's two restaurants. At the two-starred Oustau, chef Sylvestre Wahid put together some major miracles like delicate scallop carpaccio layered with foie gras, stuffed rouget, agneau en croûte with a lush rosemary sauce, and a deconstructed lemon meringue pie. The 60,000-bottle cave has something for everyone, from a 2011 Cassis (30€) to 1961 Hermitage la Chapelle (9,000€).
A second restaurant is at Oustau's sister 5-star hotel La Cabro d'Or (meaning The Golden Goat), a hotel that might hold special appeal to traveling (upscale) families with kids who would enjoy the proximity to a mini-farmyard with dwarf goats. Compared to the Oustau, Michel Hulin's menu at La Cabro d'Or is less formal and easier on the high-end budget with a 56 € lunch that includes wine. The chef trained at Château Les Crayères in Reims and the Près d'Eugénie in Eugénie-les-Bains. Though La Cabro is starless in 2014, Mr. Hulin's ultra-light crabmeat/crayfish salad with fresh brousse cheese is nearly addictive. Happily, the hotel has a little van that can scoot guests between locations because the property is big enough to get lost in. The Spa Baumanière is nearby.
So… ready to enjoy Les Baux without the crowds? When you make your reservations, just make sure the restaurants will be open if you don't want to head into the village. The Oustau kitchen closes down in January while Sylvestre Wahid heads for Courcheval's Le Strato, although the Cabro d'Or stays open except for Sunday and Monday. Needless to say, these are fine places in season as well.
Oustau de Baumanière. Chemin départemental 27 (route 27), 13520 Les Baux-de-Provence. Tel: 04 90 54 33 07.
La Cabro d'Or, Chemin départemental 27 (route 27), 13520 Les Baux-de-Provence. Tel. 04 90 54 33 21.
Bikes can be rented at both hotels. Two or four wheels will get you to plenty of olive oil producers and winegrowers in the surrounding area.
Both resorts are Relais & Chateaux members.
Official Les Baux-de-Provence tourist information site.
© 2014, Corinne LaBalme