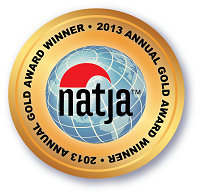 The North American Travel Journalists Association (NATJA) has announced that Gary Lee Kraut, editor of France Revisited, won GOLD in the 2013 Annual NATJA Awards Competition for best article written for the internet in the Culinary Travel category. His winning article "Drome Provencale: Eat Like a Sixth Grader, Drink Like a Wine Enthusiast" can be read here.
Kraut's article "Biarritz: The Surfing Lesson" was a finalist in the Sports and Recreation category. It can be read here.
The NATJA awards competition honors the best of the best in travel writing, photojournalism, social media and other aspects of the travel and tourism industry. Now in its 22nd year, the awards announced in February 2014 were given for work represented in print, electronic and online media from October 2012 through September 2013.
"This year's entries were an outstanding mix of local and international stories with dynamic and creative elements that provided the visual through words or photography to transport the reader to the destination," said Helen Hernandez, CEO of NATJA. "The judging has become increasingly difficult every year given the abundance of talent in the travel journalism community."
NATJA is the second largest travel media association in North America. The association also publishes TravelWorld International Magazine.
Gary Lee Kraut is the author of five guidebooks and hundreds of articles France. He is currently the editor of the premier online travel and culture magazine France Revisited. In 1996 he received FrancePress's Prix d'Excellence for his guidebook to France. In 2012 he was elected to the board of the France's Heritage Journalists Association, the first non-French journalist to be so honored. He has lectured extensively in the United States. In January and February 2014 he went on a 16-stop East Coast lecture tour, speaking on subjects as diverse as war touring in France, understanding the meaning of heritage in France, culinary travel, wine touring in Burgundy and Champagne, and travel and travel writing beyond the clichés.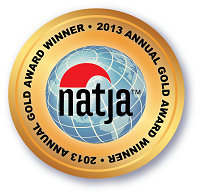 Based on his highly personalized approach to travel as expressed in his award-winning work, Kraut also assists individuals, groups and elite travel agents in creating customized tours and itineraries in Paris and throughout France. He has worked directly with a U.S. senator, a Hollywood actress, a best-selling author, corporate presidents, educational institutions, charitable organizations and many curious travelers from across the U.S. and from a half-dozen other countries.