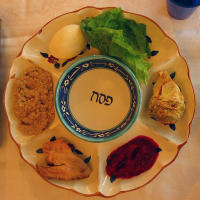 Max Kutner had just moved to Paris from New York and was looking for a Passover seder to attend. He found one just off the Champs-Elysées, but among the mixed ritual of French, English and Hebrew something was amiss, beginning with the 11th plague.
* * *
By Max Kutner
Passover was one week away and I knew no one in the city. I had just moved to Paris from New York for a five-month séjour and, having always celebrated the holiday at home, I searched the Internet for community Seders. France has the largest Jewish population in Europe; I figured finding a way to celebrate the holiday wouldn't be difficult. It wasn't. Chabad popped up near the top of the list.
As a twenty-four-year-old Reform Jew, I knew little about the Chabad-Lubavitch movement of Orthodox Judaism, only that if you can't find them they'll find you. In Paris so far my only contact with the men of Chabad had been to ignore them when they approached me near the falafel stands on rue des Rosiers in the Marais. I didn't know what to expect from the Seder. Would it go on for hours? Would it be entirely in Hebrew? Would men and women have to sit separately? Leaving my comfort zone was part of what I liked about getting to know Paris.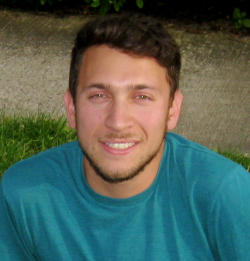 Chabad was easy enough to find—and it was right on the Champs-Elysées, at least the address was. The Arc de Triomphe was glowing a few blocks away and tourists sat at sidewalk cafés under heat lamps. The Chabad building was unmarked, hidden among the street's bright lights and stores. I knocked on an enormous door and a man emerged to let me in. He lacked the coat, hat and beard that I thought all Chabad men wore, so I was unsure if I was in the right place. I nevertheless followed him down a long, dark hallway, worlds away, it seemed, from the bustling Champs-Élysées. The hallway ended at a courtyard, where a more traditionally dressed Chabad man greeted me.
"Chag Sameach," came a voice from between the man's hat and beard. "Happy Passover. Speak English?"
"Oui, mais je parle français aussi." I answered.
I had seen too many Liam Neeson movies and thought for sure I was about to get taken so I wanted him to know that he couldn't pull one over on me in French.
He pushed open the door behind him.
The lobby was more welcoming than the courtyard had been. I approached some English speakers, explored some Jewish geography and discovered that one of them grew up in the Long Island town next to mine.
When it was time for the Seder, we headed to a room that doubled as a banquet hall and chapel. There was a Torah ark along one wall and shelves holding prayer books along another. In the center of the room were four rectangular tables with ten chairs each. We were invited to take a seat.
My tablemates included Sam, a middle-aged man from Los Angeles who worked in "investments and gold" and looked like my former therapist. There was Asher, a seventeen-year-old from Pittsburgh who was taking a break from living on a kibbutz to travel Europe. There was the thirty-something Long Islander from the lobby and his wife. They had recently moved to Paris from Brooklyn. And then there was our table leader, a member of Chabad, who was probably younger than I was, although he seemed to have a few centuries on me.
It wasn't clear when the Seder actually started. Aside from major songs and prayers, each table moved at its own pace. I struggled to follow along with the mix of French, English, and Hebrew. Chairs squeaked as the Orthodox participants rocked back and forth. At one point we had to pour drops of wine into a bowl to commemorate the Ten Plagues. Growing up, I had always dipped my pinky in wine and dabbed ten drops on a plate, so the pouring was unfamiliar to me. I poured one drop too many and my table leader gasped.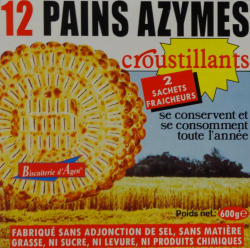 I considered an early departure, but all that praying had worked up my appetite and I had no Passover food in my apartment.
Dinner was served: salmon with mashed potatoes, diced beets and carrots. Thinking this was the whole meal I licked my plate clean and ate whatever matzo remained on the table. Then, to my surprise, out came a second dish of meat and more potatoes. The food tasted fine in the moment, but soon after I felt like an Eleventh Plague had hit me, my punishment for spilling that extra drop of wine.
It was late by the time we finished dessert, and the Seder showed no signs of wrapping up. The Rabbi told stories in what was to me incomprehensible French. Dirty dishes cluttered the wine-soaked table. There was no break in the action for me to say "merci" and "aurevoir," so I made a quiet exodus. Rejoining the crowded Champs-Élysées, I felt like a free man. It's what Moses would have wanted.
I had moved to Paris for new experiences like this. But that Seder just made me miss my family in New York. I missed my brother, with whom I used to perform scenes from the movie The Prince of Egypt for Seder guests. I missed my mom, who had gender neutralized the words in our sixty-year-old Haggadot. I missed my dad, who leads our Seders and adamantly says "Four Sons" despite my mom's "Four Children" annotations. I missed singing "Dayenu" around the piano, grandma's matzo ball soup and watching The Ten Commandments on ABC. It was the only time we still gathered around the TV as a family.
What made this night different from all other nights in Paris? I missed New York which, even if just for one night, seemed like a land of milk and honey.
© 2013, Max Kutner
Max Kutner is a New York-based nonfiction writer and documentary filmmaker. His work has appeared in Belleville Park Pages and The Columbia Journalist and on Thought Catalog, Buzzfeed and io9. His films have screened at festivals in the United States. For more about his work visit maxwellkutner.com.