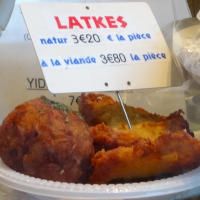 Melinda Mayor, "the Menschette of Montmartre," has a gentile husband who says "oy" and who cooks better than she does and two children with whom she'd like to share her Jewish heritage, leading her on the search for the perfect potato latke in Paris.
* * *
By Melinda Mayor
"Wait 'til you taste it."
I slip on an oven mitt and take out the tray. My mouth is watering at the smell, and I've eaten two (okay, three) already today. I only put them in the oven long enough to warm them up a bit. I slide the tray's contents onto a plate. Excitedly, I turn around, only to find my husband checking the mail.
"Don't you want to try them?"
"What? Oh yeah, sure."
I cannot comprehend this indifference when it comes to something so important, so delicious. He picks up one of the two on his plate and casually takes a bite. It takes every drop of willpower I possess not to leap onto the plate and scarf down the remaining one. He chews. I wait.
"Well?"
"It's good," he says unconvincingly.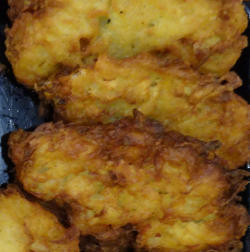 "You don't like it?"
"I said I like it."
"It didn't sound like you like it."
"I said I like it!" A pause. "But it's kind of…"
"Oily, right? I mean, it's supposed to be oily, all our food is about the oil and the temple and blah-dee-blah-blah, but it's…saltier, don't you think? I was really thirsty after I ate a couple this afternoon."
"Yeah, I think you're right."
I smile at him. "Nothing compares to yours, but what could I do? You were at work, and I needed latkes. He raises his eyebrows at me. "Yes," I say icily. "I NEEDED them." I hold his gaze with all the wide-eyed melodrama of an afternoon soap, and we both laugh.
My gentile husband cooks latkes. It's one of the many things he didn't do before meeting me, along with lighting Hanukkah candles and saying, "Oy" (though he argues with me about that last one). I told him how much I loved latkes—who doesn't?—and he looked up a recipe online. The first time he made potato pancakes they turned out more pancake than potato. But now he's a pro. When he selfishly goes to work, however, I have to make other arrangements: The latkes I just heated up were from the deli on rue des Rosiers in the Marais. That's where I fail as a Jewish mother: I ask my kids, "Are you sure you had enough to eat?" but I don't know how to cook. Well, I can make an egg. But who wants eggs all the time?

Getting latkes from the Jewish deli is a schlep worth making, especially if you get a pastrami sandwich to go with them (I also enjoy the turkey). In addition to the Jewish food on rue des Rosiers, the Marais is also known for its gay and Chinese communities, respectively. This means Jews can easily go for their typical Christmas dinner—Chinese food—while taking in the well groomed, smartly dressed men strolling by.
The first time I was on rue des Rosiers, I knew this was going to be something special. I was just visiting Paris then, and I was excited to be surrounded by "my people." Surely I would feel at home in this foreign land once I was immersed in my natural habitat. I walked into a shop that sold everything from meats to pastries. As usual, I had trouble deciding what I wanted. And once I'd finally chosen from the vast array, I realized I could barely pronounce the words. I couldn't even make a joke about how long I'd taken to decide. These weren't my people. They were French.
The next time I was on rue des Rosiers I was pushing a baby in a stroller. We sat down at a restaurant and I ordered him his first latke. When it arrived, my excitement was palpable. I cut him off a piece, and he examined it for a while before finally putting it in his mouth. He loved it. Seeing my little mensch chow down on his potato pancake (more potato than pancake) warmed me almost as much as the food did. Later he broke out around his mouth in a reaction to the oil, and I broke out in guilt. Oily food and guilt: Maybe my Jewish mother instincts aren't so off after all.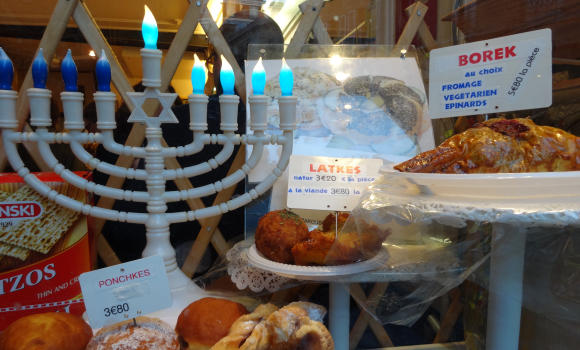 Now, in the kitchen, I eye the untouched latke left on my husband's plate. I look at him, then back at the latke, then at him again. I broach the subject slowly, carefully: "So…are you going to eat that?"
His head is in the fridge, rifling through the vegetable drawer as he figures out what to make for dinner. "What?"
I sigh and roll my eyes. "I said, Are. You. Going. To. Eat. That."
He glances over at the plate on the countertop. "Yeah, I'm saving it for later."
I look at him incredulously. "I'm sorry, what is this 'later' that you speak of?"
He grins at me. "It's called self-control."
I have a look of utter confusion on my face. "I don't understand you."
He closes the fridge, shaking his head with a smile.
"Oy."
The last time I was on rue des Rosiers we were celebrating Father's Day. We went to the Jewish deli where I first got the latkes, and the four of us—me and him plus the four-year-old and the three-year-old—all indulged in giant deli sandwiches and, of course, latkes. It was a very Jewish meal, and I didn't have to make it. The gentile husband was in his element. The kids whined slightly less than usual. And I knew who my people were.
© 2013, Melinda Mayor
Melinda Mayor is a writer-performer whose works include her one-woman show, "Jew! (A Musical)," various monologues and Meshugeneh Mama, her regular column for Message magazine. For more of her work see www.MelindaMayor.com.
For other work by Melinda Mayor on France Revisited see The Cranky Parent in Paris: Maman, Bébé and Unsolicited Advice.