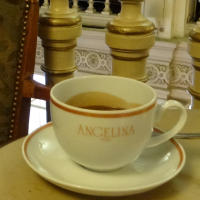 Angelina, the most famous tea room in Paris, celebrated its 110 anniversary this fall by developing its brand around the world, selling its beloved African hot chocolate on the train, creating new pastries (without abandoning the irresistible mont-blanc) and launching a club for sweet-toothed women, while maintaining the traditions that continue to draw crowds to the Belle Epoque mother ship on rue de Rivoli.
After making a name for himself in the candy business in the south of France, Antoine Rumpelmayer, originally from Austria, opened a tea room in Paris's most fashionable commercial quarter in 1903 and named it after his daughter-in-law Angeline. Rue de Rivioli, where it borders the Tuileries Garden, was then part of the most exclusive commercial district in the city thanks to the presence of the grand hotels of the late 19th-century (the Meurice, the Ritz, the Hotel du Louvre, et al.), the Garnier Opera, the high jewelry business then claiming Place Vendôme as its home (Boucheron, Cartier and Chaumet were then present), and the haute couture business that had been taking shape.
The brand was expanding to Japan while Angelina was still in its 90s, but that expansion has been occurring at more corporate speed since its purchase five years ago by Groupe Bernard, the fifth owner in Angelina's history.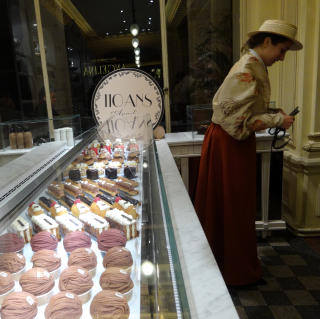 Japan now has two Angelina tea rooms along with 14 corners and boutiques. Franchises opened in Beijing and in Dubai this fall, with one in Doha slated for this winter. There's an outlet at Galeries Lafayette in Lyon. Closer to home, there are currently seven outlets in Paris (not franchises), including the original tea room on rue de Rivoli, and a new bakery at 108 rue du Bac.
Hot Chocolate at Versailles
There's also a tea room inside the Palace of Versailles and an Angelina counter by the entrance to the Petit Trianon. Angelina's presence at Versailles is first and foremost a reflection of the need of the gatekeepers to the palace-museum to augment state subsidies, but its presence is also a charming historical reminder of Louis XIV's and his queen Marie-Thérèse's enjoyment of hot chocolate, which helped launch the beverage in France. France got a taste for hot chocolate in the 17th-century via Iberian Penninsula whose conquistadors first encountered cacao during their South American conquest. Marie-Thérèse, l'infante d'Espagne, was in fact the daughter of the king of Spain. Admitted, Angelina's chocolate is proudly African whereas the chocolate of Versailles was South American. No matter, it makes for a good little lesson in the history of chocolate.
L'Africain
L'Africain, as Angelina calls its hot chocolate, derives its name from the use of four types of African cacao in the mix. The unsweetened whipped cream served with it may be caloric overkill, but its nevertheless useful in toning down the bitterness that some—particularly Americans since we're less accustom to eating/drinking dark chocolates—taste with a first mouthful of Angelina's thick nectar. L'Africain used to beat the competition in Paris hands down, but thick hot chocolates can now be found elsewhere in the capital. Still, it's a joy. Six hundred servings are ordered at the Rivoli tea room each day.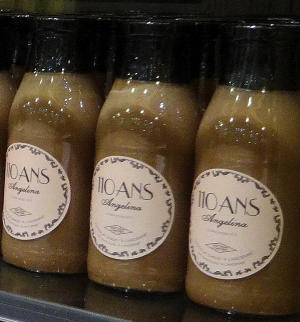 L'Africain is also sold in bottles to be heated up at home, a creation that in 2009 began replacing the previously sold powder to which one added milk. As of this fall travelers can even order Angelina hot chocolate at the snack bar on the TGV high speed trains in France, poured from a single-serving bottle and heated by microwave behind the counter. I enjoy a little history with my Angelina hot chocolate and tend to recommend drinking it from a porcelain cup from the original tea room, but a paper cup on the TGV is not to be scoffed at, especially when traveling with children.
Groupe Bertrand
Angelina's expansion under Groupe Bertrand hasn't eased its 4pm lines under the arcades of rue de Rivoli any more than Ladurée's expansion under Groupe Holder has shortened the queues for macaroons at its main outlets.
Groupe Bertrand owns or franchises numerous restaurants, fast-food joints, pubs, brasseries and cafeterias in Paris, the Paris region and well beyond. In addition to Angelina, their most notable Paris properties are Brasserie Lipp, Charlie Birdy, Sir Winston and Tsé , while the group also operates restaurants in the Printemps department store.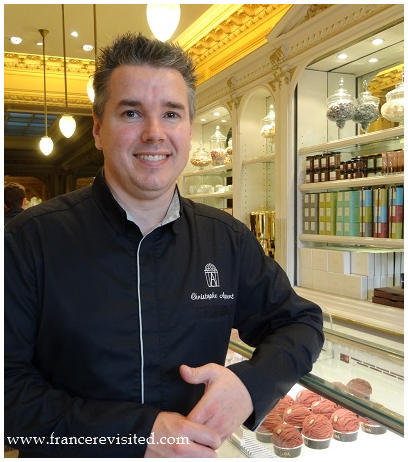 The Mont-Blanc
No documents have been found to indicate precisely when the tea room began selling its most famous pastry, the mont-blanc, but Angelina's archives show that it already appeared on menus from the 1930s. The blob-shaped mont-blanc may look less refined and delicate than other pastries chez Angelina, but that copper brown ball of sweet chestnut cream surrounding unsweetened whipped cream and a meringue heart remains worthy of admiration for any sweet-tooth and cream-hound. Angelina sells 2500 of them each day in France. (A serving of hot chocolate and mont-blanc being far too rich for most mortals, it might be advisable to accompany the pastry with tea or coffee or simply to share.)
Expanding the Angelina brand also means adding new pastry recipes to the display counter, such as the cassis-flavored mont blanc that reached rue de Rivoli to coincide with the 110th anniversary and the babylon, an almond dacquoise with vanilla mousse, candied raspberries and strawberry marshmallow created to mark the opening of Angelina Rive Gauche, the brand's new pastry shop at 108 rue du Bac.
The light and relatively pricey lunch at Angelina is not my cup of tea, personally, but at any time of day the Belle Epoque tea room holds its historical aura. However, that aura disappears when seated in one of the back rooms. As to the space upstairs, some see it as being too close to les toilettes or away from the action of the main room, but in its far reaches, with the right company or alone with a good book or a promising text, it can feel nicely private, even exclusive.
Le Club des Gourmandes
There, in May 2013, Angela held its first invitation-only meeting of Le Club des Gourmandes, a gathering of "influential" women who delight in partaking of good food, with a special affection for sweet delicacies (gourmandises). "Influential" largely refers thus far to women in the media.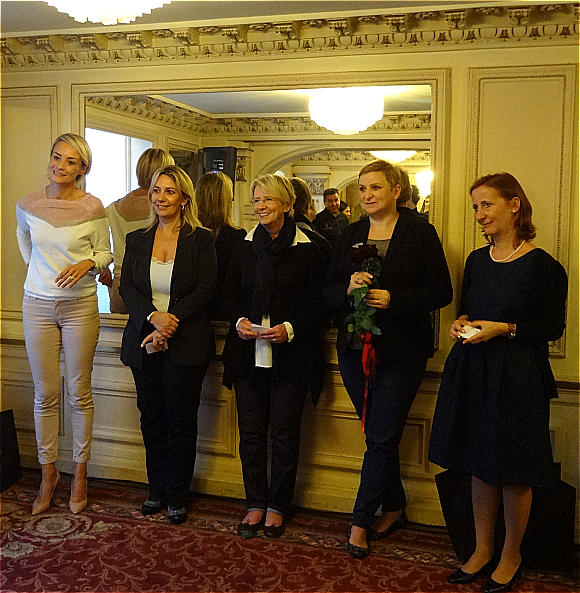 At the second gathering in October 2013, five gourmandes were inducted into the clubs,
– Natasha Harry, a television personality, who adores milk chocolate;
– Isabelle Bourdet, Director-General of the Press Club of Paris, who prefers a good ol' pain aux raisins;
– Mercotte, a cookbook author and co-host of Le Meilleur Pâtissier, a top pastry chef competition, who claims a special affection for the classic French pastry the Paris-Brest, made by Philippe Conticini (founder of La Pâtisserie des Rêves);
– Sonia Ezgulian, a journalist, cookbook author and culinary consultant, who's a fan of Calissons Petit Duc, a diamond-shaped almond-paste confection, and
– Catherine Guérin, founder of the international culinary public relations firm Toques Connection, a fan of anything containing almonds.
Asked what it meant to be honored into the Club des Gourmandes, Guérin said that "gathering around gourmandises gives positive energy—it's a breath of fresh air."
Here's to many more years of positive energy!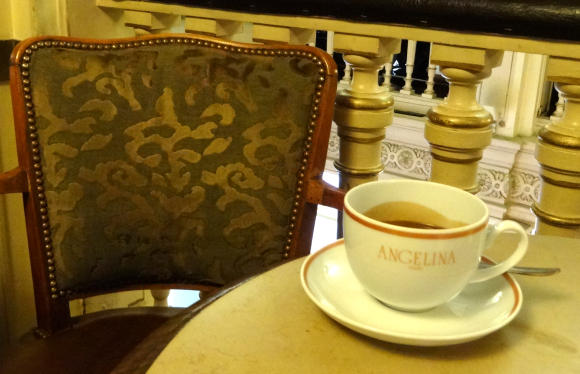 Angelina, 226 rue de Rivoli, 1st arr. Metro Tuileries. Tel. 01 42 60 82 00. Open daily: Mon.–Fri. 7:30am-7pm, Sat. and Sun. 8:30am-7pm. The site has a complete list of the Angelina's outlets in Paris and elsewhere.