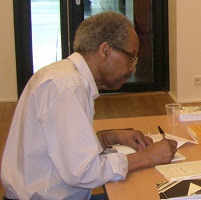 In honor of the American poet James A. Emanuel, a longtime resident of Paris, who passed away at the age of 92 on Sept. 28, 2013, Janet Hulstrand shares her memories of her first encounter with the man and his work and of his guest appearances from 2000 to 2013 in her summer class "Paris: A Literary Adventure." This article is accompanied by three videos of James Emanuel reading his work during his classroom appearance in July 2011.
* * *
By Janet Hulstrand
For thirteen years, starting in the summer of 2000, the students in my American literature class, "Paris: A Literary Adventure," had the extraordinary opportunity of having James A. Emanuel, one of our nation's great poets, read to them.
I had never met James Emanuel before the summer of 2000. In fact, I hadn't even heard of him until a year before when I had asked Odile Hellier, owner of Village Voice, a major English-language bookshop in Paris at the time, if she knew of any expatriate American writers in Paris to whom I might introduce my students. I explained that I wanted to show them that great American literature was still being produced in Paris. James was among the writers she recommended to me.
When I returned home to Brooklyn, I went to the library and found a copy of his Whole Grain, Collected Poems 1958-1989.  I sat down and began reading. It wasn't long before I knew I was reading the work of a great poet, and I thought it would be wonderful if I could give my students the chance to meet him.
I wrote to James to ask if he would be interested in reading to my students. In particular I asked him if he would read "Racism in France" and "Daniel in Paris." "I won't read those poems," he said when I followed up my letter with a phone call.  "But there are others I would read if you like."
That was a good introduction to James. He was very generous about sharing his time and talent, and he loved being back in a classroom again, among young people; I think it was something he missed. But he also did things his way, always. He had his reasons for not wanting to read the poems I had asked him to read. I didn't ask what they were, and he didn't offer a reason. I just promised him that if he would agree to come and meet with my students, he could read anything he wanted.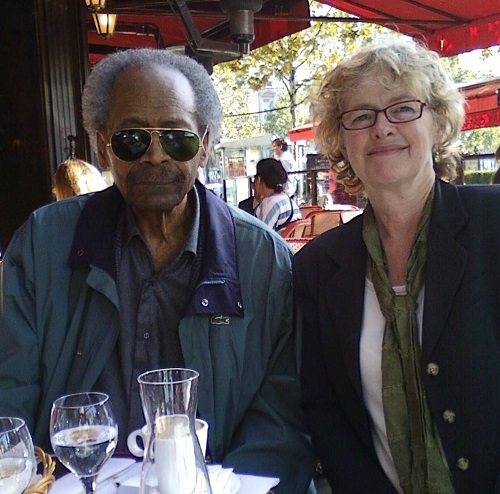 The first time he read to my class he was 79 years old, though he looked much younger. To my students, most in their late teens and early twenties, it was a revelation first of all to see just how full of energy and passion someone that age could be, and also how funny. It was also a revelation to most of them how interesting and fun poetry could be. Through the years, many of them approached the poetry reading with an opinion perhaps best summed up by one student who had said, doubtfully, the day before it, "Poetry and I don't get along too well."
James always won them over. Without aiming to prove anything, he proved to them that old age was not as boring or as fossilized as it seemed, and neither was poetry. When he introduced a poem in which a man in the street sees a wheel of cheese come at him, falling through the sky, by explaining to them that the poem ("It Was Me Did These Things") had its start when he saw a friend's young child push a cheese out of an open window, he taught them something important about how the events of everyday life can inspire poetry. Perhaps even more importantly, he showed them that poetry, even serious poetry, can make us laugh as well as cry.
The first few times he read to us, he stayed away from any poems that dealt directly with racism.  I would eventually learn, though not from him, that his own personal tragedy in the loss of his only son was what had driven him from the U.S., the reason he decided in 1984 to leave there and never return.  That was something he never talked about, and the one poem he wrote about that tragedy ("Deadly James") he never read aloud at all, to my class, or to anyone else. But after the first few years of reading to us, he did read "Emmett Till," a poem he'd written about the 1955 lynching of a 14-year-old boy who was murdered by white men for allegedly whistling at a white woman in Mississippi. "It took me seven years to write that poem," he always said.
In the video below, filmed during his appearance in my class in 2011, James speaks about his struggles with the poem and reads "Emmett Till."
James loved, understood, and deeply appreciated children, and some of his most beautiful poems are written about or addressed to them. After a period in the 1970s when he couldn't write, it was interaction with a child that helped him get back to work, as he explains as a preface to his reading of "Wishes, for Alix."
Over the course of the years we met in various places, sometimes at Paris III, sometimes in residence halls at the Cité Universitaire. He would always start by reading a selection of his poems, usually for about an hour. Several times he invited Godelieve Simons, the Belgian printmaker with whom he had a close artistic collaboration, to join him. (Their collaboration had begun when she created prints in response to his poetry: later, he wrote poems in response to her prints.) Her presentations, in addition to being a wonderful introduction for my students to another not-very-well known art, engraving, also exposed them to the way in which artists from different media can inspire each other, and respond artistically to each other's work.
After he had read, James would invite questions from my students. Sometimes the questions were a little slow to come. One year, wanting to make sure there would be no awkward lull, I made it very clear the day before that they were expected to be ready with good questions. "They asked some really good questions this time," he said to me afterward. "That's because I threatened them," I confessed.
The last time I was in Paris, in July of this year, James wasn't feeling up to traveling to our classroom, so we met at the home of his friend Marie-France Plassard, who kindly offered her apartment as a venue for our poetry reading.
He read "The Treehouse" and "The Young Ones, Flip Side" and "A Negro Author," and "Emmett Till." He read "Daniel is Six" and "For France," and "To Martin, To Luther, To King" and "Jazz Anatomy."
Here, from 2011, is James's reading of "The Negro", "The Treehouse" and "A View from the White Helmet."
During the last time he met with my class, he read for a long time, longer than he, or Marie-France, or I thought he would, and then for a while he answered questions from my students. I don't remember specifically much of what he said that day, except that he made sure to tell the students that the most important thing they could do in their lives was to be true to themselves. (He always said something along those lines, every year.)
I do remember the light in the room, the sound of his voice, the way Marie-France's face was aglow with pride and love as she watched him. I remember how the warmth of his humanity and his sense of humor once again filled the room. I remember the rapt attention my students paid him as they were caught up in a very special moment of their lives, and the hush that fell when he began reading, everyone listening intently.
None of us knew that this would be the last event of its kind. But we knew that it was a very special gift, to spend more than an hour with this man, to have him read his poems to us and talk to us about his poetry, about his life, about life.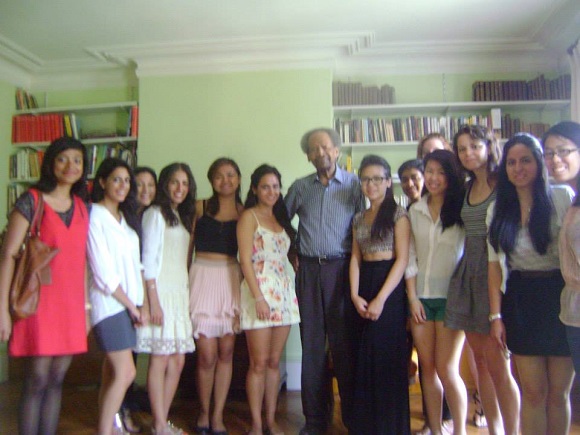 By now, there must be more than 100 of my students who have had the experience of meeting James Emanuel and hearing him read. He moved them, taught them very important things, and inspired them, not only through his poetry, but through his extraordinary grace and humanity as well.  For me the knowledge that they have gone back to their families and friends with a newfound appreciation for poetry in general, and in particular an enthusiasm for James's work gives me a feeling of deep satisfaction. I know this was important to him as well.
From various corners of the world they have written to me upon hearing of his death. They tell me how well they remember James and his poetry. How they still love reading it. How they treasure the books he signed for them. They tell me how meeting him was one of the most special things they experienced while they were in Paris.
Mr. Emanuel will be sorely missed. But he has left behind a magnificent body of work. That work has the power to inspire and enrich the lives of anyone who takes the time to read it—and to all who open their hearts and minds to what it has to say.
Text © 2013, Janet Hulstrand
Videos of James Emanuel by Gary Lee Kraut © 2011, 2013. All rights reserved.
Janet Hulstrand is a writer, editor and teacher of writing and literature based in Silver Spring, Maryland.  She teaches Paris: A Literary Adventure each summer in Paris for the Education Abroad program at Queens College, CUNY, and literature classes at Politics & Prose bookstore in Washington, D.C. A 2009 interview she conducted with James A. Emanuel appears on her blog Writing from the Heart, Reading for the Road.  She also wrote this 2011 profile of James Emanuel for France Revisited on the occasion of his 90th birthday.
Also read James A. Emanuel's Sense of Place as a companion piece to this article.
James A. Emanuel's ashes are in the columbarium at Pere Lachaise Cemetery (niche 16412).