The news appeared in the local paper on the morning I arrived in Avignon: a coffee roaster in town had been named Best Coffee Roaster (Meilleur Torréfacteur) in France.
Meeting a coffee roaster hadn't crossed my mind as I planned a brief stay in this corner of Provence, but I'd come looking for passionate purveyors of fine food and drink, and coffee seemed like a great place to start.
1. Yves Aubert-Moulin, coffee roaster
Yves Aubert-Moulin was discussing blends with a customer when I arrived at Cafés au Brésil, a few streets from the café on Place de l'Horloge where I'd read the news. Tall, young, eager, confident and engaging, he seemed more like an ambitious apprentice than a nationally recognized expert. That impression, I soon learned, was close to the truth: Mr. Aubert-Moulin had gained his expertise through an apprenticeship in that very shop or, equally significant, by falling for the owners' daughter.
"I got into coffee by getting into the family," he said.
He has worked in the Bouquet family's coffee shop since 2008 and is now married into both the family and the business, a find blend indeed.
Out of some 600 coffee roasters in France, Mr. Aubert-Moulin was named France's Best Coffee Roaster of 2012 in an annual competition among six finalists organized by the French Coffee Committee.
Café au Brésil,  24 rue des Fourbisseurs. Tel. 04 90 82 49 71.
2. Les Halles d'Avignon, the covered food market
The wall above the main entrance to Les Halles d'Avignon, the indoor food market, on Place Pie, is covered by a vertical garden, the work of Patrick Blanc, a French botanist responsible for the creation of many such gardens around the world.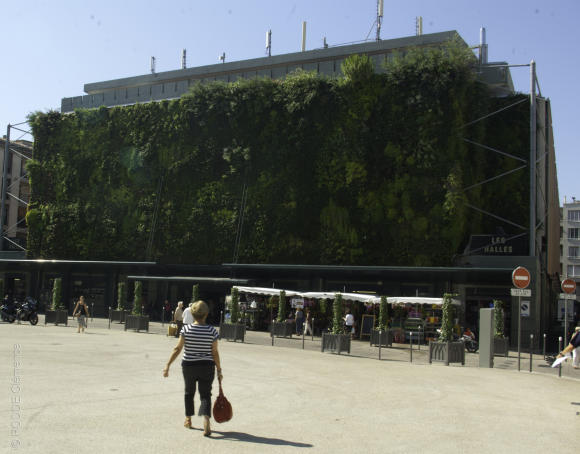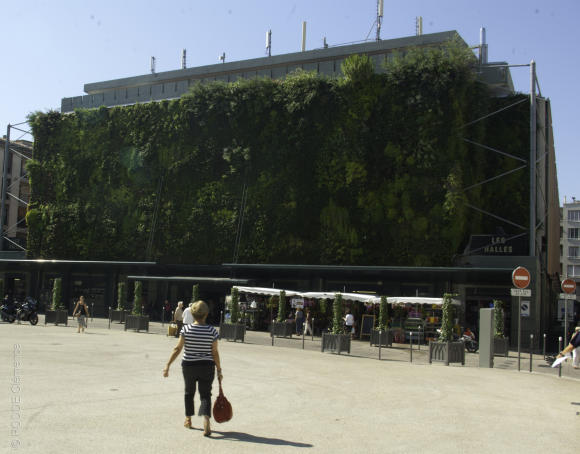 Mid-morning,  was bustling with passionate purveyors and their knowing consumers. Its 40 stands make this an ideal place to get to know the foodstuffs of Provence, especially if on a limited time-budget in the region. Turns out this is also a great place to run into some fine chefs, among them Jean-Claude Altmayer (see #5 below), whom I was introduced to as he was kibitzing with his chef and market buddies over coffee.
The market is open mornings daily except Monday, 6am-1:30pm on weekedays, 6am-2pm on weekends. Free cooking demonstrations are held in the little kitchen at the market on Saturdays from 11am to noon.
3. Arnaud de la Chanonie, wine-seller
Late morning is said to be the ideal time for tasting wine before one's taste buds have been overly solicited and assaulted by a midday meal. But it was too early for me to lift a glass today. Nevertheless, the moment was right to stop at Avitus, a classy wine shop that doubles as a wine bar in the heart of the old town, so as to meet owner Arnaud de la Chanonie.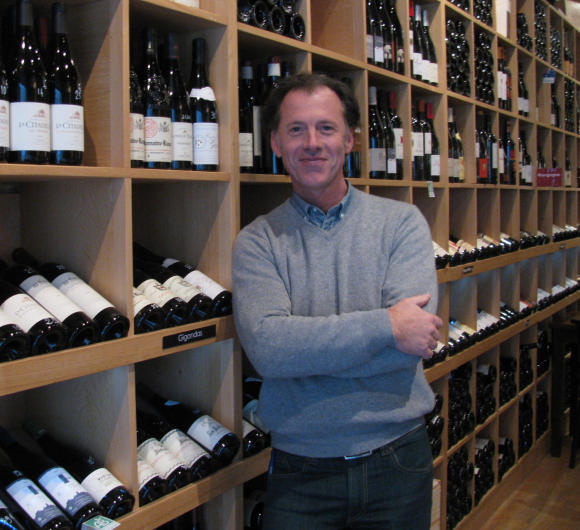 Avitus is named for a Gallo-Roman emperor from Auvergne, the large region on the western side of the Rhone from which Mr. de la Chanonie's family hails. But Avignon is known as the capital of Cotes du Rhone wines so the shop/bar is naturally heavy on wines from the Rhone Valley.
Even before a cork has been pulled one senses in speaking with Mr. de la Chanonie the elegant expression of the wines sold here. His approach in presenting the wines he sells is amiable, discreet and informative—altogether helpful if looking for the right bottle to go with the picnic you've prepared at Les Halles to take down by the Rhone.
Personally, I already had lunch plans, so I returned to Avitus early evening two days later before leaving Avignon on a 9pm train. It was a Friday, early evening, wine bar time. Mr. de la Chanonie is a fan of jazz, swing and blues. It's occasionally played live here but was recorded this evening. Between the music, the chummy conversation about wine and whatnot, and the coming and goings of what seemed to be regulars, Avitus felt like a speak-easy. I didn't see the time pass and wished that I'd taken a later train… the following day.
Avitus, a wine shop and wine bar, 11 rue du Vieux Sextier, 04 84 15 82 71. Open 11am-7pm Tuesday to Thursday and until 11pm Friday and Saturday. Those weekend evening hours, in addition to being prime wine bar time, may also be a tasting evening. Closed Sunday and Monday.
3. Renaud Tisseur, restaurant owner, Le Bain-Marie
Renaud Tisseur is a likeable presence in a most likable restaurant.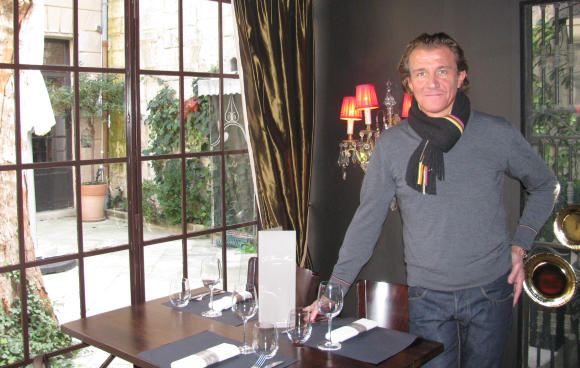 He credits his mother, Régine Viaud, with his devotion to serving quality food within the peaceable setting of the walls of a 14th-century mansion surrounding a plane tree-shaded courtyard. She had opened a first Bain-Marie in 1979 and moved it to this location in 1988, maintaining it until her death. It was reopened in 2006 by Mr. Tisseur.
The restaurant's soothing seating lends itself to easy-going romance and other meals requiring unpretentious comfort. The menu, reasonably priced, even inexpensive considering the quality, leans easily on French and Provencal culinary traditions with a distinct fondness for foie gras, filet de boeuf and scallops along with assorted herbs and a touch of mother's generous personality—or at least from what I imagine to be her personality from the small collection of her recipes that Mr. Tisseur has published.
Le Bain-Marie. 5 rue Pétramale. 04 90 85 21 37. Open lunch and dinner Tuesday to Saturday.
4. Aline Géhant, chocolate maker
Aline Géhant's rise in the ranks of chocolate-makers took a major leap when she won the Young Talent Award at Paris's chocolate trade show, le Salon du chocolat, in October 2011. That award and a taste for good chocolate (I'd selected a light dessert at Le Bain-Marie) had brought me to her shop. But it wasn't the taste of the chocolate that first led Aline Géhant to her craft at the age of 25. "I fell in love with the material," she said. Working with only one apprentice, she still very much has her hands in it.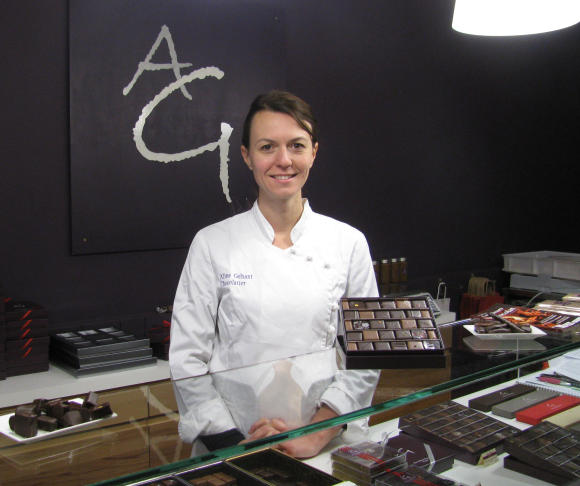 I went Provencal that afternoon with a tasting of her lavender, thyme and fig ganaches—with a special fondness for the thyme—and a few other pralines and classics to go.
Asked if she was interested in adding pastries to the mix as other chocolate-makers do, she said, "I'm not interested in pastries, either making or eating them… I prefer cheese."
Aline Géhant Chocolatier, 15 rue des 3 Faucons. Tel. 04 90 02 27 21. Open Tuesday-Saturday 10am-1pm and 3-7pm.
5. Jean-Claude Altmayer, chef
Jean-Claude Altmayer is the most exuberant chef I've ever met. Perhaps that's because he has nothing more to prove in the kitchen—he says that he's cooked for five presidents—but simply enjoys the pleasure of his craft and of direct encounters with his guests, his convives.
On Tuesday and Wednesday evenings and upon special request, Mr. Altmayer receives up to 16 guests by his "piano," a more than centenary stove in the basement of an ancient cardinal's palace that is now La Mirande, Avignon's luxury boutique hotel, right behind the Popes' palace.
I went to the hotel in the late afternoon. The reception staff was politely wary about my request to make an impromptu visit to the chef in the basement but Mr. Altmayer welcomed me without hesitation and invited me to have an aperitif of white wine as he finished prepping for the evening's meal.
He spoke with passion about his past experiences, encounters with the famous and the not, and his current guest table, all the while revealing his generosity of spirit through he's joyful scraping out of scallops from the shell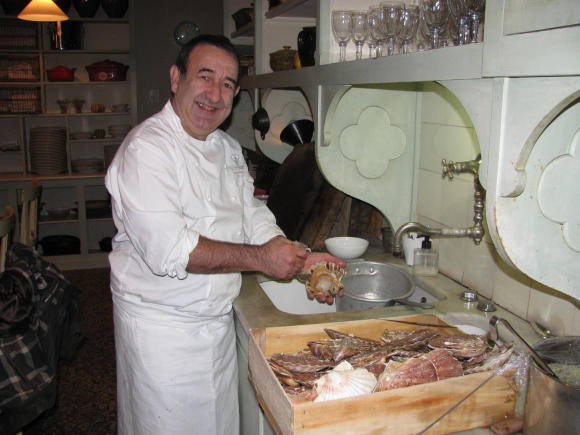 and his handling of bloody pigeons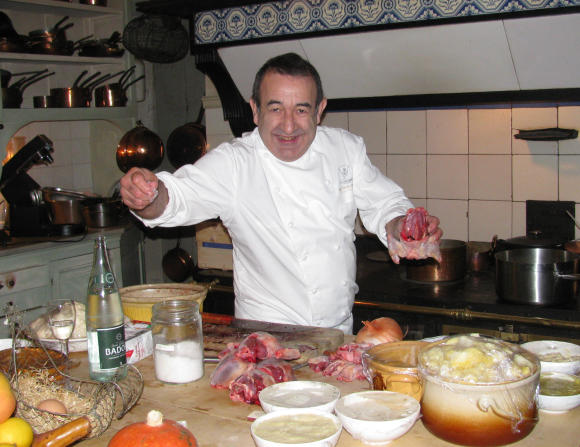 and his stirring of a large pot.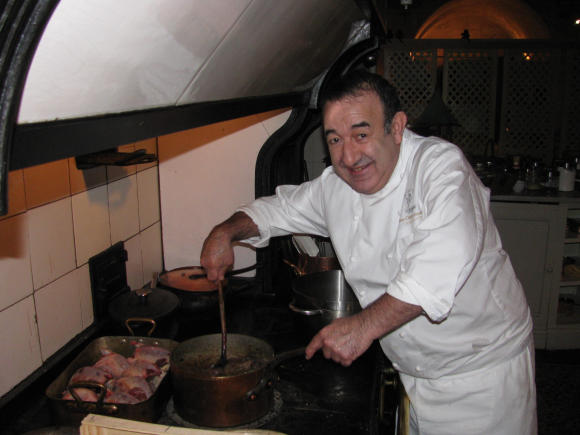 Several months after my aperitif interview, I had the pleasure of attending one of Mr. Altmayer's dinners, where his craft, his tales of meals past and his generosity of spirit were all on display. He's as much a bighearted chef as he is a jovial performer. As chef, he prepares a meal of rustic gastronomy, rich in the French traditions of freshness, precise timing and earnest, recognizable taste. As performer, Mr. Altmayer is a natural who makes everyone feel like a special guest attending a singular event.
When reserving (done though the hotel), be sure to mention any food allergies or major dislikes. However, unless you've reserved the chef's table for your own private group it's best to leave your food issues upstairs and simply arrive honorably (not overly) dressed and with an open appetite and a sense of culinary joy. Being an undemanding guest is the best way to allow Chef Altmayer, as he stands before his "piano," to be a wonderful host.
The aperitif (which may be served in the sub-basement wine cellar), followed by a 3-course meal including wine and accompanied by Chef Altmayer's "performance" and cooking tips costs 86 euros. That may not be appropriate for everyone's budget, but if the price is palatable and you're lucky enough to get a seat at Chef Altmayer's table this may well be your most memorable indoor meal in Provence.
La Mirande, 4 place de l'Amirande. Tel. 04 90 14 20 20. Jean-Claude Altmayer isn't the chef of the hotel's gastronomic restaurant on the ground floor but rather the host of an extraordinary guest table in the ancient basement, where he cooks for up to 16 guests on Tuesday and Wednesday evenings and upon special request.
6. Philippe and Daniele Hiély, restaurant owners
An aperitif with Jean-Claude Altmayer is a tough act to follow, but the transition to dinner turned out to be smooth and effortless and an admirable act in its own right.
Thanks to the combined passions of Philippe Hiély as master of the kitchen and Daniele Hiély as mistress of the dining room, La Fourchette is friendly, fine-fared Avignon institution where local regulars and visiting tourists happily coexist.
Monsieur's extensive menu of polished French traditional cuisine ensures that there's something to please everyone, though the choice may be difficult, while Madame's good humor in the knickknacked dining rooms—walls decorated with forks and cicadas—ensures that you'll be able to take your time in choosing.
They Hiélys opened La Fourchette in 1982, so just imagine the complicity that's necessary to be caught on camera 30 years later like this: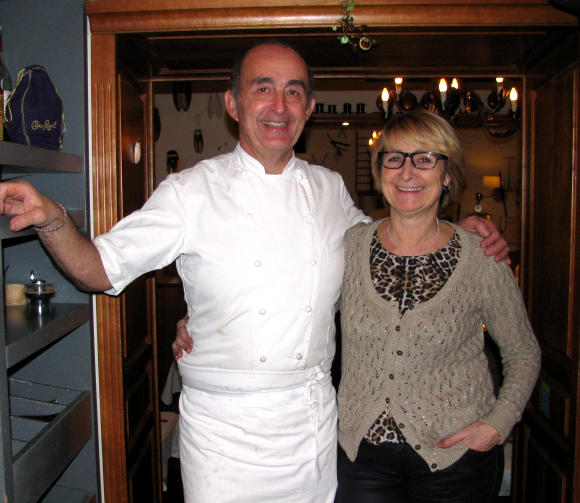 La Fourchette, 17 rue Racine. Tel. 04 90 85 20 93. Open Monday-Friday.
7. Michel Blanc, wine promoter
Michel Blanc represents the winegrower of this Chateauneuf-du-Pape with infectious brio. His title is Director of the Federation of the Unions of Chateauneuf-du-Pape Producers (Fédération des Syndicats des Producteurs de Châteauneuf-du-Pape). That sounds stiff and officious, but Michel Blanc comes across as a joyful wine aficionado who'd be happy to swill any wine with you (and you with him) at a wine festival.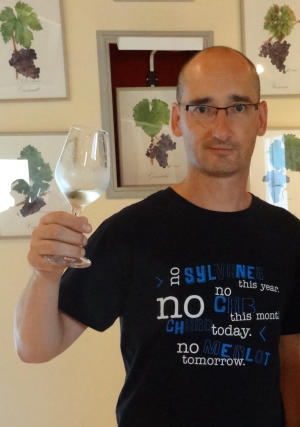 Mr. Blanc and I did actually have the occasion to swill together at a wine festival, la Fête de Veraison, a celebration of Chateauneuf-du-Pape that's held the first weekend of August. But I'm getting ahead of myself. Six months earlier, on my initial visit to Chateauneuf, the day after the food and drink encounters in Avignon (9 miles south) described above, we met for lunch at the well-fed, wine-happy restaurant La Mère Germaine.
Tastings that morning at Chateau Gigognan and at Domaine de Beaurenard had put me in the mood to learn more about Chateauneuf-du-Pape.
In 1933, Chateauneuf-du-Pape became the first winegrowing region in France to define parameters by which producers could use the appellation. It's that head-start as a winegrowing area (7959 acres of it) defining terroir and the general conditions for producing quality wines that brought Chateauneuf-du-Pape its international fame. When I grew up 1960s and 1970s, the name Chateauneuf-du-Pape was synonymous with wine sophistication—not that we know anyone whoever drank it. The international wine market has become too vast and varied for a single appellation to be so evocative these days, but Chateauneuf remains a most curious appellation producing a variety of quality wines, some superb, mostly red. White wines represent about 7% of the production and are well worth discovering.
The curiousness of this appellation—and the difficulty of getting a handle on its wines—stems from its diversity of soils (clay and/or sand, often remarkable for their natural carpet of large pebbles and sharp calcareous stones) and of grape varieties allowed in production (13 in number, some with sub-varieties, led by granache, with syrah, mordèvre and cinsault a distant second, third and fourth).
Over lunch we made stops at Clos Saint Michel, Domaine Durieu and Domaine Grand Veneur.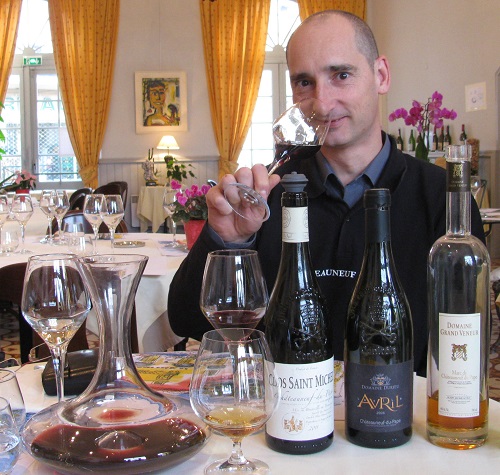 That first visit to Chateauneuf may not have turned me into an unconditional fan or a connoisseur, but having tasted dozens of other Chateauneuf's since then, studied (well, a bit) an awfully big book on the subject, "The Chateauneuf-du-Pape Wine Book" by Harry Karis (with forewords by Robert Parker and Michel Blanc), revisited the town during its August wine festival and taken part in the grand mass of French wine tasting in Paris with a seat at one of the Chateauneuf tables on the national jury of the Concours Agricole at the Salon de l'Agriculture, I credit Mr. Blanc with turning me into a curious occasional consumer of the wines he so passionately represents.
The passion of a purveyor of fine food and drink rubs off—a good reason to seek them wherever you travel.
© 2013, Gary Lee Kraut
Also see Avignon: Practical Information and Choice Accommodations and Black Diva and the Roman Theater of Orange.