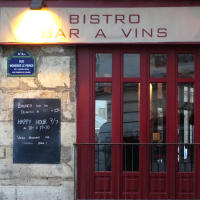 The New York Times Travel Section has done it again: published a sloppy article announcing a trend in Paris that either never existed or that made its splash long ago. The issue this time: wine bars.
In her article In Paris, a New Breed of Wine Bar (Oct. 1, 2013), Ann Mah, assisted by a lazy editor, would have readers believe that three years ago there was "a cultural shift" that brought forth a "new breed" of wine bar in Paris that dances to a trio of beloved travel adjectives, "casual," "modestly priced," "convivial," a breed that can now save us "an embarrassing collision with a heavy, leather-bound menu and the haughty gaze of the sommelier."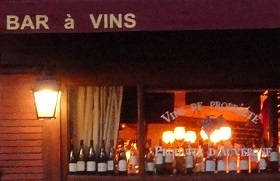 The premise of the article is all wrong, as anyone capable of understanding "Bar à vins" (or "Bar à vin") on an awning knows. The old breed of wine bar, still very much aive, is anything but a pretentious place. It has no titled sommelier, and it's even more casual, modestly priced and convivial than those bars cited in the article. Mah doesn't get it all wrong though, at least she wouldn't have gotten it wrong had she written her article in a decade ago, for there was indeed a trend in wine bars of the type she describes… around the year 2000.
Ann Mah, who has just published the book "Mastering the Art of French Eating: Lessons in Food and Love from a Year in Paris," has apparently confused the traditional Paris wine bar with the cocaine-fueled wine scene in New York in the 1980s. One wishes that in mastering the art of eating she had also learned to love research more during that year in Paris.
Upscale wine bars do exist (e.g. the delightfully smooth, somewhat stiff but ever-so-pleasant Legrand Filles et Fils, Galérie Vivienne, 2nd) but the traditional, basic wine bars in Paris, the ones on which the so-called "new breed" riff, are the furthest thing from haughty. They typically come in two kinds. There is the kind developed near market squares (the market has since disappeared in some cases) since markets and wine merchants/bars are part and parcel of the same economy. Le Baron Rouge, 1 rue Théophile-Roussel, 12th, and Le Rubis, 10 rue du Marché St-Honoré, 1st, Aux tonneaux des Halles, 28 rue Montorgeuil, 1st,  are well-known classics in the genre, very much "in their juice," as the French would say of something that has authentically survived from another era.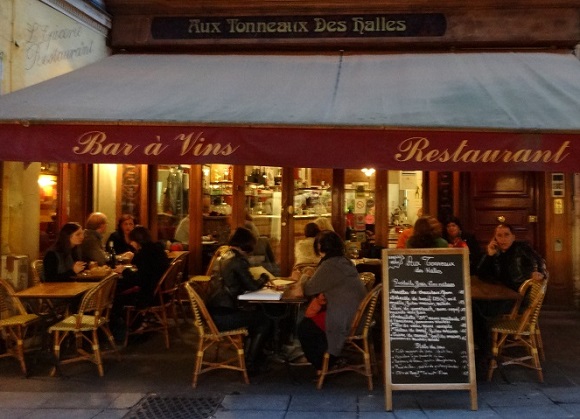 The other kind of traditional wine bars are the non-descript café-bars, which might also serve cooked food during restaurant hours.  These are  places without airs, and you needn't feel that you're going slumming to go enjoy them since they exist throughout the city, including in the well-trodden districts of Paris, e.g. Les Pipos, 2 rue de l'Ecole Polytechnique, 5th arr., or Au Père Louis, 38 rue Monsieur le Prince, 6th. No "leather-bound [wine] menu" here, No need to know the difference between a château, a domaine and a clos or between the weather conditions in 2007 and 2008, but rather a choice between Burgundy, Bordeaux, Cote du Rhone, and maybe a Gaillac and a Sancerre. And if that's too complicated then all you really need to know to get a drink is that rouge is red, blanc is white, and rosé is plonk.
Whether you care to frequent them or not, these wine bars are numerous and are the most unpretentious, basic wine joints around. The only "haughty gaze" in the old-fashion wine bar is that of American tourists peering in at the unisex Turkish toilet.
The breed of wine establishment that the author applauds actually raises rather than lowers the bar, so to speak, by being slightly more expensive and offering slightly better munchies. They are indeed enjoyable places—casual, modestly priced, convivial, as Mah says. Some have an edge of snobbery precisely because articles such as hers describe them as the latest greatest, but all are worthwhile if you find an open seat. Unfortunately, Mah's use of them as exemplary of a "new breed" is simply untrue.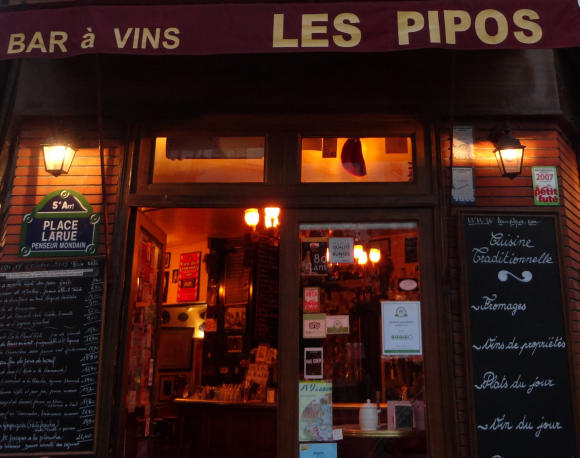 Even before the article appeared, Americans represented a large percentage of the clientele in some of the businesses recommended in the article. No problem with that; they're my people too. That doesn't mean that these bars are to be avoided as tourist traps; they are not. Trend or no trend, they are a natural choice for The New York Times Travel Section, written for an upper-middle-class sensibility that seeks safety in numbers. The editorial point of view of the typical Times travel piece about Paris (numerous as they are) seems to be based on the assumption that the last time the reader visited Paris was when she was staying with their parents at the Ritz. If true, that would explain the author's traumatic experience with "the haughty gaze of the sommelier."
The article quotes an American wine shop owner to voice the allegedly recent "cultural shift in France," it plugs a wine bar and restaurant owned by another American, and it cites several bars largely frequented by Americans, leading me to wonder if what Mah has truly discovered is that a food or drink trend in Paris can't exist without us. That would explain why the sudden appearance of several hole-in-the-wall oyster bars two or three years ago never reached trend status: there just isn't a critical enough mass of Americans who like raw oysters.
I'm not knocking the pleasures of a glass or three and some tapas in any of the businesses mentioned in the article. Of the six, I occasionally stop at Ambassade de Bourgogne when in the Saint-Germain/Odéon Quarter when in the area for a tête-à-tête with a friend fond of Burgundy wines. (That bar is actually the odd man out in Mah's list because less of a foodie scene and less convivial than the others.)
Still, Mah's gratuitous mention of Le Verre Volé is where she shoots herself in the foot. Le Verre Volé opened in 2000, a full decade before the alleged 2010 start of Mah's "new breed." Le Verre Volé was once on the forefront of something (that something being a certain kind of organic wine snobbery, though its attitude has softened as that wine movement widened). A search on The New York Times's website shows that Mah's is the fifth Times article since 2009 to glowingly mention Le Verre Volé. I imagine that thousands of other journalists, bloggers and foodies have listed it as well. In fact, I'm one of them. I mentioned Le Verre Volé in the Canal Saint-Martin chapter of "Paris Revisited: The Guide for the Return Traveler," my guidebook published in 2003. That doesn't place me ahead of the pack so much as it shows Mah's selection of "the city's newest tables" to be both old news and the result of sloppy research. The bandwagon isn't the only place to eat and drink well.

Mah is nevertheless correct, give or take a decade, that there's been a movement in Paris toward easy-going bars and restaurants serving casual, talkative clients organic/natural wines, less industrial food, and products with a clearly stated provenance.
That movement stands on firm cultural and economic ground: cultural because Parisians are accustomed to seeking out appellation products and quality French food and drink in general (and furthermore because over the past two decades Parisians have become more comfortable drinking while standing up, though more beer than wine), economic because reducing or eliminating the kitchen is the key to a healthy bottom line in the food and drink business in a high-rent, high-labor-cost city such as this.
For all the appellation traceability promised by these wine bars, there isn't much kitchen work involved in slicing charcuterie, cutting bread and wedges of organic cheese, and heating up some tapas. Artisanal products, though not fast food in the industrial sense, allow for significant margins when they require as much know-how and labor behind the counter as a Big Mac or a salted caramel mocha.
Thus, Paris saw the mainstreaming of sushi restaurants in the 1990s; the early 2000s saw the arrival of bars and restaurants serving organic and biodynamic wines (now broadened to include less regulated "natural" wines), which went hand in hand with an increasing emphasis on accompanying plates of artisanal cold cuts and cheeses and now other tapas (Mah's "new breed"); the opening of the aforementioned oyster bars which coincided with the creation of appellation coffee shops, and most recently, first appearing in 2012 and coming into fruition in 2013, the creation of craft beer bars and craft beer shops. If there's a new breed in Paris these days it has more to do with hops and malt than with grapes.
The true movement in the Paris wine bar scene over the past 12+ years has not been a downscaling towards relaxed wine bars but rather an upscaling since an increasing percentage of Parisians and tourists can easily affordable to pay for wine and tapas what used to be considered the price of a meal.

I don't criticize this type of wine bar/restaurant. Au contraire. I go to such places with friends and I give food and may include them on my history-of-food-and-wine in Paris tours and in wine tours—typically not to bars Mah's listed but to others (there are many) whose offerings and ownership fit in best with the evening's themes. However, by presenting old news as new news and by failing to do simple research or, worse, by consciously scuttling any sense of history, culture or economics in order to appear trendy, the form of travel writing represented by the article treats readers as sheep-like lifestyle consumers rather than as curious travelers.
The New York Times Travel Section has long been the weakest link in a great brand (I subscribe) but it's a weak link with significant influence. A list that appears in the Times will be clipped, printed, forwarded and used by numerous travelers for many months to come while also inspiring other journalists and bloggers to repeat the same misinformation. (Some of my own faithful readers are fond of unwittingly insulting me by forwarding me such articles along with a kindly "Do you know about these places?" or a benevolent, "You might want to share this." Ouch!)
Last week, I had a fine dinner and an easily ordered carafe of wine with the editor of a newspaper whose territory in the New York region is occasionally covered by the New York Times. After I told of my annoyance with Ann Mah's article, the editor remarked, "When we read an article in The New York Times about a subject we know well and realize how uninformed the journalist is it's a wonder that we believe the rest of the paper."
Of course, Ann Mah's wine bar article is a fluffy travel piece, however misinformed, can lead some to happy travels. The paper's hard news, of greater important for the national discourse, presumably receives more vetting. Still, if one of our finest news gathering organizations can be so far off about Paris, which is a 10-minute metro ride from the headquarters of the International New York Times and among the foreign destinations the mother paper most frequently covers, then maybe we should all be drinking more wine, wherever we can get it.
© 2013, Gary Lee Kraut