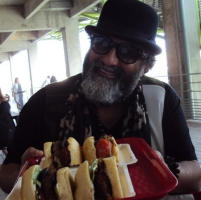 MOB closed in 2015. We nevertheless leave this article online to read about its founder and its creation.
In a remote yet happening Seine-side quarter of Left Bank Paris, Corinne LaBalme checks out  the chick-pea hot-dogs and cheese-less cheesecake at MOB—the Brooklyn-inspired HQ for a new wave of vegan fare—with "recovering carnivore" Cyril Aouizerate.
* * *
Toulouse-born Cyril Aouizerate didn't grow up with veggie credentials. In fact, his father's family ran a kosher butcher-shop in Marseille. But what a difference a vegan girlfriend can make—enough to make a man switch the philosophy in his fridge.
Philosophy is Cyril Aouizerate's home-turf, even if he gave up teaching it at the Sorbonne after one semester.  He trended towards commerce and became (with Patrice Trigano and Philippe Starck) one of founding fathers of the Mama Shelter phenom, the rapidly-expanding chain of affordable hotels that are both fashion-forward and budget-downward.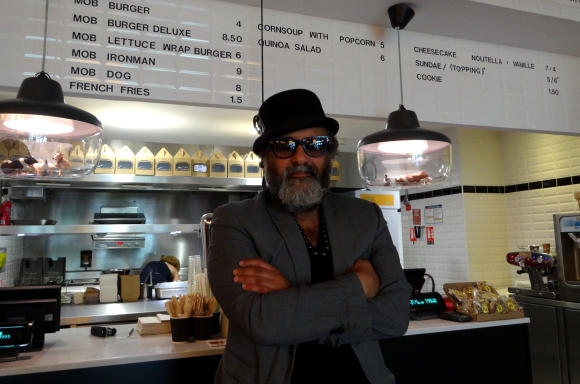 But that wasn't enough. If no one has trouble believing that Woody Allen finds inspiration in Paris, why shouldn't a Frenchman find his mojo in Flatbush? A trip to Brooklyn in the 80s was "transformational," says Cyril. And that's why the first MOB (Maimonides in Brooklyn) was founded on Atlantic Avenue.
MOB is a burger and hot dog joint with a twist: it's vegan (végétalien in French)—no animal products: no meat, no butter, no eggs, no cheese, no milk… yet burgers and dogs nonetheless. In New York, the Daily News praised MOB for its "natural" cuisine. But what would the cholesterol-philiac French think?
MOB made an 8-month test landing in a small space on rue Charlot in the Marais before reopening large in the decidedly non-central Cité de la Mode and du Design at Les Docks near the Gare d'Austerlitz.
Since its Seine-side opening in June, MOB has found a new following with people who have no problem believing that his culinary alchemy can transform coconut milk into cheesecake.
And the cheesecake is very good (if a trifle tropical island-ish), as are the chick-pea hot-dogs which get their frankfurter-appropriate orange tint from minced carrots and a dash of saffron. The burger deluxe is Fourth-of-July delicious. Indeed, this French vegan fare is steeped in Americana, beginning with an image of the Brooklyn Bridge on one wall, part of the restaurant's graphic design for which Cyril worked with the singularly named Moossa. And you can soup up the burgers with Heinz ketchup and imported French's mustard then wash it down with a designer fruit juice although Aouizerate is French enough to include a tri-color selection of wine and champagne (Ruinart) in the beverage fridge.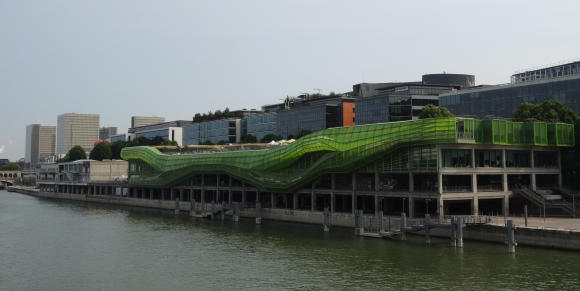 The Cité de la Mode et du Design is ensconced in a 1907 warehouse, one of France's first experiments with re-enforced concrete, which got a green-colored "plug-over" makeover by the Paris-based architectural team Jakob+MacFarlane, best-known for the Georges restaurant in the Pompidou Center. It's an offbeat space known as Les Docks with open terraces, a warm weather lounge bar, exhibitions and a fashion school. Through October 2, hula hoop lessons are given on alternate Wednesday nights.
[View the 48-second video intro to this review]

Tuck this address into your notebook for vegan (and proto vegan) pals, but you may not need to direct them this far afield for high-falutin' (Alain Senderens consults on the recipes), eco-falafel for long. Cyril Aouizerate is already scouting future MOB outlets in Saint-Germain-des-Près, Montparnasse and the Garnier Opéra district.
© 2013, Corinne LaBalme
MOB, Les Docks – Cité de la Mode et du Design. 34 quai d'Austerlitz, Paris 75013. Metro: Gare d'Austerlitz. Open daily noon to midnights. Burger €4, burger deluxe €8.50, hot dog €8.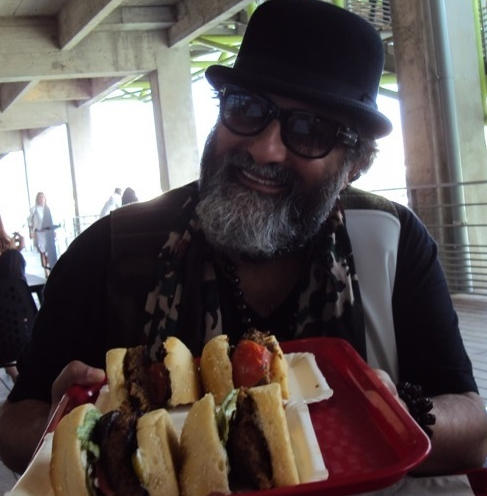 For information about Les Docks, visit  www.paris-docks-en-seine.fr.
For more on Seine-side developments of the 13th arrondissement on France Revisited read Paris Rive Gauche: a 21st-century Left Bank.