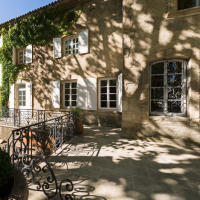 Corinne LaBalme finds something old, something new, a spa and a golf course, too, at a stylishly revamped inn midway between Avignon and Aix-en-Provence.
* * *
An up-and-coming hotel group decides to make a move on a historic rural inn, expand the building, triple its number of rooms, install a spa and add a conference center. With a project like this, there's a lot that can go amiss on the aesthetic side, but the Marseille-based Maranatha Group has pulled it off with panache.
The 4-star Moulin de Vernègues, whose foundations date to the 13th century, packs a whole Dan Brown mini-series into its stone walls. The Knights Templars slept here (a yet-undiscovered underground tunnel presumably leads to their fortress) and they may well have buried a secret treasure somewhere beneath the paving stones. PG-rated Good King René patronized the dining hall, but the family kept things kinky by marrying into the Marquis de Sade dynasty. Chartreuse monks brewed mysterious potions on the premises in the 17th century. Post-revolution, the building operated as a postal relay.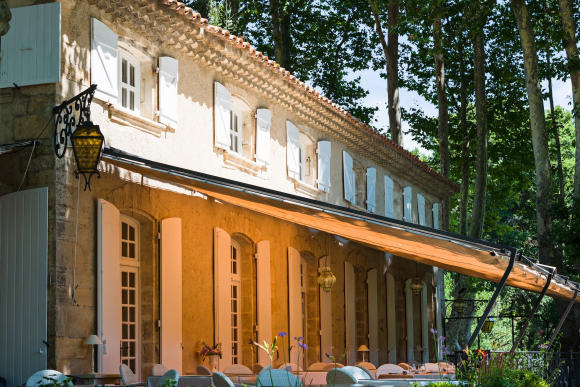 While the redecoration of the old house (which includes a private chapel) was not entirely finished when we visited in May, we liked everything we saw. The 13th-century fireplace and elaborately-painted ceiling beams mesh well with contemporary furniture in Provençal shades of almond, poppy, lilac and ochre.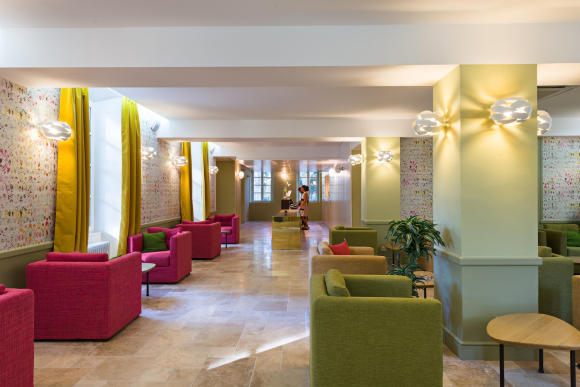 The 34 rooms in this section of the hotel blend historically austere lines with fancy bathrooms and cable TV.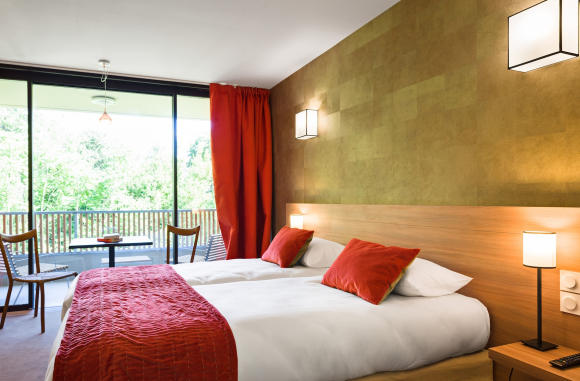 What's more surprising is how well the modern extensions work. Architect Olivier Sabran has linked the old and new buildings with covered bridges and artfully harmonized the new construction materials with the old stonework. The spa (sauna, hammam, Jacuzzi plus massages and Occitan facial treatments) has been nestled into the former stables.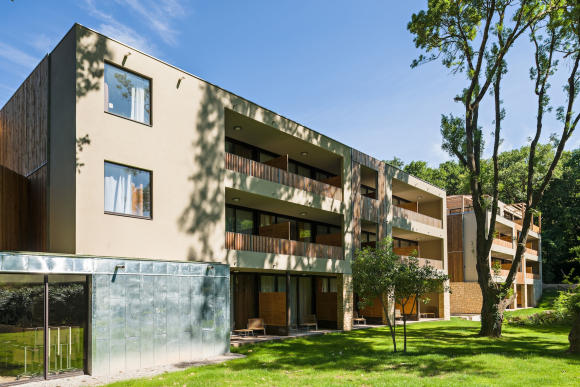 Those covered bridges add a labyrinth factor to navigating the hotel.  It's easy to get lost betwixt the bedroom and the bar even before you have a drink. But if you do want a drink with dinner, the wine-list ranges from delightful Côteaux d'Aix en Provence from the Château de Calaron, 29€, to 1986 Cheval Blanc, 875€. The morning after, breakfast is large and lavish–don't miss the house-made jams.
There's more to Vernègues than tanning at the pool and hot-stone massages at the spa. Most visitors work off the calories at the adjoining Golf de Pont-Royal. (You can see the second hole from the dining room.) It's a technical course designed by Seve Ballesteros. Bring your camera for the par 4 seventh hole, a dogleg with a spectacular view of the Alpilles and Lubéron hills.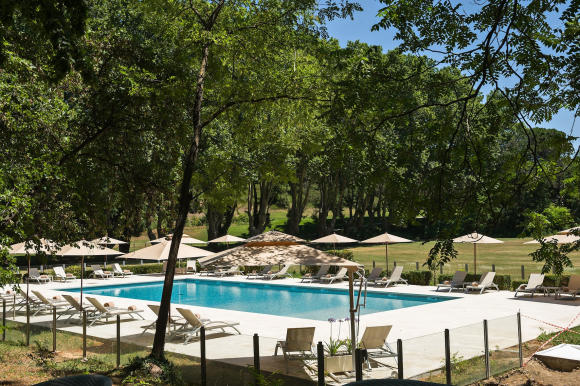 A drawback for all this rural charm is that it's about a 45-minute drive to Avignon, Arles or Aix-en-Provence, but that could also be seen as an advantage since it places visitors more or less equidistant from each of these towns as well as just 25 minutes from Cavaillon, home to a succulent melon.
Le Moulin de Vernègues, Route Domaine et Golf de Pont Royal, RN7, 13370 Mallemort, Bouches-du-Rhone. Tel. 04 90 59 12 00. Summer rates run 183-390€, slightly lower in other seasons plus other off-season packages.
© 2013, Corinne LaBalme
Corinne LaBalme, a Paris-based writer, journalist and editor, is currently developing a series of lifestyle documentaries for Muses Productions.