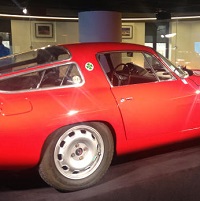 Corinne LaBalme discovers NoLita, a ritzy ristorante parked next to the vintage Lancias in the Fiat Group's "Motor Village" on the Champs-Elysées. If a Maserati goes a lot faster than a mere car, the menu at NoLita goes a lot farther than simple carbonara.
* * *
Perhaps the Fiat Group (Fiat, Alfa Romeo, Lancia, Abarth, Maserati and Jeep) picked up on some esoteric Italian karma when they chose Paris's Rond-Point for their showroom.  Back in the 1770s, there was an amusement park called "Le Colisée" (The Coliseum) on the site. Years later, it was the home of Meyerbeer, the German composer who loved Italy so much that he changed his name from Jacob to Giacomo.

In 2006, Fiat hired star designer Jean-Michel Wilmotte to create a spiral-centric building that bears a distinct resemblance to the toy garages of childhood dreams.  Great autos from the past make cameo appearances among the latest models. At present, the Motor Village shines the headlights on dashing Alfa Romeos like the Romeo Guilia T2 pictured below.
With Chef Vittorio Beltramelli in the kitchen, NoLita's food is worth a detour on its own. Beltramelli trained with Gualtiero Marchesi (Italy's first three-star chef) and with Alain Ducasse in Monaco (too many stars to count). Whether it's a simple plate of mixed grilled vegetables, 18€, or a platter of classic vitello tonnato with capers, 22€, the execution is masterfully Michelin.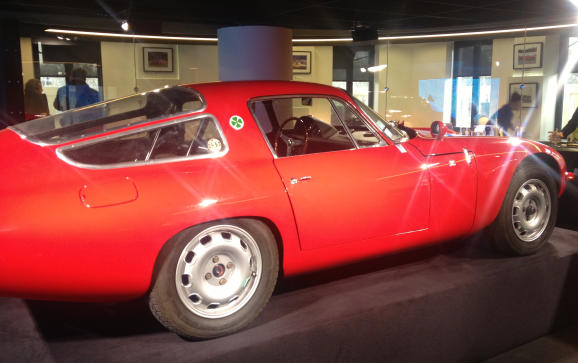 While we loved the roasted cod (or merluzzo, proving once again that everything does sound better in Italian), the dish that really wowed us was the barbietola, 22€, a can't-be-beat beet risotto with a shot of emerald herbs and parmesan.
Aside from a few Champagnes mixed in with the Spumantes, the wine list is totally Italian, with prices that range from simpatico Toscano Ruffino, 32€, to an utterly sensazionale 1995 Tenuto San Guido, 795€.  In other words, there's fuel for the Fiat crowd as well as for Maserati MC12 drivers.
NoLita. 2 Rond-Point des Champs-Elysées, 8th arrondissement. Metro Franklin D. Roosevelt. Tel. 01 53 75 78 78.  Open Mon.-Sat. for lunch and dinner, Sun for brunch. http://www.nolita-ristorante.fr/
© 2013, Corinne LaBalme
Corinne LaBalme, a Paris-based writer, journalist and editor, is currently developing a series of lifestyle documentaries for Muses Productions.