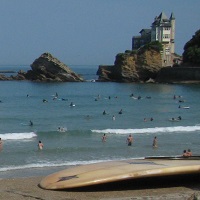 In which the author visits Biarritz, meets a French surfing legend, learns the history of surfing in France, zips up a wet suit, takes a surfing lesson and eventually glides along with the 3-year-olds. Includes photos.
* * *
Joël de Ronay pushes me from behind by the pool at the Hôtel du Palais in Biarritz.
"You're goofy-footed," he says when I fall forward on my right foot.
"Is that good or bad for my future as a surfer?" I ask.
"That depends on you. You'll see tomorrow," he says.
But I suspect that time is not on my side, not just because I'm over 50 but because I've only signed up for a 90-minute surfing lesson the following morning.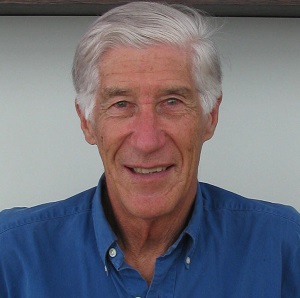 Mr. de Rosnay, on the other hand, has been surfing since before I was born. He is a celebrity in surfing circles, one of the pioneers of the sport in France—indeed in Europe. He first took board to wave in the summer of '57 when surfing first took off on the shores of the continent, starting right here at Biarritz. Now in his 70s, Mr. de Rosnay still looks as though he could as confidently ride the waves as he can address an audience about the relationship between man and the ocean and between technology and the environment. We'd been discussing those relationships (the real reason for my visit to Biarritz) before I mentioned tomorrow's surfing class (the reason for this text).
A brief history of surfing on the Basque coast
Surfing was well on its way to becoming a pop culture phenomenon in California when, in 1956, a couple of Californians recognized the potential of the waves along the Basque coast while here to make the film adaptation of Hemingway's The Sun Also Rises, which was being partially shot along the beaches of Biarritz. Peter Viertel, the screenwriter, and Darryl Zanuck, the film's director, could largely only admire the waves from the beach since there were no suitable surfboards to be had. Returning in 1957, Viertel brought over his own boards, one of which he lent to Joel de Rosnay, a young man from Paris then on vacation in Biarritz. They were soon joined by others and news began to spread that a new sensational sport had arrived.
The first French championship took place here in September 1960, with Mr. de Rosnay crowned as champion. The following year the first European championship was held on these bikini-clad shores. Mr. de Rosnay placed fourth, but more significantly, that event affirmed Biarritz's place as the European capital of surfing and, when wind of the championships reached California, put the town on the map for American surfers seeking thrills in Europe.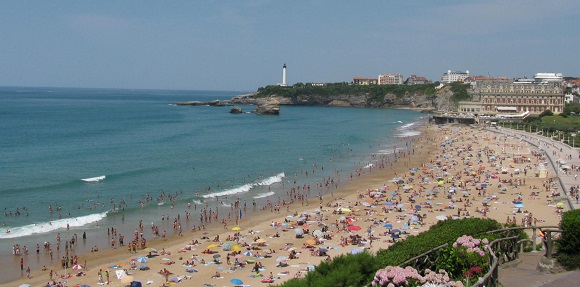 Biarritz had had a British connection ever since British aristocracy learned in 1854 that Emperor Napoleon III and Empress Eugenia were building a palace (eventually transformed into the Hotel du Palais) overlooking the beach. Now, a century later, it had an American connection beyond the Hollywood set. (Just as it took over 40 years from the creation of the imperial palace before Queen Victoria visited in 1899, it took over 40 years from the initiation of surfing in Biarritz for the Beach Boys—well, at least Mike Love an Bruce Johnston—to play here in 2001.)
In 1963, an international championship, won by Australia's Peter Troy, was held a few miles north of Biarritz at the mouth of the Adour River.
By the end of the decade, T-shirts, Bermuda shorts, Frisbees, skateboards and shortboards had arrived along with Flower Power and Volkswagen buses. Within another decade the business of surfing had taken firm hold in Biarritz and the sport was claiming waves all along France's Basque coast and north along the coast of the Landes (Hossegor, Lacanau). Meanwhile, kamikaze surfers began to gather round the campfire to tell stories of monster waves at Le Furoncle, just north of Biarritz, at Vanthrax, near the Spanish border, and about rare 30-foot swells 1½ mile from the coast at Belharra, just south of Biarritz.
Surf school
For my part, I head out the following day to confront the waves at the Plage de la Côte des Basques, where it all began.
Waves, however, may not be the word for what I confront this exceeding calm morning: 12-inch swells tumbling over to form a line of foam not even high enough to knock over a 3-year-old. In fact, the 3-year-olds are already surfing.
The baby of our group of five newbies is in her late 30s. You're never too old to learn, I suppose, but you can be too claustrophobic to zip up a wet suit. I'm nearly prepared to call the whole thing off, but a couple passing by on the beach just then gives me the up-and-down with a smile that makes me think maybe that I look ménage-à-trois sexy in the tight suit.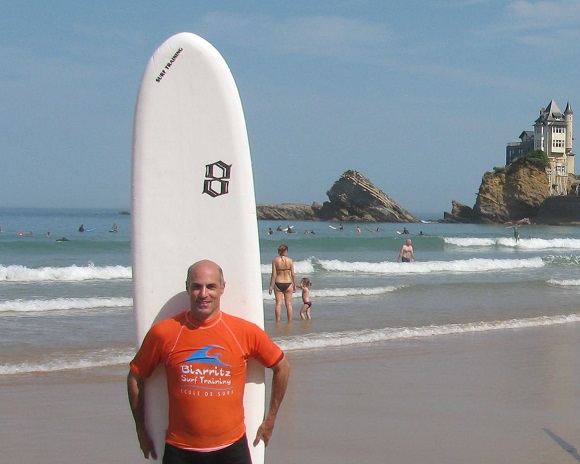 I then reread their up-and-down and realized that it goes from the words on my chest (Biarritz Surf Training) to the height of my surfboard, longboard that looms over my head, and that their smile is at best one of pity. Anyway, I forget the strangling wetsuit and carry my board to join the others on the sand.
The Bay of Biscay as it washes against portions of the coasts of France and Spain can be too moody in some parts to be associated with smooth sailing, backstroking and first-time surfing. But Biarritz's coastline is known for the consistency of its surf, making it a fine place for beginner and intermediate surfers, especially from May to early October when the water temperature is sufficiently warm. There are often also plenty of more unruly waves for experienced surfers both at Biarritz and north and south along the Basque coast.
The town's historic focal point, however, is less the beach than the rocky outcrop at the center of the town's coastline, where the striking Art Deco aquarium and the old port are. The outcrop is surrounded by tremendous boulders, possibly hurled by the gods to instill fear in the hearts of inhabitants tempted to search for Atlantis, which is somewhere out there.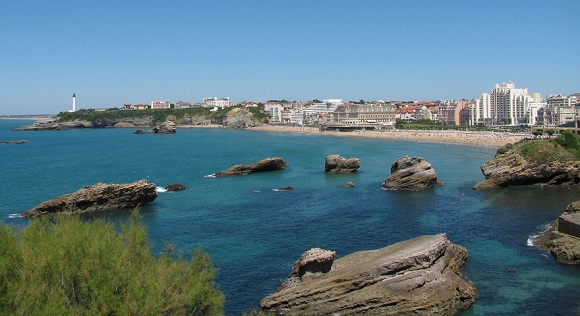 In 1864, on one of the rocks resembling an overturned boat, locals sought to assuage that fear by planting a statue of the goddess Mary. An iron foot bridge, built by Gustave Eiffel's company to replace an earlier wooden bridge, leads out to the Rock of the Virgin and no promenade in Biarritz is complete without crossing it.
That rocky outcrop separates the two central stretches of beaches: la Plage de la Côte des Basques to the south and la Grande Plage and la Plage Miramar to the north. The Hotel du Palais overlooks the central portion of the northern stretch, between la Grande Plage and la Plage Miramar.
My surfing lesson on the Plage de la Côte des Basques is with Philippe Beudin, director of Biarritz Surf Training, one of nine surfing schools in Biarritz.
It's a beautiful morning, already 80 degrees and on its way to being a springtime scorcher.
"A perfect day for a first lesson," Mr. Beudin announces to the five of us in the class.
We are all excited. The class looks longing toward the water but Mr. Beudin keeps us on the sand, where we practice standing up on boards, trying to memorize steps that undoubtedly come naturally to kids.
Born in 1962 and a native of Biarritz, a Biarrot, Mr. Beudin grew up at a time when surfing was finding firm footing as a sport of freedom on this coast. But he didn't seriously take up the sport until his late teens, meaning in the early 1980s, the period in which surfing grabbed hold as a mass market sport in these parts. He has since traveled far and wide with his board, naturally including Hawaii, before returning home to create his surfing school.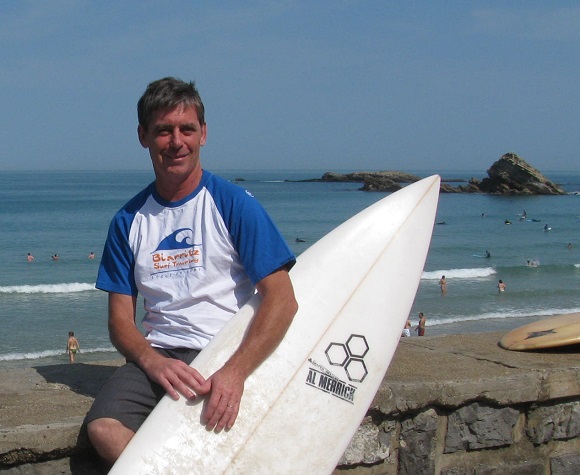 We eventually take our longboards into the water until we are about waist deep, where the waves don't break so much as push a pile of foam toward the shore. Mr. Beudin's instructions are clear, patient and encouraging, yet none of us manages to stand up on our boards. I try not to feel past my prime when a six-year-old glides by and waves. But little by little we all make progress. My hour in the water goes something like this:
Foot forward, fall… foot forward, fall… foot forward, fall… push up, fall… foot forward, fall… push up, fall… push up, fall… half-stand, fall… foot forward, fall… push up, fall… half-stand, fall, drink seawater… half-stand, fall… stand, fall… stand, fall… half-stand, fall… stand one second, fall… stand two seconds, fall… and finally: stand one, two, three, four, five, si-, fall—a magnificent ride on a foot-high wave. Cowabunga!
Several hours later I cross paths with Joël de Rosnay again while having lunch at Le Sin, the restaurant at the Cité de l'Océan (described in the next article in this series to be posted this week), a museum dedicated to the ocean. Seated with a group of well-dressed lunch companions, this is clearly not an aging beach bum but rather a successful consultant and entrepreneur.
Indeed, for Mr. de Rosnay surfing wasn't so much a lifestyle as a trampoline from which he followed his interests and opportunities in a varied career that has led him to make his name in the various fields of sports, technology, food and the environment. Surfing may have been his early attraction to visiting the United States but it was far from his last, as his CV includes a stint as research associate at MIT in the field of biology and computer graphics and Scientific Attaché to the French Embassy in the U.S. He currently serves as the president of Biotics International, a consulting company specialized in the impact of new technologies on industries. He is the author of books on his various fields of interest and expertise and has most recently published Surfer la vie: comment sur-vivre dans la société fluide (Surfing through Life: How to sur-vive in Fluid Society).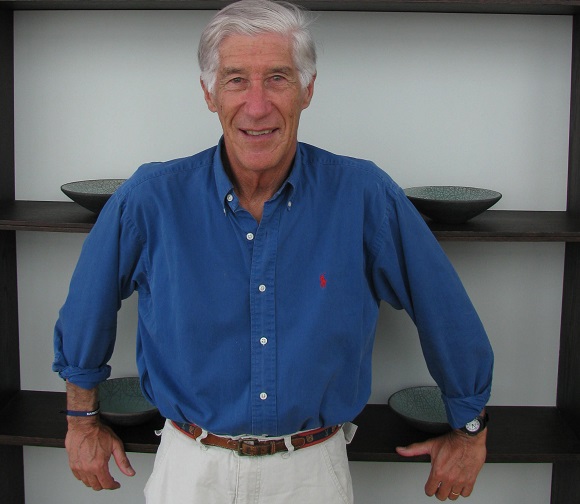 I reintroduce myself as the fellow he pushed by the pool yesterday. I tell him briefly about my first surfing experience, a story he's certainly heard a thousand times.
"It's a start," he says.
He asks how I like the museum.
I say the same thing.
I ask to take his picture and he obliges.
That afternoon I decide to stay in Biarritz an entire week to learn how to surf.
I imagine the days ahead: morning lessons with Philippe Beudin, a chat with my favorite Basque merchants at the daily morning food market,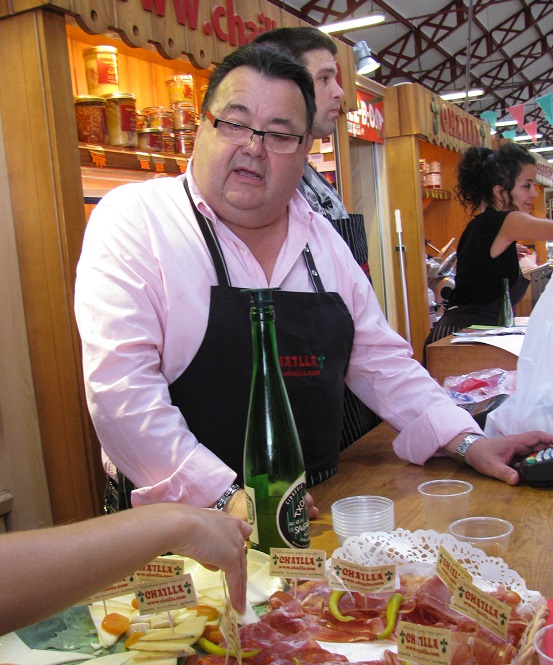 … an excursion to Saint Jean de Luz, then back to Biarritz to meet new-found surfing buddies for dinner at La Plancha or for a sunset picnic on the beach,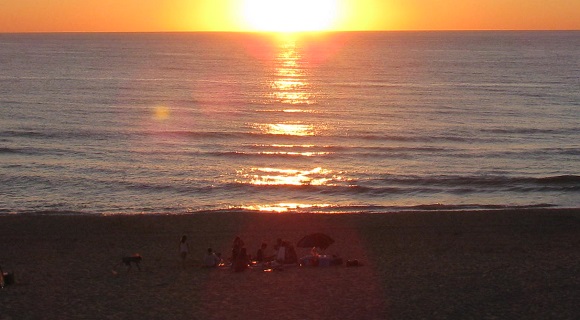 … and eventually attacking three- and four-foot walls by the end of the week.
It isn't actually a decision. It's a travel fantasy before flying home at the end of the day.
© 2013, Gary Lee Kraut
For more information about Biarritz on France Revisited read: Biarritz Ocean: The Brand Between Bilbao and Bordeaux and Biarritz Hotels.
Official site of the Biarritz Tourist Office: http://tourisme.biarritz.fr/en
Biarritz Surf Training, 102 rue de Pierre Chevigné, 64200 Biarritz. Tel. 05 59 23 15 31. www.surftraining.com. Open April to November. See website for pricing for 1-10 lessons and for intensive or leisure weekend or week-long lessons/training. Surfboard (or bodyboard) and wetsuit included. Philippe Beudin, director.
Reservations of several weeks in advance are recommended for surfing lessons in July and August, but for much of the rest of the surfing season little advance planning is necessary. The seasons runs April to early November, with ideal time being the long spring days from mid-May (when the water has warmed a bit) through June and in the often very pleasant back season of September and October.
Philippe Beudin has teamed up with the local Alliance Francaise for a combined surfing and language vacation, with French language lessons in the morning and surfing in the afternoon, so that on returning home you can impress your friends not only with your surfing skills but also with your Basque accent.
A list of all of the surfing schools of Biarritz can be found here.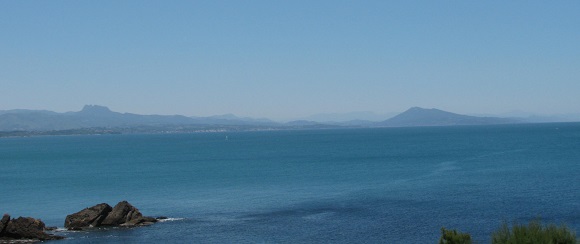 Other sports in Biarritz
Surfing isn't the only sport for which Biarritz and the French Basque coast are known. Long before the Californians arrived with surfboards the British were coming with golf clubs. The Golf de Biarritz Le Phare dates to 1888, making it old enough that it's now surrounded by city. The International Training Center at the Golf d'Ilbiarritz is south of the city. There are also nine other greens within a 20-mile radius. As a sign of the importance of golf here, Biarritz has been linked as a sister city with Augusta, Georgia since 1992.
More indigenous is Basque pelota (pelote basque), played in a variety of ways, whether barehanded, with racket/paddle or with a basket-type racket.
Finally, southwest France is rugby country and Biarritz's team, Biarritz Olympique Pays Basque (BOPB or simply BO) is a premier league team. The season runs mid-August to early May, followed by three weeks of playoffs.
Then there's the great sport of spa treatments and seawater cures (thalassothérapie) for which Biarritz is also well know. Thalassotherapie is practiced at two centers: Thalassa Biarritz at the Sofitel Biarritz Le Miramar and Thalmar, directly accessible from the Hotel le Biarritz. Hotel du Palais, the town's most luxurious hotel, has a beautiful spa called The Imperial Spa (with Guerlain).
Getting to Biarritz
There are direct flights to Biarritz from Paris and other French cities as well as from various northern European capitals (London, Dublin, Copenhagen, Brussels, Rotterdam, Stockholm). By train, Biarritz is 5:20 from Paris and 2:00 from Bordeaux.