Accompanying France Revisited's examination of surfing and museums in Biarritz, here are five notable hotels in the mid and upper price ranges, i.e. 3-,4- and 5-star hotels, including the history of the imperial residence that launched Biarritz as an international resort destination.
Hotel du Palais
Imperial Resort and Spa
1 avenue de l'Impératrice, 64200 Biarritz.
Tel. 05 59 41 64 00. Website.
You don't need a 5-star budget in order to enjoy the pleasures of the French Basque coast, but if you've got one then there is only one place to use it: Biarritz's Hotel de Palais, the classically luxurious, exceptionally situated and overall outstanding seaside palace.
The history of this hotel has been inseparable from that of Biarritz ever since 1854, when Emperor Napoleon III, gave his nod to the construction on this site of a summer palace, Villa Eugénie, named for his wife.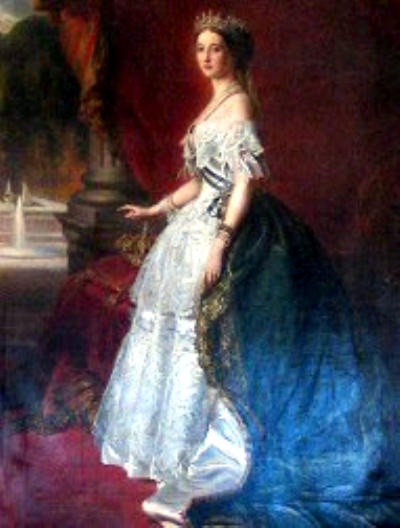 It was she, Eugénie de Montijo, born into Spanish aristocracy but raised mostly in France, who was so fond of Biarritz, having first visited at age 9, in 1835. (While Eugenia was particularly fond of Biarritz, Napoleon III had a warm spot for Vichy [see article http://francerevisited.com/2009/07/vichy-not-that-vichy-this-vichy/], as did his mistresses.)
The imperial couple's visit to Biarritz in the summer of 1854 got them hooked on the beauty and warmth of the Basque coast, and Villa Eugénie was ready to receive them on their visit the following year. For the next 16 years, with the exception of 1860 and 1869, they sojourned, bringing with them a train of aristocracy—French, first, then from throughout Europe. "La reine des plages et la plage des rois," Biarritz was called: The queen of beaches (beach resorts) and the beach (beach resort) of kings.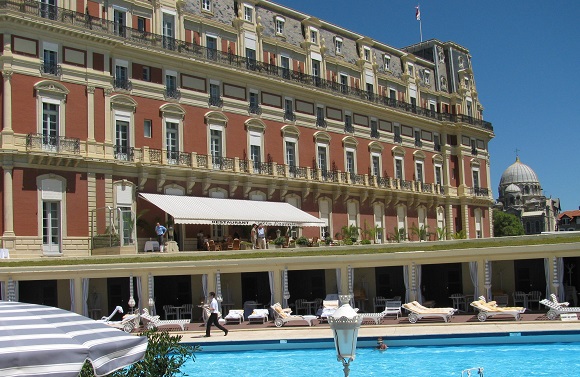 The crowned heads barely took pause with the Franco-Prussian war and the fall of the emperor, as Biarritz remained one of France's most notable resorts during the Belle Epoque. It was a period that saw Villa Eugénie transformed into a hotel and casino. Russia's grand dukes came for the season; Queen Victoria saw fit to visit and then so did Edward VII and many more. Much of the hotel-casino burned down in 1903, after which it was largely rebuilt as the luxury hotel seen today. You'll see the initials NE around the hotel referring to Napoleon Emperor or, if you prefer, to Napoleon and Eugenia.
The Hotel du Palais has the particularity among France's top crop of hotels of belonging to the City of Biarritz and of nevertheless being well managed, apparently, by a semi-public (mixed economy) company. The rooms are of classic luxury with pretty little contemporary touches.

The hotel has a pool, a fine restaurant, bar, direct access to the beach and a spa. A fine place from which to enjoy a moody sunset.
The spa (Guerlain products) covers five floors and is brightly lit by natural sunlight. In addition to the pool and other amenities to which clients have free access, the spa offers soins that are "cocooning, personal and intimate" along with a Leonor Greyl hair institute.
Café de Paris
5 place Bellevue, 64200 Biarritz.
Tel. 05 59 24 19 53. Café de Paris is part of the HMC group of hotels and resorts. Website.
This sweet and sober 4-star boutique hotel with an easy-going décor of gray, white and splashes of color is ideally situated at the crux of the Grande Plage, with a remarkable view from all 19 rooms of the length of the beach and out to the lighthouse. A short walk in other directions leads to covered food market, the old ports and the promenade over the rocks. The hotel itself has a worthwhile restaurant.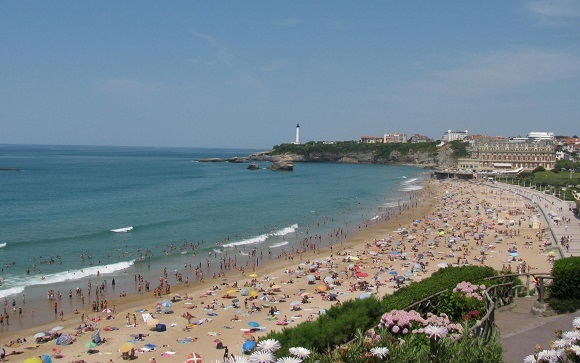 Hotel Windsor
Grande Plage, 64200 Biarritz.
Tel. 05 59 24 08 52. Website.
The Hotel Windsor, owned and operated by the Heguy family since 1948, is also a 4-star. It's a notch less notable than the Café de Paris but also a notch less expensive. Half of its 48 rooms overlook the crowds of the beach (la Grande Plage). The rooms are simply decorated—bright white walls and furnishing, striped bed covers, dark wood floors; pleasant if not exuberant. There are some nice rooms on the courtyard and others on the side with a sliver of a beach or ocean view, but of course the full frontal view is preferable. There are a few reasonably priced family rooms for those traveling with young children.
Edouard VII
21 avenue Carnot, 64200 Biarritz. Tel. 05 59 22 39 80. Website.
With 18 rooms housed in a 19th-century mansion, this family-operated 3-star hotel feels like a large B&B: cozy, a touch of charm, a nice place from which to feel at home in the city and to chat up other guests. The Edouard VII isn't as close to the beach as the others mentioned here, but it's only a short walk (about 350 yards) to the Plage de la Côte des Basques, Biarritz's longer and less citified beach. Another way of looking at it is that when staying here you can reach either beach on a short walk, and the covered food market, which is the center of local life in the morning, is just 200 yards away.
Room size increases slightly from one category to the next though the more noticeable difference is the increase in bed width—140 cm/55 in., 160 cm/63 in., 180 cm/71 in. There's a fourth category: a family room suitable if traveling with small children. In the warmer seasons breakfast can be served on the terrace.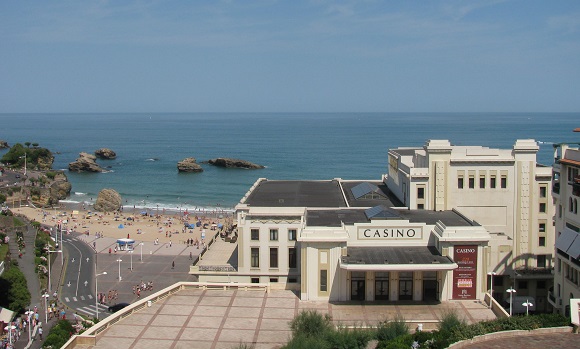 Mercure Plaza
10 avenue Edouard VII, 64200 Biarritz. Tel. 0559247400. Website.
A handsome, 69-room, 3-star chain hotel with an admirable Art Deco heart, the Mercure Plaza is well set just a block off the beach, across the street from the casino and a fine place from which to set out on a promenade in any direction.
When to visit: A visitor naturally wants warm weather and warm (at least not cold) water when visiting Biarritz, and that naturally means visiting from mid-spring to mid-autumn. Nevertheless, Biarritz is a worthwhile off-season destination, when you may well luck upon some warmish sunny days between October and March. Furthermore, as with all seaside resorts, off-season pricing can be up to half that of the high season.
© 2013, Gary Lee Kraut
For more on Biarritz on France Revisited read: Biarritz Ocean: The Brand Between Bilbao and Bordeaux and Biarritz: The Surfing Lesson.
Official site of the Biarritz Tourist Office: http://tourisme.biarritz.fr/en
Getting to Biarritz: There are direct flights to Biarritz from Paris and other French cities as well as from various northern European capitals (London, Dublin, Copenhagen, Brussels, Rotterdam, Stockholm). By train, Biarritz is 5:20 from Paris and 2:00 from Bordeaux.