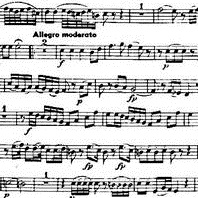 France Revisited gets into the musical spirit this week with a quick little writing contest whose winner will receive a set of tickets to the April 11 performance of Sinfonietta Paris Chamber Orchestra, a new American-led orchestra for young professional artists. The winning vignette appears below the following article about Sinfonietta Paris.

Sinfonietta Paris Chamber Orchestra is a new artistic organization and orchestra dedicated to showcasing and developing a new generation of orchestral musicians and soloists. Founded in 2011 and led by American Michael Boone, Sinfonietta Paris will be revealing its talent on April 11 and 12, 2013 through a program of Stamitz, Strauss and Suk presented at two different venues in Paris.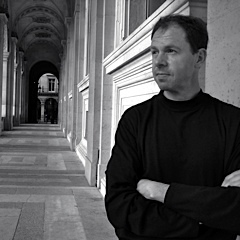 [Contest information follows below the article.]
In creating this orchestra of 17 young professional artists in the early stages of their careers, Mr. Boone, Sinfonietta's executive and artistic director, is seeking to develop an orchestra that is "young, international, remarkable, adventurous."
International, perhaps, but American at heart.
Mr. Boone previously served as Assistant Conductor with the Longmont Symphony Orchestra in Colorado and on the conducting faculty in the University of Oklahoma School of Music. He says that he came to France for "the opportunity to study and work with musicians who come from the European tradition of classical performance… first to study with pedagogue Neil Thomson and second to develop Sinfonietta Paris."
Sinfonietta Paris will be performing on April 11 at the Eglise Réformée des Batignolles (17th arrondissement) and on April 12 at the Habitat for Humanity Gala Event held at the American Church (7th arrondissment). Conducted by Mr. Boone, the program on both evenings includes: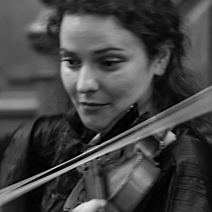 Johann Stamitz's Symphony in A Major (ca. 1746),
Richard Strauss's Sextet from Capriccio, Op. 85 (1942) (version for string orchestra),
Josef Suk's Serenade in E-flat, Op. 6 for String Orchestra.
Rika Masato, serving as premier violon solo, was a finalist in the 2006 Paganini International competition and studied with Roland Daugareil, premier violon solo with Orchestre de Paris. Principal cellist Askar Ishangaliyev was born in Kazakhstan and studied at the CNSM; he also serves as principal cellist with the ensemble Le Balcon. Principal second violinist Winnie Huang was born in Shanghai and studied in Melbourne, Australia; she's performed with the Melbourne and Thailand Philharmonic orchestras among others. Principal violist Kyle Collins, an American, was invited to the Aspen school and studied at the Cincinnati Conservatory.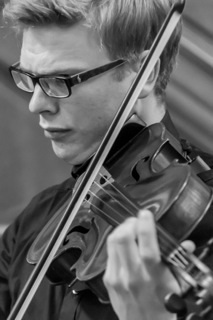 Still in its infancy as a chamber orchestra, Sinfonietta Paris hopes not only to attract an appreciative audience to these concerts but to also find ears receptive for its call for private and corporate financial support. If all goes well, says Mr. Boone, a second series of performances will be given on May 30 and 31. He says that the current goal is to deliver four concert programs per season, with two concerts per program.
Between concerts such as these, SPCO has also been conducting "Cocktails & Conversations" private chamber events, one of which this writer had the pleasure of attending at Grace Teshima's private gallery in Montmartre. Grace Teshima, as likable in person as she is on Facebook, is a tireless and generous promoter of American artistic efforts in Paris.
Sinfonietta Paris Chamber Orchestra, performing on April 11 at 8pm at the Eglise Réformée des Batignolles, a church with exquisite acoustics, 44 boulevard des Batignolles, 17th arrondissement. Metro Rome. Tickets: 15€ for premium seating, 10€ for general seating, 5€ for students. See SPCO's website for further information.

The Winning Entry of France Revisited's Musical Vignette Contest
The Entertainer
By Susan Laurent
Zigzagging through the corridor, dodging shoppers laden with carry bags, I was navigating like a spaceship through a field of asteroids. Today was the first Saturday of the sales at Val d'Europe Shopping Center east of Paris. Over the muzak they were playing the theme to that old Paul Newman film The Sting. I didn't remember much about the film, but I had a soft spot for the music, a composition by Scott Joplin. What was it called?
At the end of the mall I could see the intersection was chock-a-block with people. And I realized it wasn't Muzak at all. It was live music, not played by an amateur pianist paid peanuts to entertain the shoppers. This musician sounded like a seasoned professional. Lunch could wait. I had to see what this paragon looked like; maybe it was someone famous.  So I pushed my way through the wall of listeners until I could see over the shoulder of a young woman in black skintight blue jeans.
In the middle of the crowd, sitting on a bench in front of a piano, was a boy of about ten years old. A soiled blue anorak lay beside him on the bench. He was knocking out that number as if he had been taught to play by the king of Ragtime himself.  He was not a handsome child. The face was too long, and the limp brown hair that hung to his shoulders was not any too clean. He was wearing a red-checkered shirt, a couple of sizes too big for him, so that the sleeves had to be rolled up. It looked like it might be a hand-me-down from an older brother. Pale and thin, he was not the kind of boy who would be first choice for the neighborhood rugby team. I doubted if his parents could afford piano lessons. And yet the kid played with practiced skill and with a passion that grabbed me in the gut.
No one in the audience spoke; no one moved until the last note died away. Then we all went wild, clapping, whistling, cries of Bravo went up. He had us all in the palm of his hand, and you could tell he knew it. Suddenly, the name of the music came to me. It was "The Entertainer."
© 2013, Susan Laurent