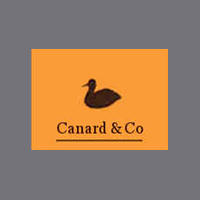 The French Southwest staked out some new territory in Paris last September when Cécile Castellan opened Canard & Co in the shadows of the Eiffel Tower. Despite the name, there's much more than mallard on the menu. This is a grocery/luncheonette that stocks all sorts of Basque and Béarnais goodies, everything from soup to cèpes, from stuffed cabbage to confit to newly trendy Bordelais caviar.
But of course… there's a lot of duck… and where's there's duck, there's foie gras. You can buy it and bring it home, or you can sink into a comfy chair during lunchtime, order a big glass of Basque wine, and set about devouring a generous 16€ platter of two home-made regional terrines, rillettes au foie gras, duck sausage, and a little magret séché for good measure. Purists opt for a hefty slab of duck or goose liver without any trimmings except for toast.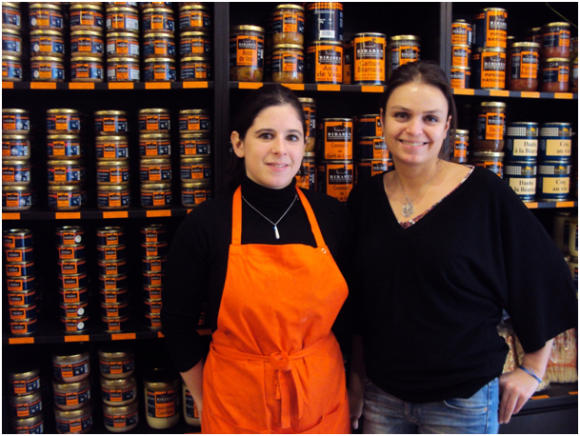 The Basque region is also known for its seafood, so there's southwestern style cod-potato brandade, 10€, or smoked-salmon/tarama platter, 20 €, for the non- birdwatcher. But we were there for duck, and although it was difficult to pass up a deep dish of scrambled eggs smothered with cèpe mushrooms, 10€, we chose the old-fashioned duck stew, 12€. After Chef Laurie Cleradin simmers it for two days in a lush broth (with added carrots and onions), the lean meat simply melts in the mouth. It makes boeuf bourguignon seem to taste like yesterday's news.
All the produce is "imported" from the region and that includes a variety of wines by the glass from 3 to 6 €. We liked the Cuvée Heïta, a golden white from the Domaine de Moncaut in the Pyranées Atlantiques that's rich enough to stand up to the stew. And of course, there's Izarra, Armagnac….
But before the digestive save room for dessert. Céline Castellan serves one of southwest France's truly mythical desserts, the gateau russe cream cake that Adrien Artigarrède invented in the hamlet of Sainte-Marie-Oléron (30 Kilometers south west of Pau) in 1925. She gets the cake directly from that original bakery. (For homesick Basques, this is akin to having a direct line on butter beer for Hogwart's alums.)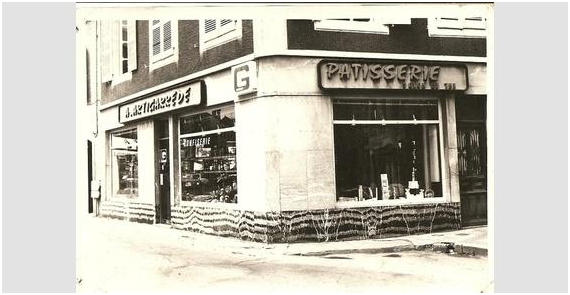 What's so Russian about gateau russe? One of the key ingredients for the cake's crust is almond powder which, in the 1920s, it had to be imported from Crimea. The rest of the ingredient list? That's been a jealously guarded secret for four generations.
Canard & Co. 192 rue de Grenelle, 7th arrondissement. Tel: 01 45 5194 73. Metro Latour Maubourg or Ecole Militaire. Lunch Monday through Friday; grocery open Monday through Saturday from 10 am to 7:30 pm and Sunday from 10 am to 2:30 pm.
Note: Canard and Co. will soon be giving classes in preparing foie gras! Call the shop for details.
© 2013, Corinne LaBalme