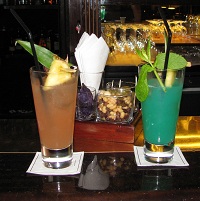 On April 14, 2014, the Hotel Lutetia closed for a three-year renovation. While awaiting its reopening, readers are invited to take a sip of this cocktail-laden travel tale and to meet Gilles Guyomarch, one of Paris's most experienced bartenders.
* * *
It's a smooth evening in the lounge-bar at the Hotel Lutetia. Daniel Roca, in-house pianist and musical programmer, wends his way through jazz standards at the center of a well-oiled trio. Head bartender Gilles Guyomarch supplies a harmony of cocktails, swaying lyrical conversation from the crowd.
I've given Mr. Guyomarch carte blanche to prepare me something not too sweet. He keeps the first one classic Lutetia with a cocktail called Le Lutèce: Grand Marnier, Havana rum, raspberry juice and lime juice.
I clink glasses with Christine and Paul Wegmann who are visiting from New Orleans. Christine is a writer who's also a lawyer; Paul is a lawyer who's also a writer. When not litigating, she writes about celebrities, he writes about sports.
At 7:30 pm, the lounge at the Lutetia can feel a bit too much like the first-class lounge at a sleek airport. Most large hotel bars give that impression at this time of day. The music helps sooth that. The cocktail helps us sink into the furniture and become a part of the atmosphere. It's a long, classy, stylish room. Before long we aren't in a waiting room but exactly where we should be. Dinner can wait. More olives, please.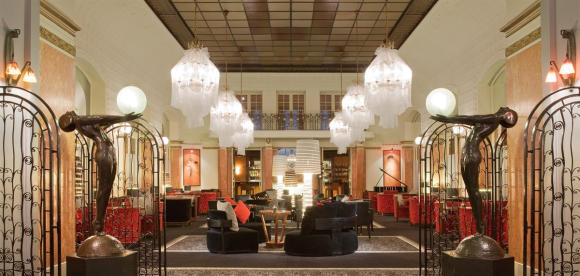 Peggy Newland, another visiting American, joins us. She's in town to do research for an article about jazz in the Saint Germain Quarter, a welcome break from her work as an adolescent psychologist. Her daughter is upstairs in the room.
The Wegmanns soon leave for dinner. Peggy and I, satisfied with an appetizer of olives and nuts, stay for a second cocktail. Again, I give Mr. Guyomarch carte blanche and this time his envoy returned with a Hemingway Special: dark Caribbean rum, tonic, lemon juice and sugar.
Peggy and I discuss journalism and writing, pretending that we're here for work. When the jazz trio takes a break and leaves the room silent we realize that indeed we are. We finish our second drink and separate for our respective interviews: I go to interview the bartender, she goes to interview the pianist.
Gilles Guyomarch, originally from the distant island of Ouessenant off the coast of Brittany, is one of the most faithful bartenders in Paris to judge by his longevity at the Lutetia. With 25 years of experience here, Mr. Guyomarch has seen two generations of patrons and assorted fads and trends come and go.
In recent years, he says, the tendency has been to more champagne, to wine by the glass rather than the bottle, to lighter drinks and, more regrettably, to a clientele that doesn't bother to dress up to swirl a drink in the lounge. Such changes are part of the natural evolution of drinking since the 1980s. It's the bartender's job to adapt.
What's disheartening, he continues, is that clients sitting alone at his bar are no longer interested in conversing with the bartender or even with each other. He indicates with his chin a man having a heart-to-heart with his handheld. "People want to live to the rhythm of Google… they have no patience for conversation."
Mr. Guyomarch does have such patience. Between cocktail preparations he speaks with the calm, discreet confidence of the best hotel bartenders.
Peggy joins me back at the bar. The pianist, the double bassist and the drummer have settled back into position for another set.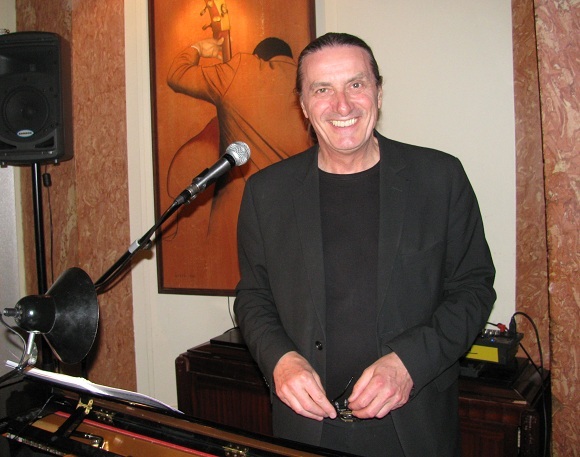 Peggy and I give Mr. Guyomarch our own confidence: we'll stay for a third cocktail.
I watch as Mr. Guyomarch improvises: vodka, Blue Cuacao, orange juice and apple liqueur for Peggy; gin, strawberry liqueur and peach liqueur for me.
I ask what these drinks are called. "It's more difficult to find names than recipes," he says. "We're like musicians. I found the recipe, you'll find the name."
So Peggy and I take up the challenge. We allow our drinks be transported on a silver tray into the lounge.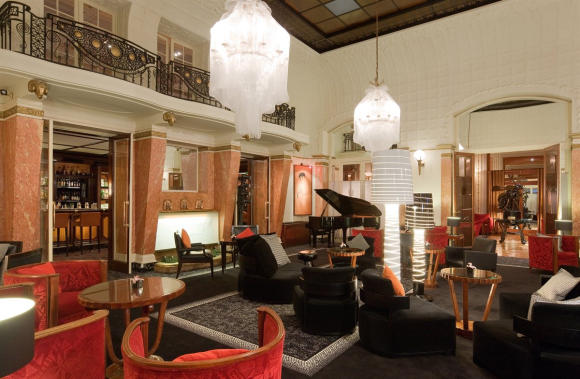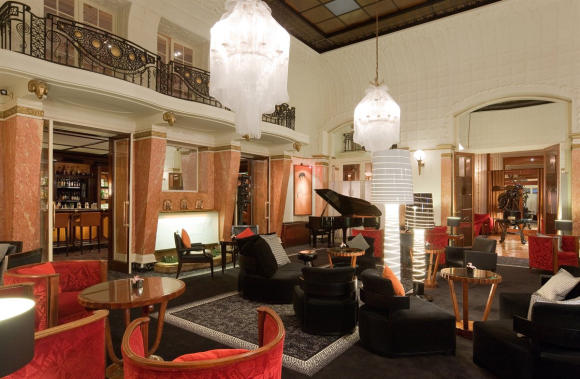 The bar, crowded when I arrived at 7:30, had emptied out by 8:45 as dinner reservations beckoned, and now, already 10 o'clock, people are trickling back in.
Peggy's daughter comes to sit with us for a while. We tell her that we're trying to find a name for our drinks. While unknotting her shoelaces the color of Curacao blue, she nonchalantly suggests Buster Blue as the name of Peggy's drink. We unanimously agree.
But we're stuck on the name of my drink.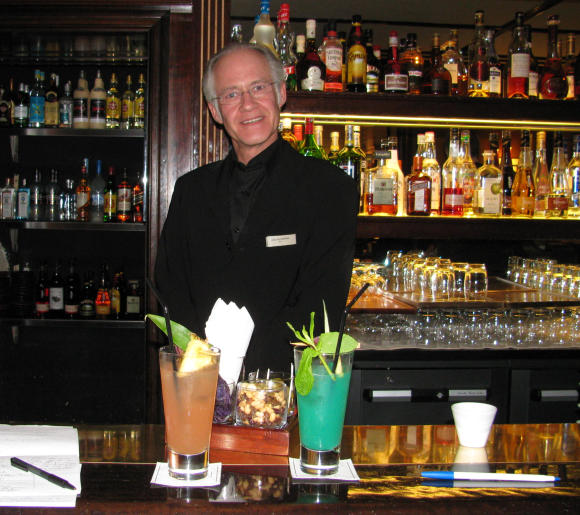 Peggy's daughter has again been invited to disappear. Peggy and I head back to the bar. Daniel Roca, the pianist, having finished another set is now hanging out near the end of the counter. We ask for his help and he gives a stab at naming my drink "Apollonia." Mr. Guyomarch rejects that off-hand as though for personal reasons. We don't ask why.
Finally Mr. Guyomarch resolves the issue by declaring that mine would henceforth and forever be called "Gary's Cocktail."
I'm flattered. I now have a drink named after me at the bar of the historic Lutetia.
I've no illusions, of course; at other times, no doubt, the same drink has been or will be called Fred's Cocktail or Janet's Cocktail or Helmut's or Achmed's. But for an evening it's mine. Here I am with a bright and beautiful woman whose daughter with Curacao blue shoelaces doesn't mind being sent to her room; live jazz standards have been gliding in and out of the conversation; the bartender has named a drink after me; the pianist gives me a nod to let me know that I've come to the right place. The bar is mine. The music is mine. Paris is mine.
Three cocktails at Le Bar of the Lutetia will do that to you.
© 2012, Gary Lee Kraut
Hotel Lutetia. 45 boulevard Raspail, 6th arrondissement. Tel. 01 49 54 46 46. Metro Sèvres-Babylone. Cigarette and cigar room by the bar.
A review of the Hotel Lutetia on France Revisited can be found here.