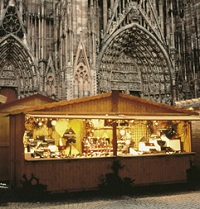 Christmas isn't necessarily the favorite holiday for the French—that honor goes to whatever holiday falls on a Thursday so that they can create a long weekend by taking Friday off, a tradition known as faire le pont or bridging—but Christmas markets still thrive throughout France.
Even in a country whose separation of Church and State make it the envy of many a secularist around the world, the Christmas truce continues. No need then to have a war on Christmas, especially when Christmas markets promise delicious regional specialties in beautiful settings.
The tradition of Christmas markets likely originated along the Rhine. Strasbourg dates the origin of its market to 1570. There are now about 800 such markets, great and small, throughout Europe, recognizable by chalets (wooden or make-shift shopping huts) set up in public squares and selling folklore, craftsmanship, much food and drink, and simply Christmas.
Here's a tour of some of France's most lively Christmas markets, in Alsace, Champagne, Provence and Paris, including dates for 2012-2013.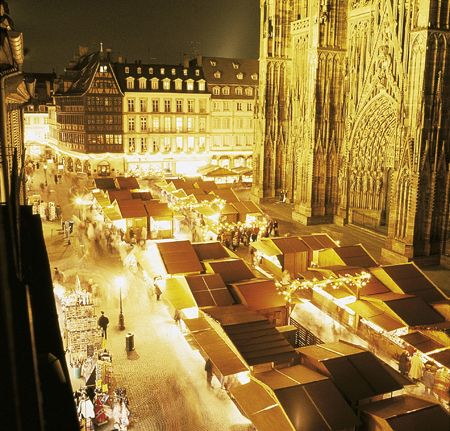 Alsace
Strasbourg
November 24 – December 31, 2012
The king of Christmas markets in France, Strasbourg boasts France's largest and oldest, having held a festive December market by its famous cathedral since 1570. Streets fill with gingerbread, cider, mulled wine, artisanal crafts and more. This year Strasbourg is sharing its traditions with Moscovites by exporting its Alsatian Christmas market cheer to Moscow, installing 20 chalets (as the little shop-huts are called) by the entrance to Red Square from Dec. 24, 2012 to January 7, 2013, thereby connecting the dates of Western Christian Christmas with Orthodox Christmas.
Mulhouse
November 24 – December 28, 2012
Located in the center of town, this market is especially notable for its fabrics due to the historical importance of the textile industry here. Each year a new Christmas fabric is created that decorates the city's buildings. More mulled wines, cookies and Alsatian biscuits called "bredele."
Colmar
November 23 – December 28, 2012
Colmar pulls out the stops to host five different traditional Christmas markets in the heart of its historic center. Concerts, wine tastings (we're near Alsace's uber-charming wine route), Christmas trees and more surround the town. Colmar also hosts a competition for the best Christmas decorations in town, encouraging shopkeepers and residents to go all out in decorating for the season. The Alsatian food tour continues here with foie gras, wine, brandy, Christmas cakes, and gingerbread.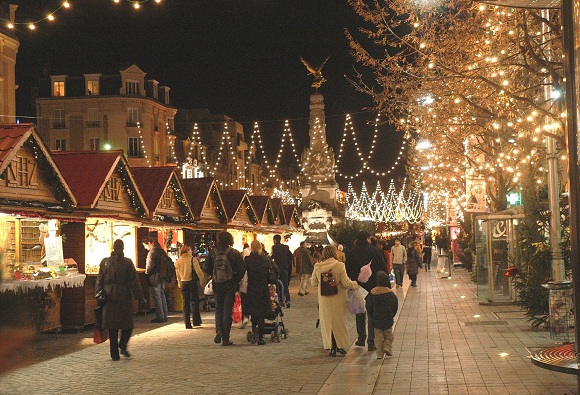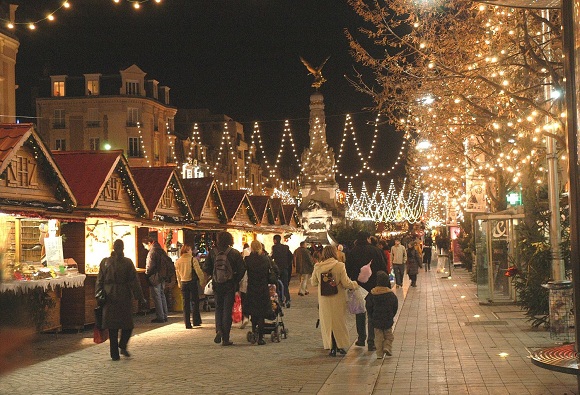 Champagne
Reims Christmas Village
November 25 – December 31, 2012
One hundred twenty-five stands bring joy and foot-traffic to the streets of Reims, offering local gastronomic specialties, artisanal crafts and more. In the Palais Enchanté, families are invited to visit a recreation of Santa Clause's toy factory. Also featured are jazz performances, parades and more. A light show take place at Reims's 800-year-old Notre-Dame Cathedral, illuminating its facades with detailed imagery and music on most nights during this holiday season.
Provence
Christmas Market in Avignon
November 24 – January 1, 2013
A Christmas market takes place annually at the Place de l'Horloge, also featuring parades, folk dances and carol singers. The public can follow a special route (le Chemin des Crèches) to discover different animated and illuminated nativity scenes set up around the city.
Traditional Nativity Fair (Foire aux Santons) in Marseille
November 17 – December 31, 2012
Every year in Marseille since 1803, the Foire aux Santons has launched the Christmas season. Held at the Place du General de Gaulle, the fair brings together about 40 artists who sell their own carved figures representing the nativity scene. Some particularly creative artists offer unusual figures made of such materials as cardboard, cork, or even paper.
Christmas market including Foire aux Santons Aix-en-Provence
November 26, 2012– January 6, 2013
More Provencal Christmas displays and regional carved figures, here in a smaller town setting. Local sweets on sale include calissons (a local candy) and honey-infused figs.
For more on Christmas in Provence, see this page from the Vaucluse Tourist Board site.
Paris
Champs-Élysées Christmas Market
November 16, 2012 – January 3, 2013
The largest Christmas market in Paris extends from the roundabout on the Champs-Élysées to Place de la Concorde, with the illuminated Ferris wheel towering in the background. Meanwhile, it's always Christmas, or something like it, from the roundabout to the Arc de Triomphe.
The Alps Christmas Village at Trocadéro
December 13, 2012 – January 6, 2013
Those unable to make it to the Alps can get a full taste of it right in the heart of Paris. The event features simulated ski courses, pétanque games on snow, ice skating, sculpture making, snowshoeing practices and more. A giant igloo is set up offering free nibbles, while simultaneously projecting a 3D film to transport visitors virtually to Meije, a mountain in the Alps. Webcams of different ski stations in the Alps are projected on screens.
Saint Germain des Près
December 2, 2012-January 2, 2013
Smaller and less significant than the others but bringing Christmas cheer nonetheless, at Saint Germain des Prés (Dec. 2-Jan. 2), both in the 6th arrondissement.
La Défense
November 21-December 29, 2012
The business-heavy high-rise suburb of La Défense, just west of Paris, isn't high on the list of places to visit for either Parisians or foreigner visitors. Still, there's a lot going on here, with 350 stands bringing holiday offerings amidst the towers.