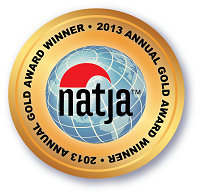 This 3-part article received the 2013 GOLD AWARD for best culinary travel article written for the internet, awarded by the North American Travel Journalists Association.
* * *
Part 1: In which the author has lunch at a middle school cafeteria in the Provencal town of Nyons, realizes that he can't remember anything from sixth grade and goes to talk to the principal.
* * *
I've come to the town of Nyons (pop. 7000) in the Provence-leaning part of the department of Drome with a small group of other foreign journalists to investigate elements of the local economy relative to food, drink and tourism—Rhone Valley wines, appellation olives and olive oil, lavender and castles—and we've made a decidedly non-touristic stop for lunch. We have been invited to eat like sixth graders at the cafeteria of Collège Barjavel, Nyons's middle school.
School is out this Wednesday afternoon but Chef Jean-Luc Baconnier and Sous-chef Pascale Duhornay have prepared for us and for working staff some lunch fare that is part of a Drome middle school program called "Manger bien, manger bio" (Eat well, eat organic). The program, in effect in the department's 30 middle schools and available to its 13,000 students, ensures that 25% of the food served in the cafeteria comes from organic agriculture and farming, including from local producers when possible.
Drome, which stretches along and east of the Rhone Valley from just south of Lyon to just north of Avignon, prides itself on being the leading department in France for organic agriculture. More than 13% of its agricultural surface—compared to a national average of less than 3%—is certified as organic (or biodynamic, a sub-category of organic agriculture with stricter rules), representing 856 farms. The department also has 133 preparers and transformers and about 50 specialized organic shops. Within its agriculture, Drome further considers itself a world leader in organic plants used in perfumery, scents and medicines (see information on lavender in Part 3 of this article).
Implemented progressively over the past few years, the "Eat well, eat organic" program's goal of ensuring that on average 25% of food served in middle school cafeterias for the 2012-2013 school year be certified as organic has now being achieved. The cafeteria at joint middle school/high school complex in Nyons has surpassed that goal with 33%, according to Céline Roupioz, Drome press attachée. The appetizers in front of me are among the result.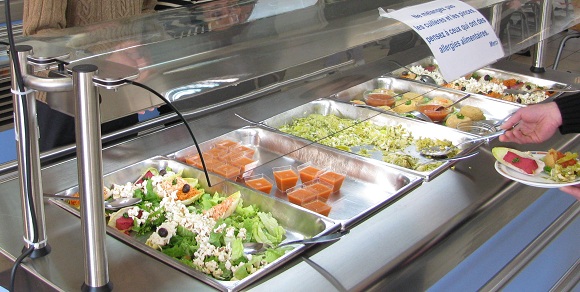 Chef Baconnier was filling the appetizer trays at the salad bar that had been placed in the middle of the cafeteria as I examined the options. I looked up at him. He had the apprehensive smile of a man waiting for someone to tell him what I thought of his work.
"It all looks so good," I said.
"We made special efforts with the presentation because you were coming," he said.
The "you" referred to the group of journalists that I was a part of but it still made me feel special. And I realized that the presentation did indeed look too good for a hoard of sixth graders thanks to the decoration of parsley sprigs, the black Nyons olives and popcorn and the orderly arrangement of the endive boats.
I hesitated in making my selection.
"Are you looking for something?" he said.
"What's that?" I asked, pointing to what looked like individual portions of carrot juice.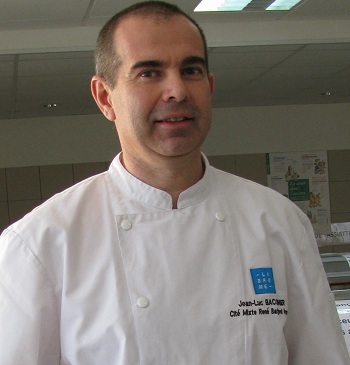 "A carrot and orange juice smoothie," he said. "Nothing simpler and the kids actually like it."
"I imagine so," I said for no particular reason.
He had a tremendous spoon in his hand which he now used to point out the contents of the ramekins, trays and endive boats: "Pureed beets, leeks, squash, carrots."
I thanked him and he left for the kitchen.
When I turned back to the appetizer bar a horrible realization took hold of me: I couldn't remember anything that I had eaten through the entire year of sixth grade.
No, it was more than that. I had absolutely no memory of sixth grade at all. None! I tried to conjure up the school cafeteria, the names of my teachers, class subjects, gym class activities, my best friends—but nothing came to mind. I tried to remember seventh grade—it, too, a total blank. How, I wondered, did I ever learn anything? Did I learn anything?
I took a little bit of everything from the appetizer bar, everything but the grated carrots which I assumed tasted like grated carrots.
For some reason I was surprised that the carrot and orange juice smoothie tasted like carrots and orange juice. I don't know what I was expecting, perhaps something that an American sixth grader would "actually like."
But then it hit me again that I didn't know what American sixth graders would like because not only did I not know any sixth graders, which might not be such a bad thing, but I couldn't remember having been one myself. And once again I was seized by the fearful thought that an entire year had been erased from my memory and there was no way or retrieving it. And seventh was gone too.
I stared hard into my organic beets and suddenly remembered the first Earth Day. I must have been in either sixth or seventh grade. It was April. We all got off the bus a half-mile before school and walked the rest of the way, proud to be something good for the planet while a long line of buses, cars and their drivers collectively fumed in the snarled traffic caused by so many kids on the road. I couldn't remember anything that happened before or after that, but it was a start.
I looked up from my beets and saw that everyone else had already finished their appetizers. The sight of one of the foreign journalists in the group telling one of the cafeteria workers about the food in the cafeteria in her hometown in eastern Europe brought to mind a girl on my bus who once said to me, "Let's have a debate about why 18-year-olds should be able to vote since they can get sent to Vietnam. I'll be for, you be against" and then proceeded to berate me for wanting to send young men off to get killed without a vote. I must have been 12 and a good listener.
I caught sight of Patricia Bilcocq, la proviseure or principal, whom I hadn't yet spoken with other than to say hello when we first arrived. I remembered that somewhere in my childhood I'd learned that it's principal and not principle because the principal is your pal. Apparently I'd learned something! I was feeling better already. I went over to talk to her.
France's national education system, known as "the mammoth," employs over one million fonctionnaires and oversees 12.5 million students and apprentices in 65,657 schools, 87% of which are public. Each and every employee of l'Education nationale is in some way a block in the final rampart defending the values of the Republic, as many of them will let you know in one way or another whether you've asked or not. The United States, by contrast, has a primarily local and state system where "values" as such are more open to local interpretation (in some cases questioned before the Supreme Court) and where winning sports teams and extracurricular activities are perceived as equally important as the classroom. I am not pleading here for one system over the other but pointing out that in speaking with Madame la proviseure I was aware that she represented the French Republic even while serving the locality.
The monolithic tendencies of the French state are well known; Paris dictates and coddles as it wishes (while occasionally looking over its shoulder at the European Commission), and this is particularly true of the Ministry of Education. Nevertheless, successive moves have been made toward what is called decentralization, i.e. the movement of responsibilities, agencies and cultural works outside of Paris, strengthening the hand of departments (subsections of regions and comparable in some ways to American counties) in matters concerning transportation, social services, education and culture. School cafeterias are now the domain of the department, allowing leeway in purchasing and serving, within national nutritional guidelines.
Among the complexities of who is responsible for what in the French school system, the department (Drome here) oversees the middle school cafeteria while the high school is the domain of the region (Rhone-Alpes here). The middle school of Nyons, Collège Barjavel, however, is one of two in the department that is also part of larger school complex that includes the high school, Lycée Roumanille. High school students nevertheless have more opportunities to leave school campus for a smoke and a bag of chips.
Despite Principal Bilcocq's role in overseeing both the high school and the middle school, there was no making small talk about the football team or about this year's production of "Bye Bye Birdie" or whether or not there was a gay-straight student alliance. We talked about the cafeteria.
Between the middle school and the high school, 900 students, faculty and staff eat in the cafeteria every day in a school complex that includes 1200 students ages 10½ to 19. Those not counted among the 900 eat at home or otherwise opt out of eating at the cafeteria. A staff of 8 to 10 departmental employees works in the kitchen.
Beyond the nutritional aspects of the "Eat well, eat organic" program, Proviseure Bilcocq lauded the importance of involving the school in the local agricultural economy, whether for organic or non-organic products, since many of the school's children come from families working in that economy.
Nyons is in the southern portion of Drome, an area referred to as "Drome Provencale" beause it identifies in terms of weather and landscape with Provence which is generally considered as beginning in the department of Vaucluse, several miles south of here. The area within 10 miles of Nyons, Pays de Nyons, is especially known for its appellation olives and olive oil and Rhone Valley wines while the broader area of Drome Provencale is also rich in lavender, truffles, honey and fruit trees (more on the surrounding area in Part 3). Though much of that is not as yet certified organic, the local economy depends heavily on agriculture.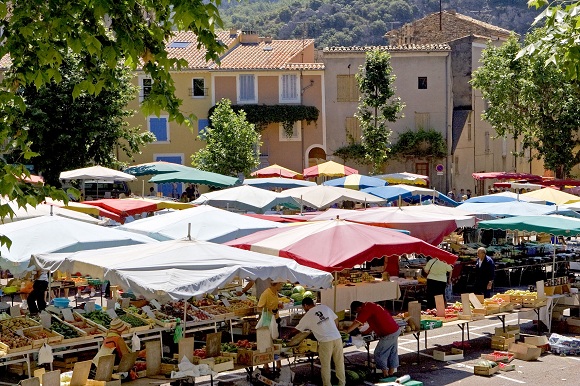 Implementation of the "Eat well, eat organic" program involved approaching the question of cafeteria food and nutritional education at several levels. A major dual element is the purchasing price on the one hand so as to presents meals at an acceptable cost on the other. Families now pay 3.50€ (about $4.55) per student for those who have been signed up at the start of the year to lunch regularly at the cafeteria. For those who lunch here occasionally the cost is 3.86€ (about $5.02) per meal. Efforts are also made to eliminate waste, to properly train kitchen and serving staff, and to inform students and their families about nutrition. Nutritionists giving presentations in classrooms during the first year of middle school, i.e. at about student age 11.
It all sounded quite idyllic, especially on a day with no students around. Aware of that impression, Principal Bilcocq warned against a romanticized vision of Nyons's schools. She acknowledged that despite its strong points Nyons was also confronted with the array of contemporary problems found throughout the French school system, including drugs and violence, failing students and uninvolved parents.
"We have a diverse community," she said, citing first- and second-generation immigrants and the children of seasonal workers. "There are even some English, Belgians, Dutch and lately even a few Americans."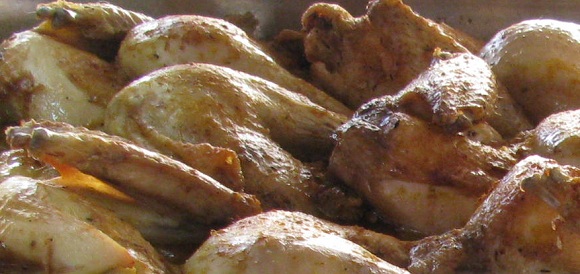 Each day at lunch students have the option for their main course of one meat dish (beef, fowl, pork) and one fish dish along with side dishes that might be considered as vegetarian dishes. For today's main course the choice was been chicken, julien (ling, a type of cod) and, as side dishes or on their own, spelt (a type of wheat grain) and cabbage and carrots, with or without pork lardons. I took a bit of each and a full portion of the organic chicken.
The grain and veggies were tasty enough. The lightly breaded baked ling was a bit chewy but still healthily prepared. And the chicken was truly and surprisingly tasty, better than one would find, say, in a decent café in Paris.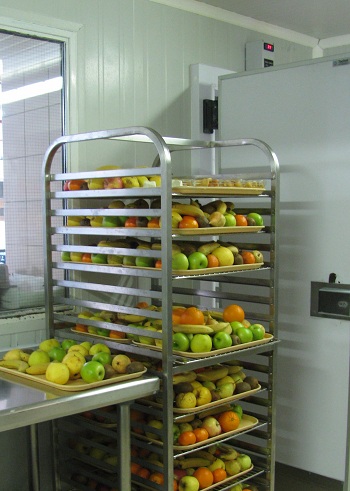 Later, when I went into the kitchen to compliment the chef, he said that the chicken served today was indeed one of the successes of the organic purchase policy. He regretted, however, that our visit didn't coincide with the arrival of a wider selection of organic produce, hence the frequent appearance of carrots. When possible, he said, organic flour was used in the bread.
He said that discovering how to use those organic products in a way that the students would eat—after all, the goal is not simply to purchase organic food but to get students to eat it and appreciate its origin—involved a certain amount of trial and error. Early in the program there had been attempts to have some 100% organic meals to compensate for meals served when less organic produce was available, but the children didn't care for them, so now they mix organic and non-organic dishes in fulfilling the program's purchasing and nutritional objectives.
We were next offered a cheese course—goat, brie and some Alpine tome. It wasn't exactly a sixth grade memory, but I don't believe we had a cheese course at my school in New Jersey.
There followed then a selection of three desserts, fresh fruit or cut fruit, slices of pound cake and arched biscuits called tuiles.
Oddly, as I stood back at the salad bar examining the deserts I had a vision of Snack Pack pudding in my lunch bag. I couldn't put a grade to it, but apparently I still had some middle school memories tucked away. I'd had a childhood after all, and possibly a pretty favorable one at that since I presumably would have remembered anything traumatic. I wondered if, like Proust with the madeleine, my entire middle school period would flood back to me the next time I were to taste a Snack Pack.
My lunchmates and I now said cheery good-bye to the principal and her staff. It was as though it were graduation day and none of us planned to return until we were rich and famous, or had at least filed our reports and our articles.
Already we must have done something right, because within an hour we were raising a glass to the light while attending a class at Wine University.
© 2012, Gary Lee Kraut
Continue to Part 2 of Drome Provencal: Eat Like a Sixth Grader, Drink Like a Wine Enthusiast.