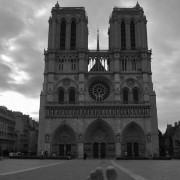 For Va-nu-pieds, the Barefoot Photographer, catching an unhindered view of Notre-Dame de Paris doesn't mean stopping by in the off-season. Indeed with 13+ million visitors per year there is no off season for Notre-Dame.  Instead, VNP comes in the early morning, before the doors open, when only clergy see the light of dawn entering the windows of the chevet (radiating chapels) of the cathedral. Outside, a street sweeper cleans the square, a man walks by on his way to work, pigeons peck at crumbs between the cobblestones, and Va-nu-pieds captures Notre-Dame, early morning.
About 100 feet in front of the cathedral there's an octagonal plaque engraved with a compass and surrounded by four stones engraved with the words POINT ZÉRO DES ROUTES DE FRANCE. Even when the crowds arrive few will notice this bronze plaque indicating the point from which all roads from the capital are measured. Perhaps one hasn't truly been to the center of Paris if one hasn't put a foot—barefoot, shoed, sneakered or sandaled—on Point Zero, a.k.a. Kilometer Zero. It's a kind of "You are here"—"Vous êtes ici."
Va-nu-pieds was there. Pausing to reflect on what direction he'll go in for his summer travels, the Barefoot Photographer steps up to the plate.
Photos © 2012, Va-nu-pieds.
Text by Gary Lee Kraut.
More of Va-nu-pieds' work can be seen here on France Revisited and here on the photographer's own site.