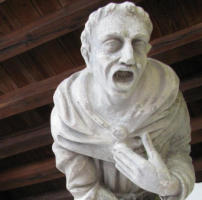 Blois Castle (Château de Blois) may well be the linchpin to understanding the chateaux of the Loire Valley. But even without knowing much of the historical bla-bla, Blois (pronounced blwa) is a town of fascinating, magical, entertaining and tasty encounters. So I'll set aside the nuts and bolts of valley history and architecture for now so as to introduce you to some of the people and characters that I encountered during a day of research throughout the town.
I'd arrived on the early morning 90-minute train to Blois and would leave the following morning for two days of biking to nearby chateaux.
Arriving at Blois Castle, I immediately encountered King Louis XII (born 1462, reigned 1498-1515) on horseback above the entrance of a wing that he had built when he assumed the throne upon the death of his childless cousin Charles VIII and began transforming his ducal castle into a royal palace.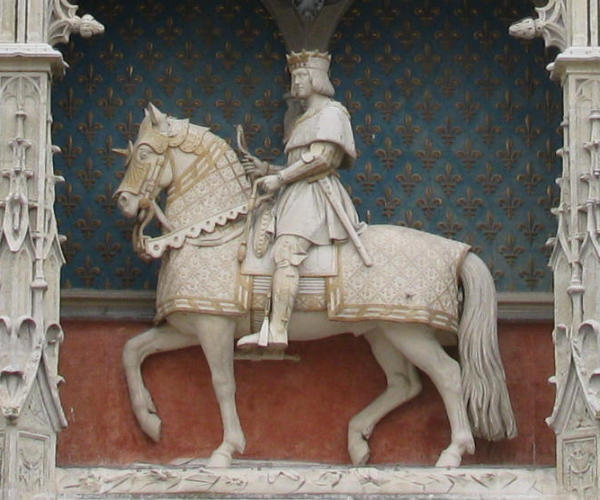 He showed me some of his signature porcupines.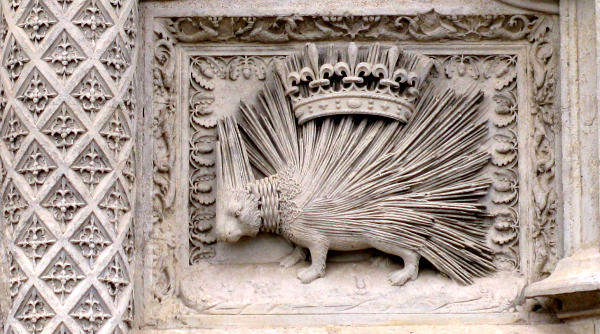 Scott Corregan was my personable and ever-so knowledgeable guide. I soon thought of him as the Malcolm Miller (of Chartres fame) of Blois Castle. Scott re-introduced me to Louis XII and then presented me to Francois/Francis I, whose protuberant profile I recognized even before he turned to greet me.
Francois (born 1547, reigned 1515-1547) inherited the throne when his cousin Louis XII died without a son, though he did have a daughter, Claude, who had grown up at Blois and who Francois married. Not to be undone by the porcupines, Francois displayed a great many fire-breathing salamanders on the wing that he built, including this one that I encountered on the novel outdoor staircase.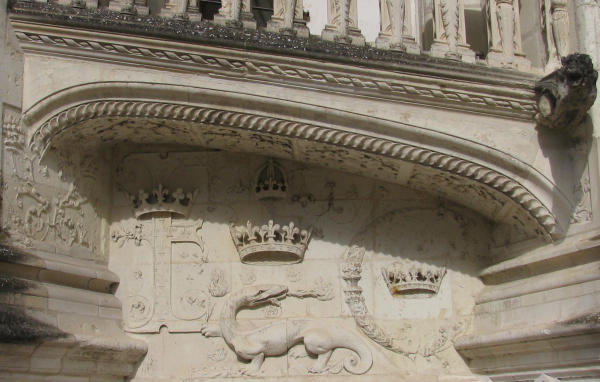 I had an audience with Henri III (born 1551, reigned 1574-1589), whose reign was full of festivities, intrigue, civil war and assassination, and caught sight of his sworn enemies of the Guise clan lurking in the corner.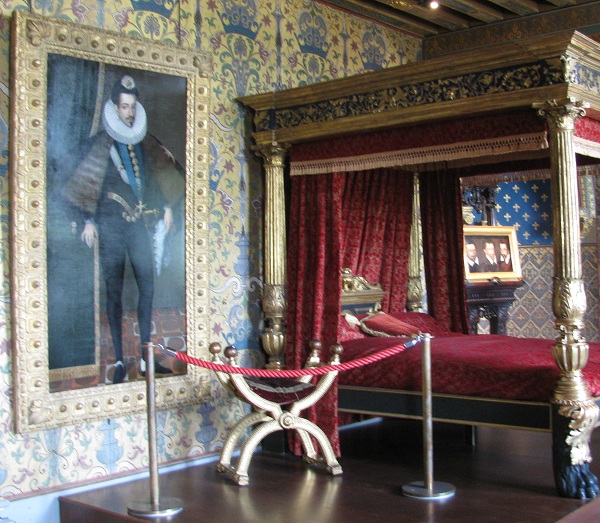 I had a brief chat with Gaston d'Orléans (1608-1660, brother of Louis XII) when he was young and still full of hope of one day becoming king. But his plans of making Blois once again a royal abode began to unravel with the birth of his nephew the soon-to-be King Louis XIV, and Gaston lost the motivation to rebuilt his palace after reconstructing only one wing.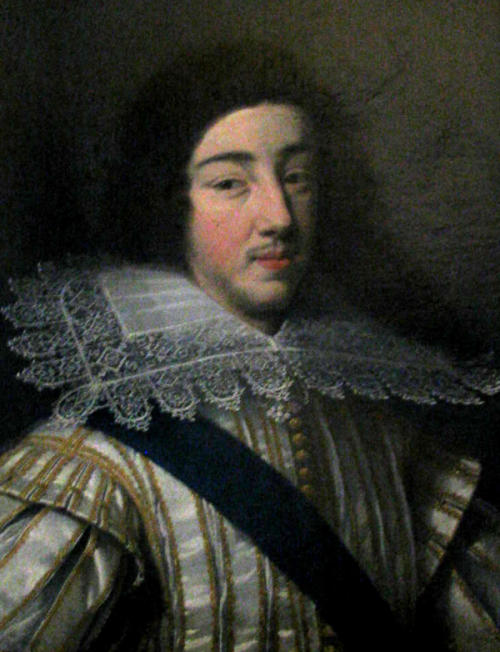 I went across the long square from the castle to the Magic Museum where I was introduced to native son Jean-Eugène Robert-Houdin, a 19th-century clockmaker, conjuror and magician, a man so accomplished that Harry Houdini borrowed his name.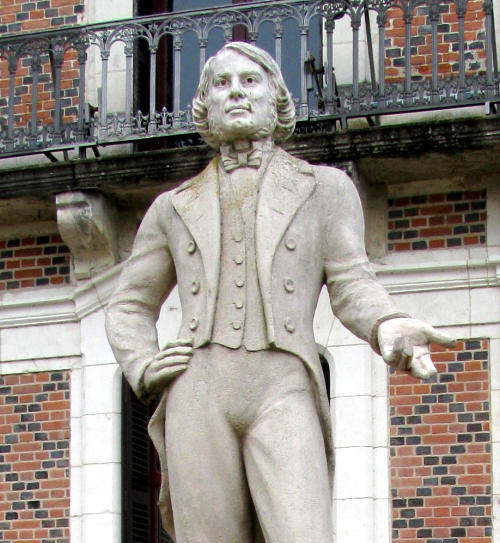 Magician Arnaud Dalaine, gave me a wonderful tour of this entertaining and informative kid-of-all-ages-friendly museum and treated me to some card tricks with a sleight of hand that I couldn't in the least decipher from under two feet away.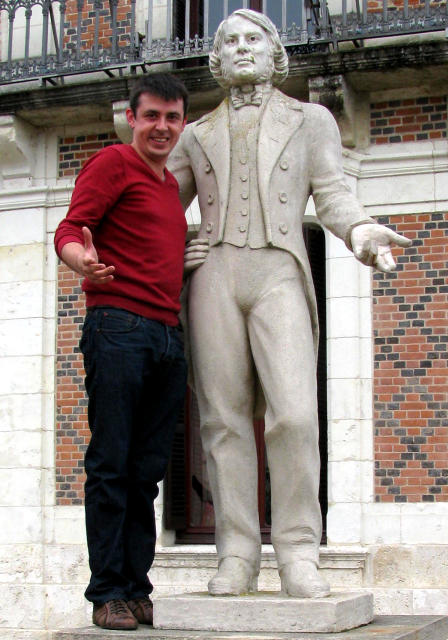 I saw dragons in the windows of the museum, one of whom broke through the railing to roar hello. Or was it good-bye?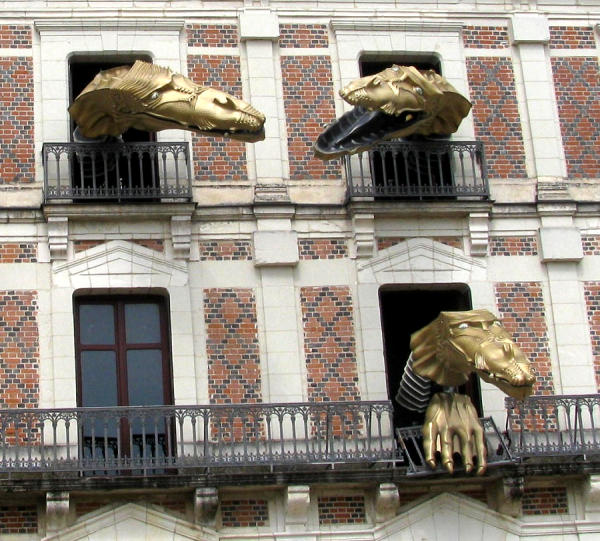 I took a drizzly walk in the park by the Bishop's Palace where, to my surprise, I came upon Joan of Arc (1412-1431) riding along the edge of the hill overlooking the River Loire. She raised her sword to acknowledge my presence but scarcely turned from her mission.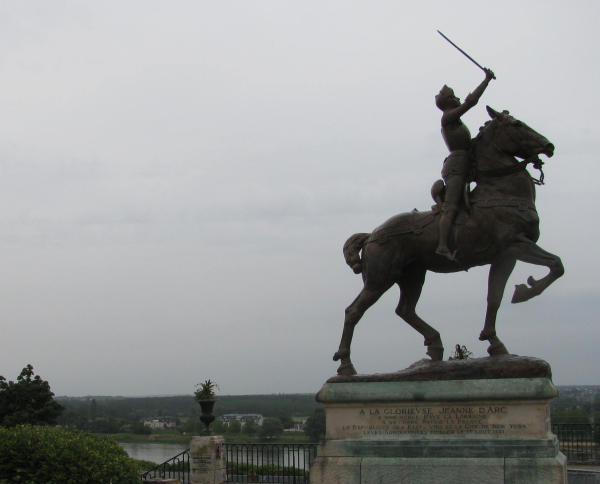 I was lodging at the excellent B&B La Maison de Thomas. The Thomas in question is Guillaume Thomas, however the Thomas I met was his father Bernard, who had led him into the B&B business…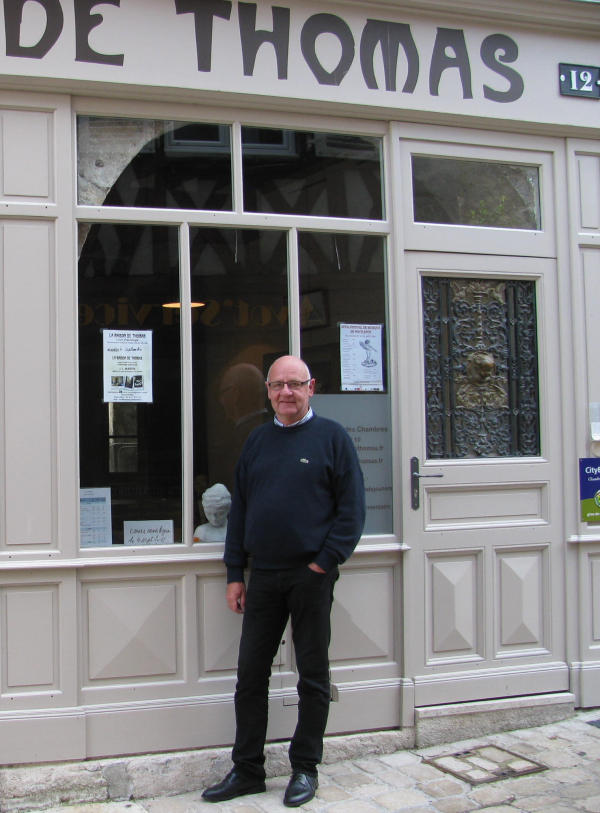 … and had kept a key to the wine cellar. Before I went out to dinner, Bernard Thomas gave me a tour of that cellar from which he selected several bottles to try. I called the restaurant to postpone my reservation, giving me time to encounter winemaker Xavier Frissant though a wine from his fié gris vineyard downstream the Loire in Mosnes, near Ambroise, and winemaker Benoit Daridan through a wine from his romarantin vineyard across the river from Blois in Cour-Cheverny territory. Fié gris and romarantin are two old Loire Valley grapes; romarantin is only grown here. (I also met an unmentionable sauvignon blanc from a third Touraine winery.)
After a prolonged aperitif I had a terrific dinner at Au Rendez-Vous des Pecheurs, a friendly little gastronomic place where fisherman once gathered for a drink and their wives once picked up groceries. Unable to decide between fish dishes, I selected the full force of the tasting menu of owner-chef Chistophe Cosme, whom I first spotted through the service window into the kitchen.
From a thick slice of salmon to an asparagus and mi-cuit fois gras combination to a lobster, ox cheek and ham combination to a pike dish to a raspberry mille-feuille, Christophe Cosme revealed his talent for serious, natural, even-handed, low-heat, product-friendly preparations. I hated to say good-bye so quickly…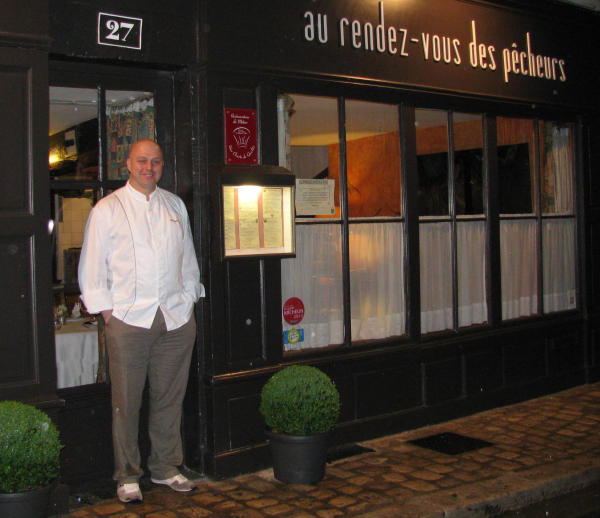 … but it was nearly 10:30 and I wanted to catch the sound-and-light show on the inner facades of the castle. It was pouring and I was without an umbrella, but after a meal like that who cares.
While those with umbrellas ventured into the castle courtyard…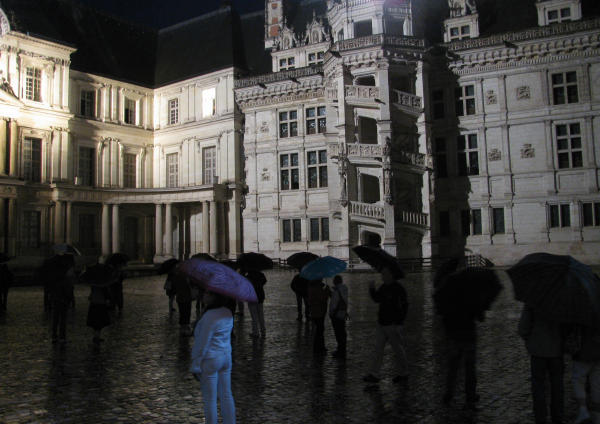 … I stood beneath the arcades of one of the Louis XII wings and watched as the walls on the three other wings came delightfully to life as a recording (in English on Wednesday only) reintroduced me to the characters I'd met earlier in the day, including France's most memorable Queen Mother Catherine de Medicis.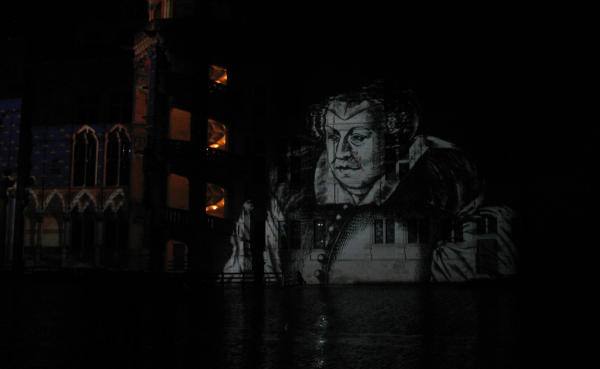 Before leaving Blois by bike the following morning I returned to the castle for a dryer look. The rain gods had threatened to spit along my biking route for the next two days,…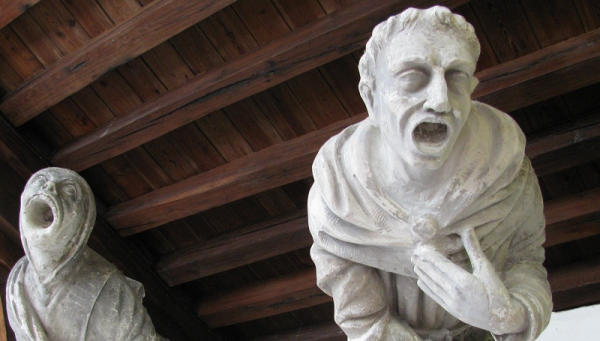 but it turned out that the clouds, like those grotesques at the castle, were only decorative.
It also turned out that even without much historical bla-bla Blois is a town of fascinating, magical, entertaining, friendly and tasty encounters.
Photos and text © 2012, Gary Lee Kraut.