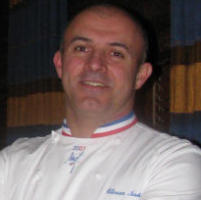 Olivier Nasti may sound like the name of a villainous cartoon character, mean, bony, bitter and solitary, but the Olivier Nasti I met in the town of Kaysersberg in Alsace is a charming, round-cheeked chef and businessman with a strong sense of family.
Seven miles northwest of Colmar, in one of the small, colorful tourist-friendly towns along the Alsace wine route, Olivier Nasti works with his wife, his brother and his sister-in-law to operate the 4-star hotel Le Chambard and four food businesses that conjugate Alsace's past, present, and even some present perfect: a gastronomic restaurant (1-star Michelin since 2005  – [post note: Le Chambard received its second Michelin star in 2014]), a traditional Alsatian bistro Le Winstub du Chambard, a contemporary take on a flammekuche or tarte flambée, and a bright kougelhof pastry shop/tearoom.
Before describing each of these ventures, I note that it's quite possible to visit Kaysersberg (pop. 3000) without getting involved in any of this Nasti business. I might have asked the local tourist office to supply summer photos with sunny skies, leafy vineyards, geranium boxes overflowing at the windows of half-timbered houses, and naked knees moving down cobbled streets.
But I'll use my own shots from a visit in February on a day without snow to decorate the town. If you can see the charm beyond the grey of my own views you can well imagine a sweet stroll along by this stream,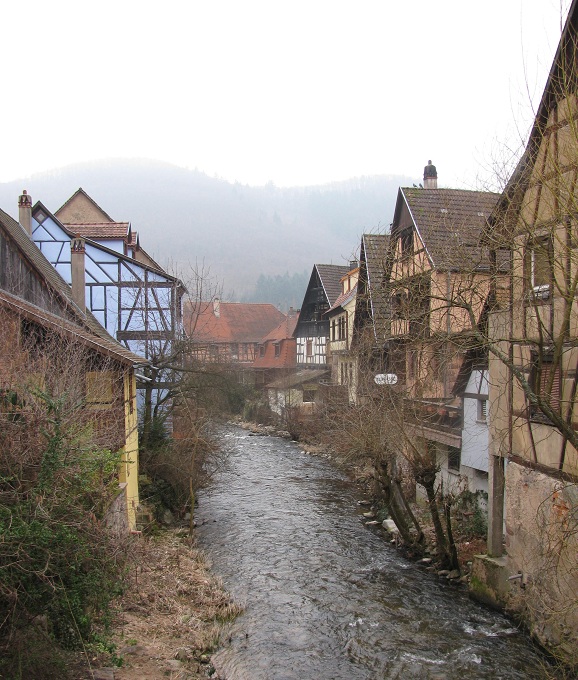 … and a pleasant little hike up to the castle ruin,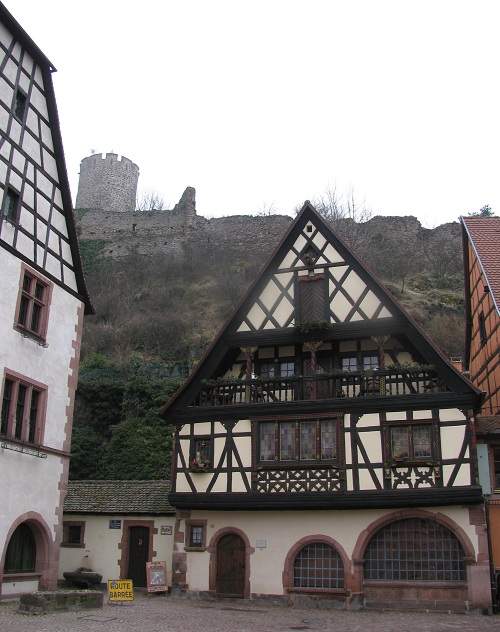 … for a rewarding view over the old town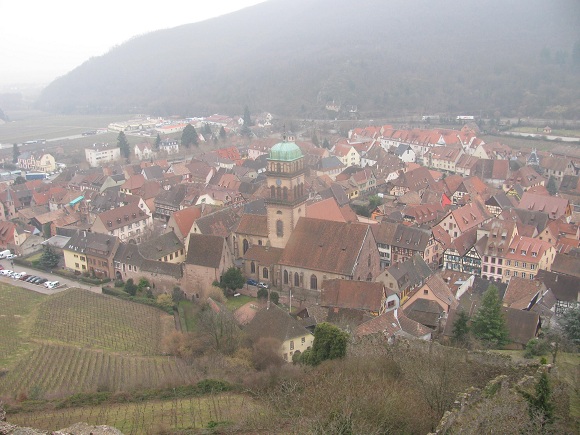 … and out to the vineyards.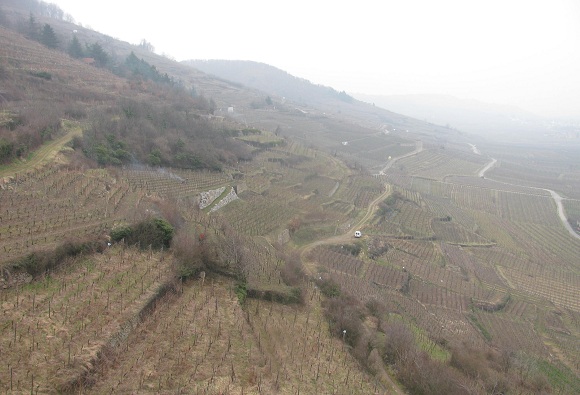 A museum celebrates the life, humanitarian mission and Nobel Prize of Dr. Albert Schweitzer (1875-1965), who was born in Kaysersberg. A small cemetery contains the graves of French soldiers from WWII, including conscripts from French colonies at the time.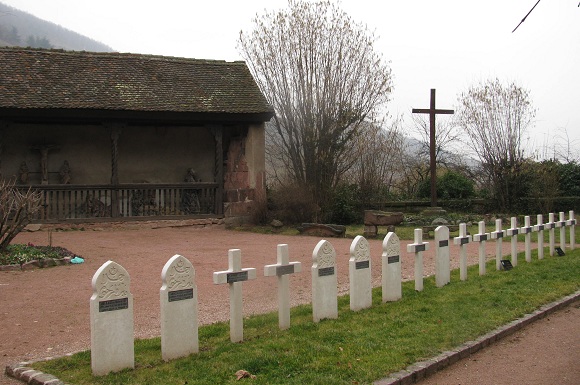 A plaque indicates the role of the 3rd Infantry Division of the U.S. Army in liberating the town on Dec. 18, 1944.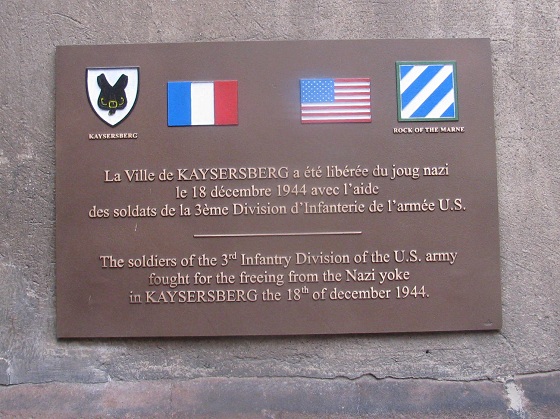 The ubercharming and proudly kitsch village of Riquewihr is three miles north of Kaysersberg along the wine route. Another three miles beyond that is the handsome town of Ribeauvillé. For those without a car (and unwilling to bike) to explore the wine route of Alsace, Kaysersberg is reachable from Colmar by public bus (from various stops, including the train station) in about 25 minutes or by taxi in 15 minutes. Riquewihr and Ribeauvillé are then also within easy reached by bus.
Though not a January-March destination in any book, the trade-off of no sun for no crowds is often in a traveler's favor.
Nastin family ventures
While Olivier Nasti is chef and primary face of these ventures and is clearly in charge, he is seconded in these ventures by his brother Emmanuel, who orchestrates the dining room and the wine list at the gastronomic restaurant at Le Chambard. Olivier's wife Patricia focuses on the hotel and the winstub, Emmanuel's wife Corinne oversees the reception, and Corinne's brother Olivier Lammert manages the Nasti off-shoot concept restaurant Flamme & Co. Originally from Belfort, 50 miles south of Kaysersberg, the Nastis took over Le Chambard in 2000.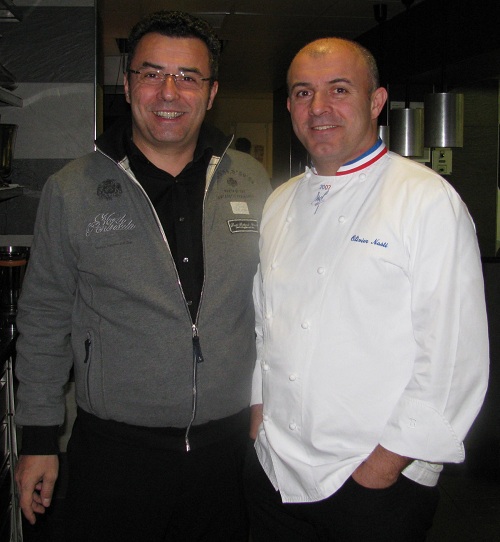 Hotel Le Chambard
The 32 rooms and suites at Le Chambard are warm and sleek, without an Alsatian knickknack in sight. They're housed in an 18th-century main building and add-ons in the back. A small spa with sauna, steam, Jacuzzi and pool is open 8am-7pm. Massage and well-being treatments are available by appointment.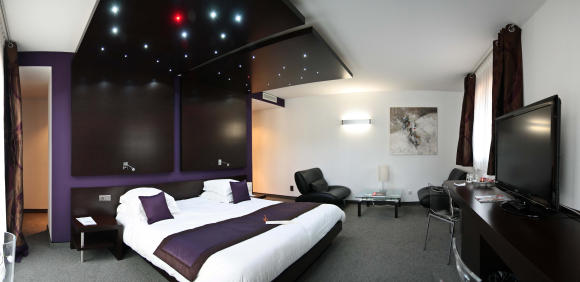 Restaurant Le Chambard
Olivier Nasti's technical mastery in the kitchen and the freshness of his supplies were evident in an evening-long succession of courses including, in order, smoked eel, snails, scallops, cod, pigeon and foie gras. That mastery earned him the title Meilleur Ouvrier de France in 2007. The MOF competition largely honors chefs with great technical skill, in working the fresh products of course. Olivier Nasti's cuisine is natural, fluid and balanced, most evident to me that evening in his scallops with truffles and Jerusalem artichoke.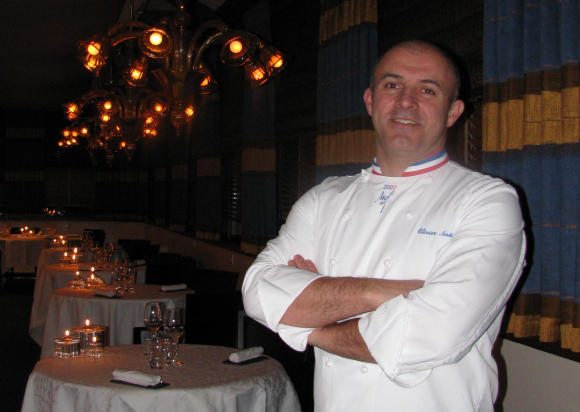 His is a clarified Alsatian cuisine, delicate without trying to be too subtle. This isn't a cuisine of fantasy or innovation but rather a clear-headed cooking built on a foundation of regional products and dishes. The foie gras baeckoffa, for example, is light and distinct in its taste while remaining within the canons of that regional stew.
Service, led by Olivier's brother Emmanuel, was kind if rough on the edges. Emmanuel Nasti's extensive wine list can be seen here. A wine-paired meal allows visitors to take a wide tour of the Alsace wine region, naturally including growers in the surrounding vineyards.
Count 84-124€ per person plus beverages.
Le Winstub du Chambard
A winstub is an Alsatian bistro traditionally serving local dishes and local wines. Fronting Le Chambard, Olivier Nasti's winstub holds strictly to tradition with red-and-white checked tablecloths, green-stemmed wine glasses, wooden chairs with curved pierced backs, and kougelho(p)f molds (shaped like a deep bundt pan) and Alsatian earthenware on the shelves,…
…, a setting for regional offerings from snails to onion pies to foie gras, from pikeperch to choucroute and fish, from choucroute and sausage to baeckeoffa (a pork and/or lamb stew and potato stew), from munster cheese to kougelhopf glacé, and from muscat to riesling to sylvaner to gewurztraminer.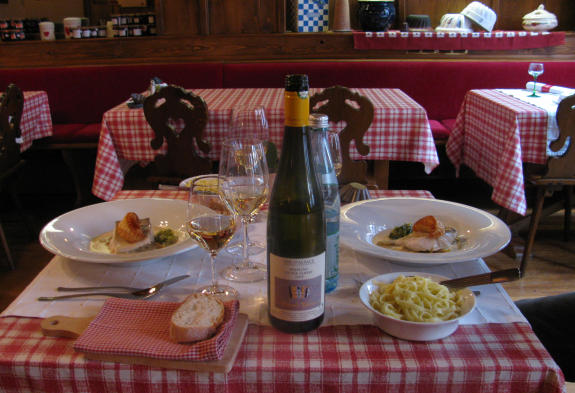 Le Winstub du Chambard is classic and moderately priced, a fine slice of regional tradition, one of many such restaurants that a traveler encounters in the region.
Flamme & Co.
Flammekueche (flammekuche) or tarte flambée is an Alsatian pizza of sorts that's traditionally made with very thin bread dough baked in a rectangle topped with fresh cheese/cream, bacon bits and lightly fried onions. Additional cream mixes and toppings are possible but the lion's share of flammekueche is speckled with bacon and onions.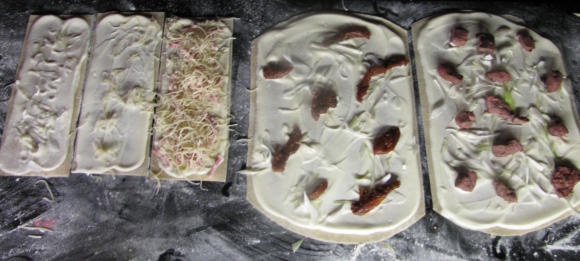 Enter Flamme & Co. This isn't the only flammekueche restaurant to offer varieties on the traditional theme, but it is fully dedicated to expanding the concept of what a flammekueche can be.
There's a Flamme & Co across the street from Le Chambard, however I tested at its urban outlet in the center of Strasbourg the following day. It's operated by Emmanuel Nasti's brother-in-law Olivier Lammert.
The flammekueche variations are quickly baked here in a beech-and-oak-burning oven. My tasting companion, a Paris-based food writer, and I tried most of the menu through the afternoon in a meal that served as both lunch and dinner. Among the many we tried: bacon, snails and parsley; scallops, cream of cauliflower and lamb's lettuce; sliced duck breast and marmalade; herbs, parmesan and Spanish ham, and others.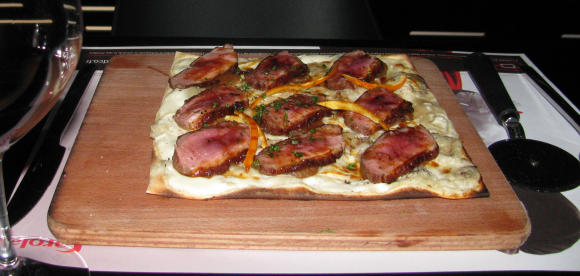 I referred to flammekeuches above as Alsatian pizza, as anyone would, but they might also be considered Alsatian crepes considering that sweet as well as savory flammekueche's are available here. For me, the Strasbourg Flamme & Co, unlike the Kaysersberg outlet, was trying too hard to be young and trendy; put another way I felt too old for the lighting and music and looky-here paper placemats, though the design of the place is appealing enough. I nevertheless enjoyed the goods themselves; the toppings were fresh and authentic enough—and far be it from the editor of France Revisited to be opposed to Alsace revisited.
Kouglof un curieux pâtissier
As with any quaint Alsatian town there's an abundance of pastry shops in Kaysersberg. Kouglof, a pastry shop/tea room, is another Nasti venture, again an attempt to update traditional fare without losing sight of the traditions at its heart. In this case the tradition is that of Alsace's most recognizable pastry the kougelho(p)f or kouglof, a brioche with raisins and nuts baked in a particular round mold.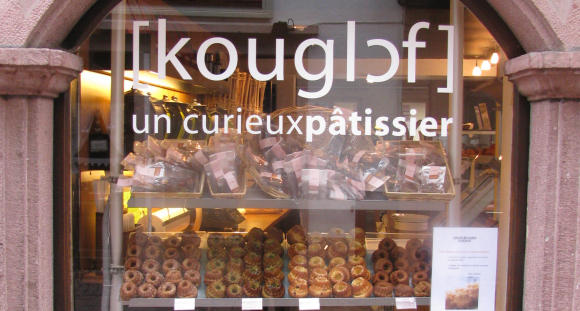 © 2012 Gary Lee Kraut
Kaysersberg Tourist Office, 39 rue du Général de Gaulle, at the center of the old town. The tourist office can provide a list of vineyards and wine cellars in town and in the surrounding area.
Riquewihr and Ribeauvillé have a joint tourist information website.
Le Chambard, hotel and restaurant. 9 rue du Général de Gaulle, 68240 Kaysersberg. Tel. 03 89 37 10 17. Le Winstub du Chambard is at the same address. Le Chambard is a member of the Chateaux & Hotels Collection association.
Flamme & Co. 53/55 Grand'rue, 67000 Strasbourg (as well as across the street from Le Chambard in Kaysersberg). Tel. 03 90 40 19 45. Closed Monday.
Kouglof un curieux pâtissier, 50 rue du Général de Gaulle, 68240 Kaysersberg.
Nasti News. General information about the various Nasti ventures.
Côté Cour Côté Four. 11 rue des Serruriers, 6800 Colmar. Tel. 03 89 21 19 18. In 2012, the Nasti brothers extended their reach into Colmar by taking over Côté Cour Côté Four, a brasserie to one side, a bakery to the other.
Official Alsace tourist information website.
Also read "Just a Glimpse: Colmar" on France Revisited.