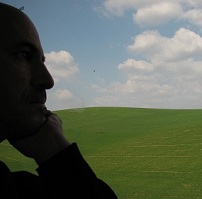 Bypassed by the main routes of trade and of train lines, Auvergne is one of the lesser known regions of France. It is located in the midsection of the country and partially includes the mountains and plateaus of the Massif Central, which are notably marked by a constellation of extinct volcanoes.
The region isn't often the subject of non-French travel articles or travel writing in general. I knew it little myself before beginning a series of research trips into the region several years ago.
Today I've set out on a 4-day trip to visit some of the region's spa towns. I boarded the train in the low-key Paris-Bercy station for the 3½-hour ride to Clermont-Ferrand, the regional capital. The train makes stops at the towns of Nevers, Moulins, Vichy and Riom/Chatel-Guyon. Of these towns only Vichy is likely to ring any bells outside of France, whether those bells call to mind water, beauty products, spas, war or some vague "I've heard of it." My research into spa towns began several years ago in Vichy, resulting in the article and accompanying audio slideshow found here. That was followed up by a trip to Moulins and surroundings, during which I visited the old spa town of Bourbon-l'Archambault, mentioned in the context of a Tasted-Tested article found here.
Clermont-Ferrand isn't a spa town itself but rather an industrial town strongly associated with the Michelin company, which is headquartered here. I'll spend the night there then put up a rental car in the morning to visit some of the towns that are included on the Route of Spa Towns of the Massif Central, la Route des Villes d'Eaux du Massif Central, which covers 17 destinations. Villes d'eaux is literally translated as Water towns, a term that I quite like since it speaks of the source rather than the use of that source. Water resorts are another way to think of them.
Over the next four days I'll be visiting Royat, Châtel-Guyon, Mont Dore, Saint-Nectaire, Chaudes-Aigues, and points in between.
The Train to Clermont-Ferrand
Unlike the high-speed trains heading to more familiar destinations and quickly showing their affinity to wide landscapes, the train into the middle of France due south of Paris, sets off on an old chug-chug line (as opposed to a newer TGV lines), revealing the 20th-century tile-roofed pale-stucco cookie-cutter homes and late-19th-century stone and brick pavilions and strip malls and industrial parks of the pleasant southern suburb before hitting its stride after 20 minutes. It's an unsteady stride that switches back and forth between a trot and a gallop over the next three hours.
Twenty minutes is something of a marker when leaving the capital on an inter-regional or international train because whatever one's direction a shift in speed and landscapes occurs 18-22 minutes out. After another 10 minutes your thoughts are drawn forward and you are no longer leaving Paris but headed someplace new.
Even though I've made a few forays into Auvergne over the years it still feels like a new destination to me. Prior to several years ago, my contact with Auvergne in Paris and elsewhere over the years had primarily come in the form of:
– numerous old-time cafes and bistros created by Auvergnats who immigrated to the capital in the first half of the 20th century;
– some friends and acquaintances who left Auvergne long ago;
– accounts of people who one went hiking there,
– and the folksy Ambassade d'Auvergne, a two-floor regional restaurant in Paris (located between the Pompidou Center and Arts et Métiers), where staples include aligot, a mashed potato and cheese (fresh cantal) mix pulled from a copper pot often accompanied with sausage, and truffade, sautéed potatoes covered with the same cheese and served with pork cold cuts.
Past the town Nevers, two hours out from Paris on the southwestern edge of Burgundy, the train enters Auvergne without any noticeable change viewed from the track. Small towns and villages are still comprised largely of stucco houses (ivory, pink, mustard, brown) with tiles roofs (orange, red, brown), occasionally an older farmhouse, a manor a castle. The tracks cross rivers and canals. We pass green pastures, white cattle, newly plowed fields, bare woods. It's early spring, the buses and trees along the tracks are barely in bud so there landscape is never screened from view.
The landscape is mostly flat, with an occasional mound. Past Moulins (2.5 hours) then Vichy (3 hours) the mounds lead to hills, followed by an eruption of higher hills and ridges in the near distance and the mountains of the Massif Central further off. The urban sprawl of Clermont-Ferrand comes out to greet the train.
An Evening in Clermont-Ferrand
No one to my knowledge has ever accused Clermont-Ferrand of being quaint or charming and likely not beautiful either. But by the end of the evening I think it's a shame that I've had only a few hours—and Sunday hours at that—to explore the historical center.
Though it can hopefully be the starting point for wonderful travels and discovery it is not a luxury destination in itself. Michelin, the only component of France's CAC 40 (the French equivalent of the Dow Jones Index) whose headquarters aren't in the Paris region, leads the economy of this city of 140,000 and its suburban region of 300,000, followed by pharmaceuticals (Merck-MSD, Théa) and some metallurgy and IT companies.
Clermont-Ferrand has the bad rap of a city to which people are sent on business as punishment. But I quite liked the architectural mishmash encountered on the zigzagging walk from the train station, through the old town and out the other side to my hotel.
I saw a handsome WWI memorial.
I visited the early 12th-century Romanesque church Notre-Dame du Port just as vespers was getting underway and briefly joined the faithful and the faint ocher walls in inhaling the incense.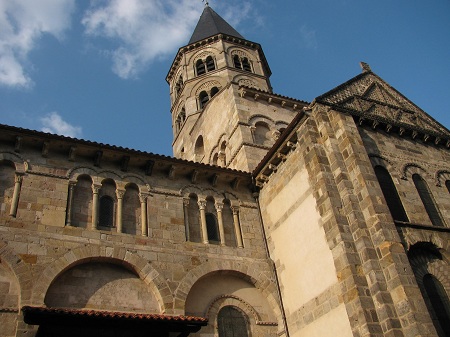 I entered the city's black lava stone Gothic cathedral as the faithful were gathering there.
Beside the cathedral, the cafes and brasseries on Place des Victoires were doing unhurried Sunday evening beer-time business, while Pope Urban II continued to preach the first Crusade as he did at the Council of Clermont in 1095.
I crossed Avenue des Etats-Unis, named for the United States on July 4, 1918, in honor of the anniversary of the Delaration of Independence and the American participation in The War to End All Wars. (Americans shouldn't feel too proud, though, because there are also avenues honoring Great Britain, Italy and the Soviet Union.)
I left my luggage at the VolcanHotel, a comfortable standardized 2-star Inter-Hotel.  My room (204) looks out to a stucco wall, orange roof tiles and a church spire–who can ask for more on a short overnight? I like a good 2-star at the start of a trip to a non-luxury-minded town. Besides, lodging will only get better on this 4-night trip, you wait and see.
Then I went out again to visit the vast Place de Jaude with its theater/opera house under restoration and its fountain-bordered walkway. There's a monument to here by Vercingetorix, the Celtic warrior who led the federated fight against the Roman conquest and won a battle Caesar's legions, presumably around here, before losing at Alesia, presumably in Burgundy. The statue was designed by Bartholdi, who created the Statue of Liberty.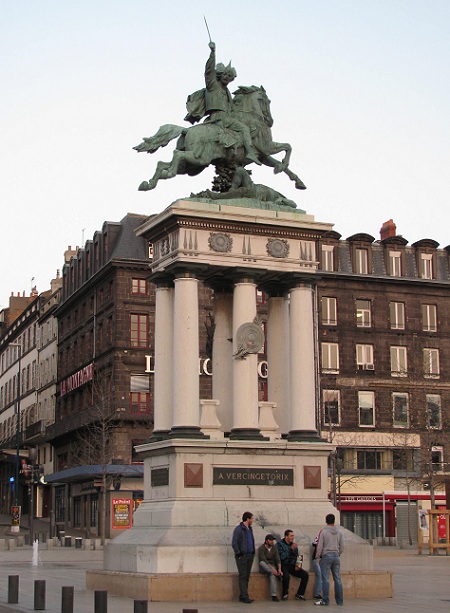 I thought I might have dinner at one of the establishments on Place de Jaude but the square, undoubtedly bustling during the week, was looking rather empty at twilight on this Sunday evening.
So I returned to Place des Victoires, by the cathedral, and eventually entered Oustagou. I hesitated because it wore played up the Auvergne regional a bit too much, but then I really did want to start off this trip with some basic regional fare before heading out to more serious food tomorrow (you'll see!), and the choices this evening weren't legion, so I allowed myself to be ushered to a suitable table, where I enjoyed lentil soup, aligot with sausage, and a glass of light red Saint-Porcain wine.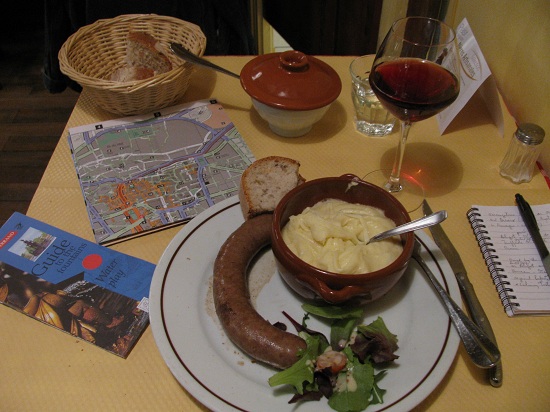 The meal was fine—aligot is a hearty can't-miss dish—but soon after I had arrived during what is probably the worst 20 minutes of musical selection that I'd ever heard in a restaurant. Allow me to list what I accompanied by regional dinner:
1. Without You (as in: I can't live if living is…)
2. All By Myself (as in: When I was young I never needed anyone… Don't want to be…)
3. Dust In the Wind (as in: All we are is…)
4. Feelings (as in:…)
And not soft background or funked-up versions of these but actual original screaming "I can't live if living is without you."
Under normal circumstances this would be enough to make you want to jump off the steeple of the adjacent cathedral, but no one else seemed to notice, except for one woman of about my age who wistfully said to dinner companion, "Memories, memories." But these were not normal circumstances: I had arrived in Auvergne to visit spa towns.
Leaving the restaurant I looked up to the open-snouted gargoyles on the cathedral for advice on what to do next.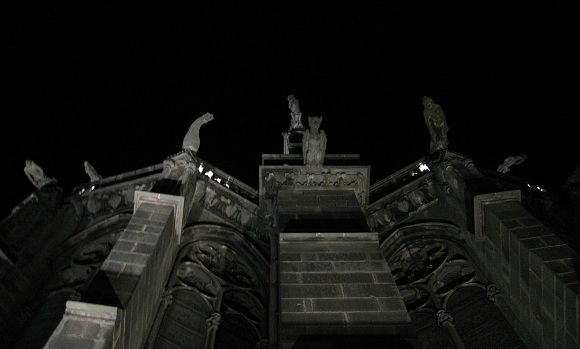 They told me to go to bed.
(c) 2012, Gary Lee Kraut
Go to Part II, An Introduction to Spa Town and Hot Springs By Way of Royat
Part III: Chatel-Guyon
Part IV: Chateau La Caniere, a luxury hotel
.