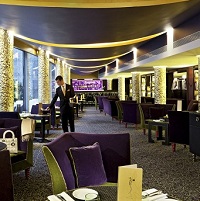 At the bar of the 5-star Hotel Fouquet's Barriere, just off the Champs-Elysees, I met Stephane Ginouves, winner of the first Meilleur Ouvrier de France (Best Craftsman in France) competition for bartenders, and got his recipe for mixing with Singles.
* * *
The discreet entrance to the Hotel Fouquet's Barriere on avenue George V, just off the Champs-Elysées, is a cross between that of an Italian pensione where you don't know how to find the reception and an illustration by Dr. Seuss with its long couches and playful curves and colors.
The bar, Le Lucien, which is what I'd especially come to visit, was one twisting flight up.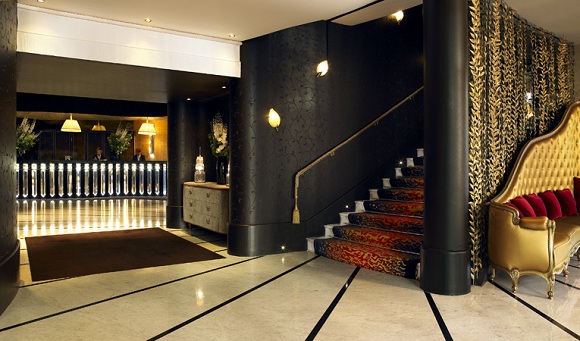 The lounging area of Le Lucien is given rhythm by gold columns that play against violet and green velvet chairs and couches. One wall is occupied by brightly backlit empty shelves as though the background for a Kindle commercial. Warm weather opens the inner courtyard, where the busyness of the Champs-Elysées is but a silent memory.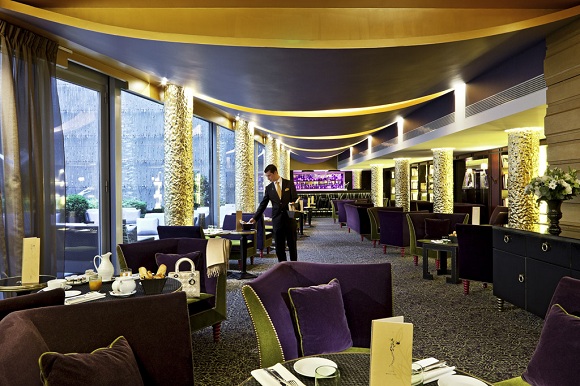 That's where I met head bartender Stéphane Ginouves, who in 2011 won the first Meilleur Ouvrier de France (MOF, Best Craftsman in France) competition for bartenders.
One reason I wanted to meet Mr. Ginouves was that I'd read in the press release that he was once in charge of the bar at the non-commissioned officers' mess and that among his achievements prior to the MOF title was winning the "Shaker Challenge" at Disneyland Paris, where he worked at the Steak House. The resumes of most bartenders in luxury bars tend to emphasize that they've been mixing for the rich and powerful or the young and chic rather than for non-coms and people willing to get their picture taken with Goofy.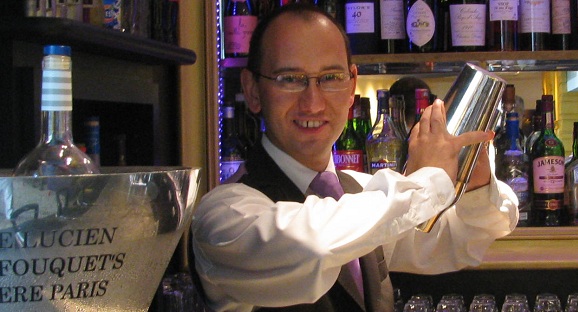 Having myself attended the New Jersey School of Bartending before a brief career behind a bar for wannabe mafiosi in Milwaukee, I appreciated the lack of glitter of his early career. Mr. Ginouves, born in 1974, nevertheless went on to earn himself in 2003 the title of Champion of France for Cocktail Creation and Technical Champion at the World Cocktail Competition . I went onto a career in mixing words with a few if less prestigious titles of my own. He has worked at Fouquet's Barriere since 2008.
The other reason that I wanted to meet Mr. Ginouves was that with any luck I would get a free drink out of the interview. But what to choose?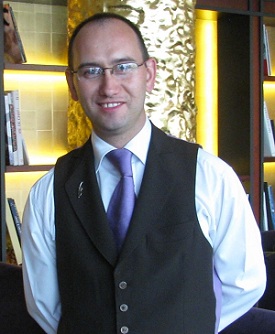 As far as cocktails go, Mr. Ginouves professes a preference for classic rum-based cocktails while also having several non-rum creations to his name, including one consisting of vodka, guava juice, candy strawberry syrup and poppy flavoring. That's certainly not something I would order, so after a bit of discussion I settled on another his creations called Single S, a kind of champagne julep meets whiskey sour.
I chose it because several months earlier I had been introduced to Single de Samalens, an armagnac-cum-whiskey of sorts (tasting notes further down this page) and because they primarily taught us Madmen drinks at the New Jersey School of Bartending while the wannabe wise guys in Milwaukee only ordered drinks that evoked people they dreamt of doing business with (white and black Russians, Irish coffee, Scotch and soda, Manhattans).
Stéphane Ginouves' Single S
3 cl of strawberry puree in which fresh mint has been crushed (strained)
3 cl of Single de Samalens (8 years)
2 cl of amaretto
7 cl of champagne
Decoration: mint and a strawberry
Rooms at Fouquet's Barriere
Unlike most other five-star hotels in Paris, Fouquet's Barriere is part of a French group, which partially explains why it rings few bells for American travelers. Furthermore, despite the prestige of their Paris address, Groupe Barriere is better known for its hotels (and spas and casinos) in Deauville and La Baule, where its brand of luxury dominates, or for its properties in Cannes. (France Revisited review of Deauville properties are found here.)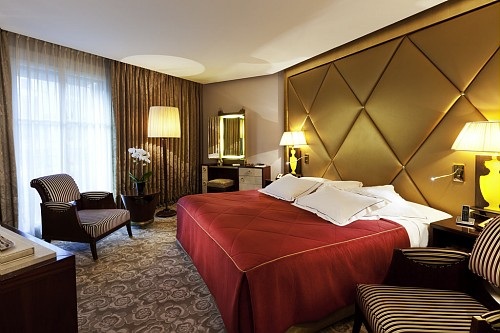 Though its entrance doesn't signal this hotel to be as high fashion and crème de la crème as some of the other hotels in its category, it is indeed in the same league as the others. In the 81 rooms and 31 suites, decorator Jacques Garcia has reigned in his Seussian tendencies in favor of a hearty luxury in tones of chocolate, gold and leather in the suites, creating plush 1950s revisited. The wifi is free, as it always should be these days, and, pleasant surprise, so is the mini-bar.
Hotel Fouquet's Barrière and Bar Le Lucien. 46 avenue George V, 8th arrondissement. Tel. 01 40 69 60 00. Metro George V. Room rack rates begin at about 640€ for a standard room. Member of the association The Leading Hotels of the World.
Single de Samalens, my cocktail back-story
I first encountered Single de Samalens in 2011 at a well-oiled wine and spirits trade fair in Paris. It's produced in the Bas-Armagnac zone of the Gascony region of southwest France. It's not Armagnac brandy but rather an attempt by a large Armagnac producer to find additional use for its grapes and its stills.
Single was launched in 2010 and is marketed as a would-be whiskey-like spirit though made from grapes. The brand name points to the use of a single grape varietal, the ugni blanc (white), which is one of four main varietals that can go into Armagnac, and underscores the attempt to position this as an alternative to single malt whiskeys.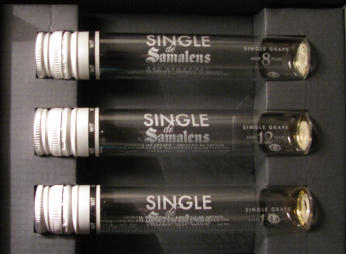 I brought home some of their test-tube tasters and invited a whiskey-drinking buddy over to try them. We tried the three available Singles, aged 8, 12 and 15 years:
Aged 8 years: 80% double distillation*, 20% continuous distillation. While I wouldn't otherwise associate this with whiskey because it's clearly grape-based, lightly floral and fruity, it can evoke certain adolescent whiskeys. It's no competition for an average single malt, especially by itself, but it's affable enough with ice or better yet in a cocktail, such as Stéphane Ginouves's above. Of the three tried here, this was my co-testers preferred because he enjoyed its comparison with whiskey.
Aged 12 years: 50% double distillation, 50% continuous distillation. Clearly more of a brandy (i.e. Armagnac) than the 8-year Single and even edging toward a port with tastes of fig and plum, I found it pleasantly complex and with adequately long finish and so preferred this over the others.
Aged 15 years: 50% double distillation, 50% continuous distillation. The additional three years hasn't added anything other than wood, while taking away some of the dried fruit. We both found it a bit leathery.
I suspect that these were early batches, which would explain the lack of appeal of the oldest product, so it might be worthwhile to revisit the subject in a few years.  For the time being it's an entertaining concept spirit that I wouldn't run out to buy but that I enjoyed discovering.
* Note: By contrast with the process used for this product, Armagnac is produced though a single continuous distillation process of any of four main grape varietals including the ugni blanc grape used here. Cognac is produced through a double distillation process of any of three main grape varietals, also including ugni blanc. Armagnac and cognac are both brandies but result from other differences including soil, weather, grapes, and types of oak in which they are aged.
** Samalens is a producer of Armagnac (specifically, Bas-Armagnac) that has belonged to the Samalens family since 1882. It is based in Laujuzan, 100 miles south of Bordeaux in the department of Gers.
© 2012, Gary Lee Kraut