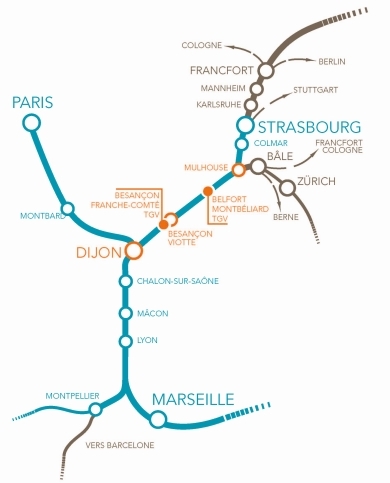 The first high-speed train route in France that is not centered around Paris opened today (Dec. 11, 2011), quickening the connection between Burgundy and Alsace and making train travel throughout eastern France more seamless.
Known as the TGV Rhine-Rhone because it navigates between the two rivers, the new tracks specifically connect Dijon (Burgundy) with Mulhouse (Alsace), further linking two other high-speed lines: Paris-Lyon and Lyon-Mediterranean.
In addition to quickening inter-regional and international train travel, the three different branches—eastern, western and southern—also form an attractive come-hither for travelers looking to expand their horizons in France. Trip-planners, whether DIY or professional, can now take advantage of the more direct way in which Alsace (and Germany beyond) is now linked to the Mediterranean. The eastern branch links Alsace and Dijon via Belfort-Montbéliard and Besancon (Franche-Comté), little-known regions worth exploring. For those living in the Paris regions, these regions are now more accessible for weekend getaways.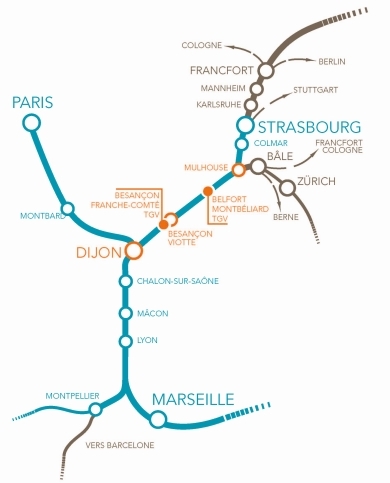 Trips are now shortened by 90 minutes between Mulhouse and Marseille, as well as between Dijon and Strasbourg. Dijon is now only an hour and 25 minutes from Basel, Switzerland, and Lyon is just under five hours from Frankfurt.
Domestic trains feature first- and second-class seating, an organic and fair-trade bar menu, and an on-board bike storage area. International routes will include new Euro Duplex trains.
All aboard!