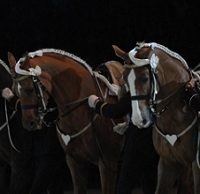 UNESCO's Intergovernmental Committee for the Safeguarding of Intangible Heritage has inscribed equitation in the French tradition, with specific reference to the Cadre Noir of Saumur (Loire Valley), on the Representative List of the Intangible Cultural Heritage of Humanity.
UNESCO's official acknowledgement of inscription to the list in November 2011 describes equitation in the French tradition as:
"… a school of horseback riding that emphasizes harmonious relations between humans and horses. The fundamental horse-training principles and processes are guided by non-violence and lack of constraint, blending human demands with respect for the horse's body and mood. Knowledge of the animal itself (physiology, psychology, anatomy) and human nature (emotions and the body), are complemented by a horseman's state of mind that combines skill and respect for the horse. Fluidity of movements and flexibility of joints ensure that the horse participates in the exercises without coercion. Although practised throughout France and elsewhere, the most widely known community is the Cadre Noir of Saumur, based at the National School of Equitation…"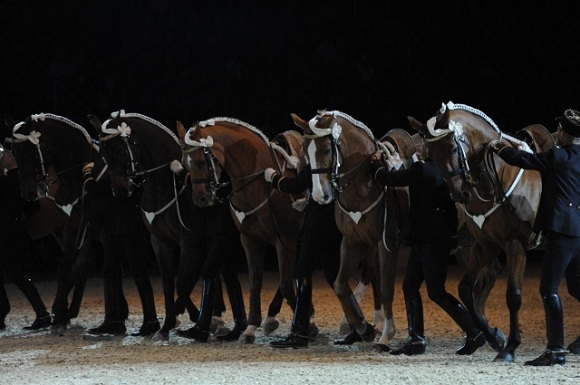 "… The common denominator among riders is the desire to establish close relations with the horse, build mutual respect and work towards achieving 'lightness'. Cooperation between generations is strong, with respect for the experience of older riders, galvanized by the enthusiasm of younger riders. The Saumur region is also home to instructors, horse breeders, craftspeople (saddlers, boot-makers), veterinary services and blacksmiths. Frequent public displays and galas hosted by the Cadre Noir of Saumur help to sustain the visibility of equitation in the French tradition."
Here is a video in French showing the Cadre Noir and explaining the development of horseback riding traditions in France:
The official website of the Cadre Noir and the National School of Equitation in Saumur provides information on shows and sporting competitions held at the school that are open to visitors.
Tourist information for the town of Saumur, in the Loire Valley, can be found here.
Other elements of French heritage that have been added to the list in previous years are:
2010
– The gastronomic meal of the French,
– Compagnonnage, network for on-the-job transmission of knowledge and identities,
– The craftsmanship of Alençon (Normandy) needle lace-making,
– Falconry, a living human heritage (France is one of 11 countries designated as sharing this heritage).
2009
– Aubusson tapestry
– Maloya, a form of music, song and dance native to Réunion Island,
– The scribing tradition in French timber framing,
– That year "The Cantu in paghjella: a secular and liturgical oral tradition of Corsica" was also added to the List of Intangible Cultural Heritage in Need of Urgent Safeguarding.
2008
– Processional Giants and Dragons in Belgium and France.