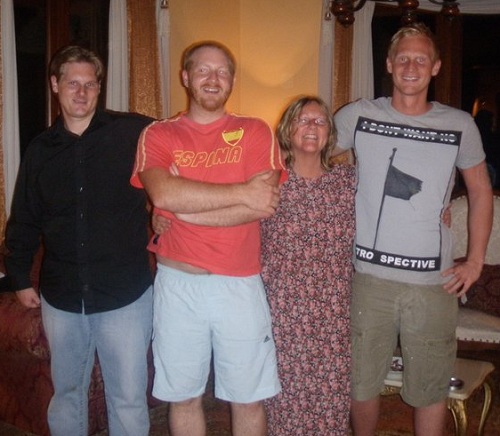 In which an English family—a self-described "short, fat, dumpy little old lady," her pianist husband, and their three sons (the voice of reason, the voice of enterprise and the voice of autism)—move into a once-prestigious property in southwest France with hopes of enjoying the good life abroad. What they discovered was hard work… and the good life abroad.
By Sue Birch, contributing to France Revisited
I wasn't sure we would last the year when we moved from our humble little home in Leicestershire to Ygos, near Mont-de-Marsan in sunny southwest France between Bordeaux and Biarritz.
The plan had been to buy something manageable that we could run together as a family, a small guest house, for example, or gites for holiday rental. Maybe even a restaurant with rooms. What we ended up with was a large rambling old house whose plumbing had more holes than Gruyère cheese, with no kitchen or bathrooms, and a 42- acre jungle. What chance did a short, fat, dumpy, little old lady, her musically gifted but manually challenged husband, and their three boys have to cope with that?
Okay, so there were a couple of buildings which would be perfect for gites and there were lots of stables and outbuildings which were in good condition. But they needed to contain at least a dozen goats to tackle the shrub. Or, better still, some mechanical tools. Instead, all we had was an electric mower. And it takes an awfully long cable to mow 42 acres!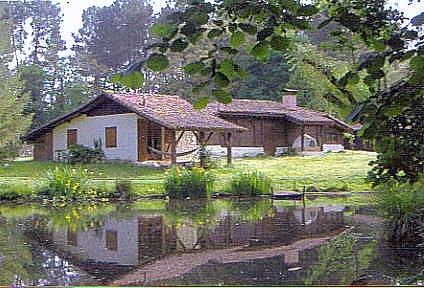 But it wasn't going to be all hard work. We were in Les Landes, where the sun always shines, where lunch takes two hours, and where traffic jams are unheard of. We could be surfing in the Atlantic in less than an hour or boating, horse riding, swimming or bird watching at the Arjuzanx nature reserve within ten minutes.
Besides which our new home was a prestigious property which had once sheltered the Prince of Cambodia and, as our friendly farming neighbours constantly reminded us, once belonged to Patrick Sebastien, a French TV star. This place had apparently seen a lot of fun—surely we would have some too, right?
Unfortunately the enormous swimming pool, where famous people had once frolicked, now held an inky black swamp. And the water in our lake, where the celebrities had cast fishing lines, was gushing away down a drain, taking all the trout, carp and perch with it.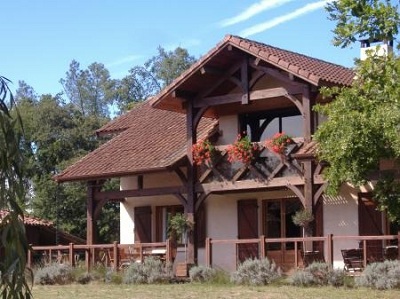 On top of this every room in the house needed decorating, the gites needed furnishing, the grounds needed tending, the business needed marketing, and we wanted to be up and running within twelve months.
My husband took one look at everything we had to do and, very sensibly, decided to continue working in the UK. His pianist fingers could be put to better use financially supporting us. Furthermore, with the Biarritz, Bordeaux and Pau airports just 90 minutes away, he could easily find cheap flights and spend every Christmas, Easter, summer and half-term break with us.
So the three boys and I were in charge of transforming a ramshackle ruin into the country estate it was longing to be and getting the holiday letting up and running. The gites weren't a problem. While most agencies refused to consider us until the building work was finished, Just France agreed to put us in their brochure for the following year on the strict understanding we would be ready for inspection by the next spring.
We'd be fine. We had everything we needed to do the job. Along with the trusty lawn mower, we had a chargeable electric screwdriver, the Collins Guide to DIY, and a copy of the Pages Jaunes (Yellow Pages) to search for local builders.
The builders all said roughly the same thing, "March? I can't do March. September maybe. No, not this September. Next year. Perhaps."
We were on our own. Good job I had that DIY manual!
And my boys.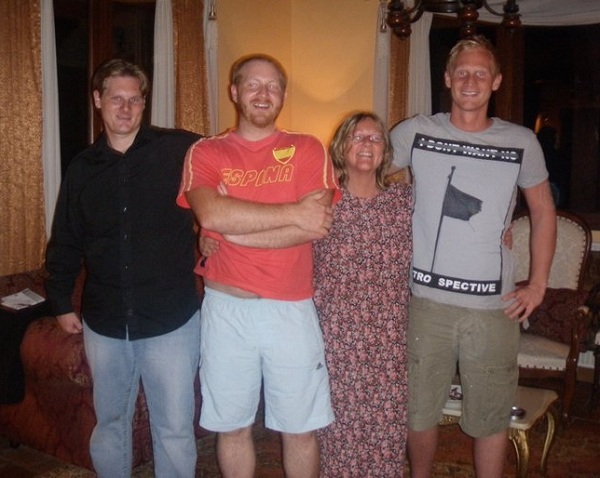 Son Number Three had just finished school and wasn't sure what he wanted to do next. After hacking away at the jungle, painting everything that didn't move, and working his fingers to the bone he decided he didn't want to renovate property. He was the voice of reason in our eccentric family. Early on in our adventure he said, "It's very nice Mum, but it's not normal, is it?" He's now a trained nurse and has just started a university degree course doing psychology. I suspect when he's a fully qualified psychologist he'll take me aside and say, "It's very nice Mum, but now it's officially not normal!"
Son Number Two's a classically trained chef who was used to power tools—so long as they were made of stainless steel and lived in a kitchen. A young man who could cook a perfect soufflé but had never changed a plug in his life.
Son Number One is autistic. He likes his life to be ordered, with routines. Before we moved to France he was overweight, spending most of his time watching films. He'd watch the same one over and over again until he could repeat the dialogue perfectly. When we discovered our old British television didn't work in France we thought he'd be distraught. There was no money to buy a new tele, any spare cash went on tools. To entertain ourselves, after working all day, the boys and I would play charades in front of the fire. Son Number One would act out entire film sequences for us to guess. Now this lovely, kind, handsome young man takes our Pyrenees Mountain dog for a walk every morning to collect the post. He goes swimming regularly and has a strict exercise regime which includes stacking logs for the fire. He still enjoys films but tends to save them for Tuesday afternoons, when a befriender comes to watch them with him while I go shopping.
Did we last the year? Did the work get done?
Well, we're into our ninth year now. We passed our inspection with Just France and our first customers arrived June 2004. Since then we've had guests every summer, not just from the UK but from all over Europe. We've even had Russian visitors. The house had been scrubbed up into a beautiful six bedroom Landaise style country farmhouse. Although it would make a great B&B, we greedily keep it for ourselves.
We did find help in the end. Relatives flew in from the States to give us a crash course on general repairs, and after much pleading local artisans managed to fit us in to their busy schedules to do the major work.
But it was Son Number Two who really brought the place to life and in the process learnt to turn his hand to just about any job. Now, he not only whisks eggs but mixes concrete, he ices cakes and plasters walls, he joints chickens and chainsaws logs—not not all at the same time, obviously! He has a kitchen full of cooking equipment and a barn full of power tools. He managed to plug the drain and restocked the lake with fish. The pool is so clean it sparkles in the sunlight like a giant sapphire. We replaced the electric mower with a ride-on one, so the jungle has been tamed back into a landscaped park with a paddock and woods. Always planning meals in advance, my little chef planted an orchard and created a vegetable garden which means we always have fresh produce. He bought chickens, ducks, geese and guinea fowl from the local market and scoured the second-hand shops so we could furnish the house and both gites.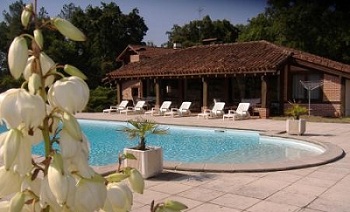 Today the work is long finished and our lives are comfortably routine. But has it been worth it? Well, I've had the best nine years of my life. I wouldn't have missed one minute. It's been a crazy, rollercoaster of a ride, but the best ride ever.
Yet, despite all that, the property is back on the market.
Was it too much for this short, fat, dumpy little old lady to cope with after all?
Not on your life.
Our plan had been to run a family business together. Although we've achieved that, this business is only big enough for one little family, my little family. Which means that our plan is to move on to our next adventure. We're looking for a business which is big enough for Son Number Two to run, which will support not just us, but his family too.
So, does anyone know of a dilapidated chateau for sale with lots of bedrooms big enough to do bed and breakfast and still have a home large enough for two families? We don't mind a jungle but it needs to have gites and a professional kitchen because, this time round, my little chef wants his own restaurant.
Normal? Sorry, we don't know the meaning of the word.
Asked to supply a short bio to accompany this piece, Sue Birch wrote: I usually just say I'm a short, fat, dumpy little old lady who lives in France. If that's not enough I suppose you could add I was a teacher and ran a befriending scheme for the National Autistic Society in the UK for several years before moving to France in 2003. I've also written a children's adventure story called "Dead Puzzling" about three kids, including an autistic boy, who try to solve a murder. (Admittedly it's not the best children's fiction out there but it kept me out of mischief for a while!)
© 2011