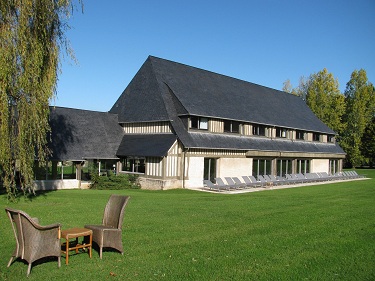 Part 2 of a three-part investigation into potentially romantic hotels on the Flowered Coast of Normandy, featuring the Grand Hotel in Cabourg, Les Manoirs de Tourgéville near Deauville, the Royal and Normandy Barriere Hotels in Deauville, several less luxurious hotels in the area and recommendable restaurants.
Les Manoirs de Tourgéville
From Cabourg I didn't go straight to Deauville. On my own I had imagined an alternative romantic weekend in the countryside, unrecognizable in my friends' dreams of the Grand Hotel in Cabourg or the Hotel Normandy in Deauville.
I might have taken a taxi to Tourgéville, just outside of Deauville, but I'd inquired at the Cabourg tourist office in the morning and was told that the bus across the park from there stopped at Tourgéville Plage (Beach) on its way to Deauville. So I took it.
Something seemed wrong when I got off the bus at Tourgéville Plage: there was nothing there but a gas station. I know from my map that Tourgéville itself was somewhat inland, so I started walking away from the coast. My bag was light.
It was a beautiful early afternoon by the coast. And when, after 5 or 6 miles and several stops to chat with the cows or admire some horses, and several detours to follow signs to villages in the hopes, always dashed, to find an open café or restaurant, I finally arrived at the Manoirs de Tourgéville, it was a beautiful late afternoon in the countryside.
I don't recommend this ambulatory approach to the hotel by couples—not because walking in the countryside doesn't lend itself to intimacy (au contraire!), but because by the time you realize that the hotel is nowhere in sight around the first bend you'll likely be in a furious silent fight that someone, monsieur, will certainly pay for dearly. Then again, the Manoirs is so surprisingly isolated (surprising at least to me) that it may well be the most memorable and endless walk of your entire trip.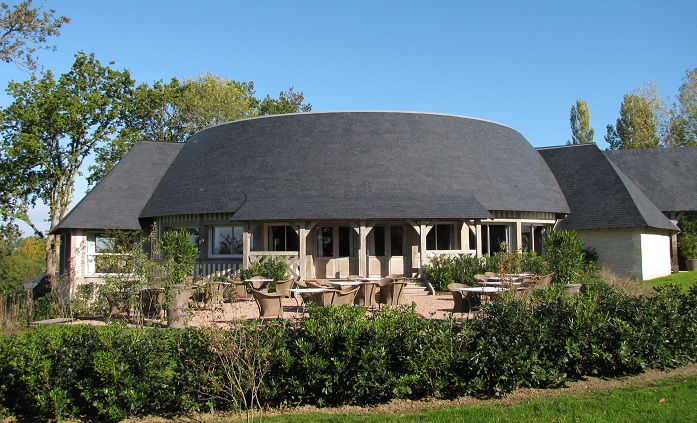 Anyway, the best way to get here if you don't have wheels (though you should) is by taking a taxi from Deauville, which is four miles away. Or as the Manoirs' gracious and hospitable director Sylvain Choblet said when I told him about my afternoon in the countryside, "Why didn't you just call me? I would have picked you up."
I had my pride, I told him, but I wouldn't mind taking him up on it for the return to Deauville the following day.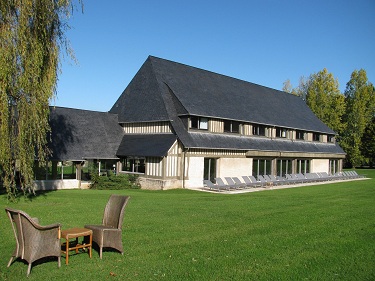 Formerly owned by the filmmaker Claude Lelouche (hence the 50-seat cinema here), Les Manoirs de Tourgéville was bought in 2009 by the Floriat Group, a family-owned business whose best known property is Le Byblos in Saint Tropez. They upgraded the hotel with a thorough renovation to reopen in 2010 as a 57-room 4-star hotel.
The Manoirs is well conceived, honorably designed, and an altogether welcoming, contemporary oasis in the Norman countryside.
Beyond the reception desk the bar area, a spacious wood-paneled setting with one glass wall facing out to the terrace and courtyard, offered a cozy moment by the fireplace after my long walk. Within 24 hours I would also take advantage of the indoor swimming pool, the small spa and fitness areas, a bicycle (I pedaled out the driveway and turned right at every intersecting road to be sure to come full circle 30 minutes later), and the restaurant on site. There are also three tired tennis courts.
The hotel earns its name due to the manor-like out-buildings on the property, each divided into several suites and apartments that are appropriate for a stays of several days or more in spring and summer, or for families even on a shorter stay.
Most of the rooms, though, are in the main body of the complex, which offers various types of accommodations including duplexes and triplexes. Given the selection, Les Manoirs de Tourgéville is appropriate for any vision of romance (or family life) that you may have. The restaurant/breakfast room is in an adjacent building access by a covered walkway.
Despite the family appeal in summer, I see Les Manoirs de Tourgéville as an attractive spring, fall and why not winter adult get-away.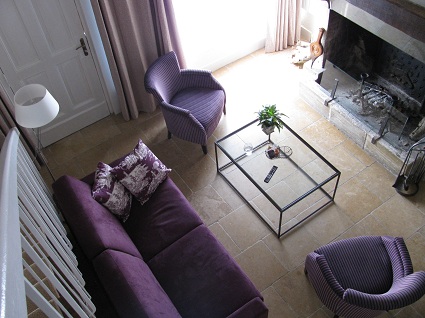 The menu and the setting of Le 1899, the hotel's airy restaurant, were attractive enough that I didn't regret not having wheels to go to the coast for dinner. It serves polished Norman and classic French cuisine. I had a fine and generous slices of foie gras and a glass of Jurancon, followed by salmon brought to port down the coast at Isigny with baby carrots and cauliflower and a glass of Chablis. I found the atmosphere of the restaurant lounge-like sensual, so there was some romantic potential there, at least the three couples dispersed through the restaurant that evening seemed to think so.
On a cool quiet weekday night, I returned to my triplex to find that the thoughtful staff had lit a fire in my private fireplace. There were miniatures of brandy on the table. Score a big point for romantic potential and two small points for me.
Les Manoirs de Tourgéville, Chemin de l'Orgueil, 14800 Tourgéville. Tel. 02 31 14 48 68. Four miles from the Deauville train station. Price range 195-510€ per night in high season, 20-30% less in other seasons.
You've just read Part 2 of the 3-part series "Dreams of Romance on Normandy's Flowered Coast from Cabourg to Deauville."
To return to Part 1: Cabourg, click here. 
To go to Part 3: Deauville, Villers sur Mer, Houlgate, click here.
Comments may be left at the bottom of this page.