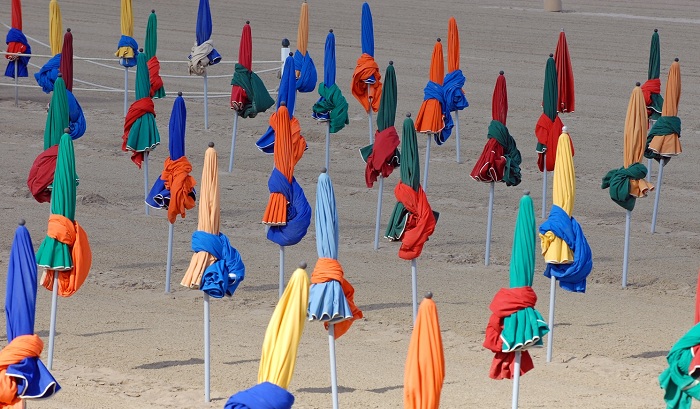 Part 3 of a three-part investigation into potentially romantic hotels on the Flowered Coast of Normandy, featuring the Grand Hotel in Cabourg, Les Manoirs de Tourgéville near Deauville, the Royal and Normandy Barriere Hotels in Deauville, several less luxurious hotels in the area and recommendable restaurants.
The Royal and The Normandy in Deauville and Others Hotels and Restaurants on the Coast
The 5-star Hotel Normandy Barriere in Deauville has for some time now been the star of the Flowered Coast, a choice destination for both leisure and meeting travelers who heed the call of luxury in this well-to-do resort and meeting town.
The Normandy Barriere is so well known that despite having set out to test its romantic potential when I'd left Paris two days earlier I ended up on in its sister 5-star, the Royal Barriere, at the opposite side of the Barriere casino. The equally stellar Hotel du Golf Barriere is by the course a few miles inland.
If that sounds like a Barrieres for one town that's because the Lucien Barriere Group, 60% of which is held by the Desseigne-Barriere family, is inextricable associated with leisure and wealth in Deauville. So is French President Nicolas Sarkozy, a personal friend of its CEO Dominique Desseigne. I note that not because a foreign traveler's sense of romance need be affected by French politics but rather because two days before my arrival a tripartite summit meeting brought together at the Royal President Sarkozy, German Chancellor Merkel and Russian President Dmitry Medvedev, and an assortment of sharp-shooters among the 1200-strong security force in the area. (All three of Deauville's Barriere hotels were reserved for participants of the G8 meeting here in May 2011.)
On the way to my room a hotel employee showed me the suite where French president and his wife had Carla stayed. I sat on the bed to test the mattress. The room had a living room, which mine didn't, but mine actually had a better view, without helicopters hovering above the beach or warships just off the coast.
The Normandy was built in 1912 in what is called Anglo-Normandy style, interpreted here to mean that it's a massive feel-good manor pea of green half-timbers beneath a steep slate roof. There are 290 rooms facing in all directions, including 28 suites and apartments. Its main entrance is from the town side.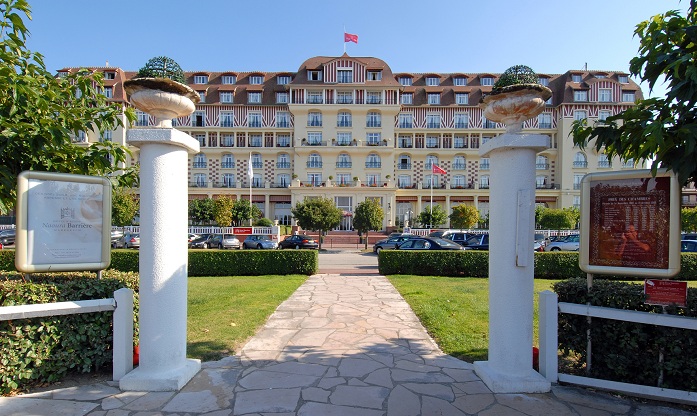 The Royal is more attractive when seen from the beach side. Built a year after its big sister, it's dressed primarily of stone with winks to the region in the form of inlaid brick and red stripes of paint. The Royal resembles a luxury coastal hotel in New England rather than Old England. Open March through November, it has 252 rooms including 30 suites.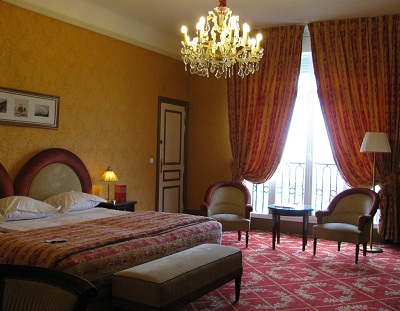 The Barriere style as expressed at the Royal is a classic traditional French grand hotel style, a flowing plush of red carpets with round motifs, thick drapes, heavy furniture and damp blue and reds tones. More recently renovated rooms, however, have straightened some of the lines, Directory-style, though colors remain hearty. Despite the thoroughly modern amenities, the Barriere style as interpreted by decorator Jacques Garcia at the Royal and the Normandy has an intentionally old-fashion air to it. Most rooms are quite spaciousness.
Unlike the Grand Hotel in Cabourg, the channel is not at your feet here since the Royal and the Normandy are several hundred yards back from the beach and low tide withdraws water's edge even further.
There is a sea view from the 4th to the 7th floors on the north side of the hotels, but a swimming pool, a conference center, tennis courts, pavilion and/or restaurants fill the lower part of one's gaze. I don't think of the view as romantic so much as longing, but perhaps there's a similarity there. My view: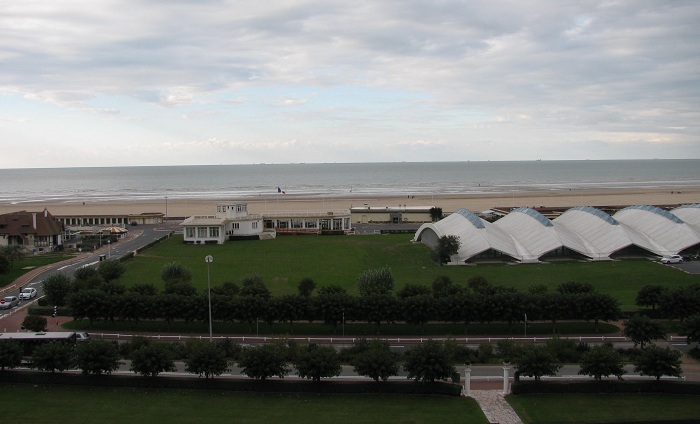 On the opposite site the upper floors of the Royal also offer appealing views to the small-town feel of the residential quarters of Deauville.
Deauville's American Film Festival draws stars and novas to town in September. The walk of fame is along the boardwalk, with famous names of the screen noted by the changing booths. The view colored umbrellas on a long and wide stretch of beach sand is shorthand for Deauville. But the water on the English Channel is cold and the clouds move in fast. No American in his or her right mind would come to Deauville for a lie on the beach, attractive as it may be, though the British would.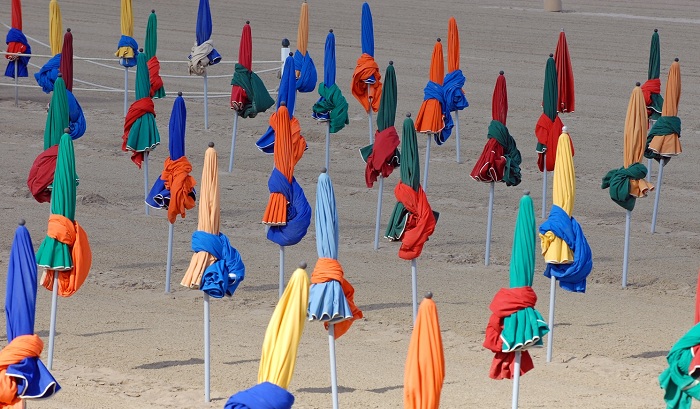 So it isn't the view of the beach that would make or break Deauville or either of these hotels as a romantic destination.
The Royal has spa facilities and a small pool, a gastronomic restaurant (see other restaurant suggestions below), lobby chairs to sink into, a grand ballroom as breakfast room, and willing service. A seawater therapy center and an Olympic size pool are across the street. The casino is next door and on its opposite side you can get a change of luxury hotel scenery at the bar of the Normandy.
There's a general sense of well-being in the well-heeled heart of Deauville. There are golf courses in the area and, more significantly, a thoroughbred race track. (Cabourg has a racetrack especially know for trotters.) This part of Normandy is horse country, and Deauville is especially known for its thoroughbred trade and races. It's a sister city to Lexington, Kentucky and to Kildare, Ireland. The most romantic stroll on the beach of Deauville may well be on horseback.
So many ways in which to fill a two or three leisurely day and a resort-casual nights, even when the Norman sky turns gray.
The Royal is a fine place. I would like to have gotten to know her better. But, alas, a single night was all I had. Still it was enough to understand what my friend is looking for in her 5-star Deauville dream: to be spoiled.
Royal Barrière Deauville, Boulevard Cornuché, 14800 Deauville. Tel. 02 31 14 39 59. Rates vary significantly depending on season and length of stay. Check website High season rack rate typically 480-1535€, with sea views beginning at 605€.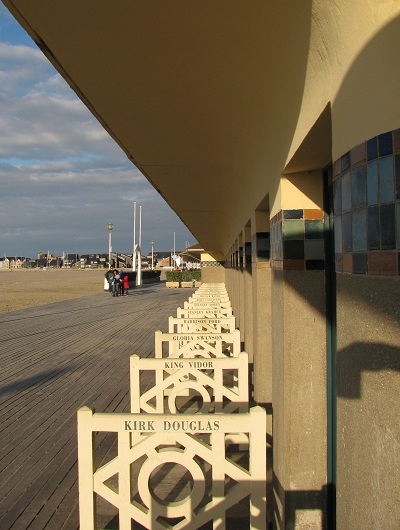 Deauville Tourist Office, in the center of town by Town Hall, place de la Mairie. 02 31 14 40 00.
Restaurant L'Essentiel. 29/31 rue Mirabeau, 14800 Deauville. Tel. 02 31 87 22 11. To contrast with the old-fashion grandeur of the Royal, I went to what I came to think of a lounge bistro, a brightly lit space of clean lines, dark wood chairs and grey walls. There's also a large patio-courtyard space outside. The 50€ tasting menu was excellent, a delicious discovery, and unParisian in that compared with the capital it was reasonably priced for such a feast. L'Essentiel serves French-Asian fusion, each part recognizable, making it both inventive and traditional, a wise mix of savors without gimmickry. I'm not a big fan of music in restaurants (the amiable director of Manoirs de Tourgéville had called me "old school" when I suggested that the music in the hotel's restaurant was excessively musical), but I didn't mind the discreet lounge music here. Owners and chefs Charles Thuillant and his Korean wife Mi-Ra work hand in hand in the kitchen, except when she has a baby in hand. Dishes are served on slate or on Franco-Asian simplified porcelain, tableware appears appropriate rather than gadgety. Accommodating service.
Restaurant Le Spinnaker is a fine fish restaurant on the same street. 52 rue Mirabeau, 14800 Deauville. Tel. 02 31 88 24 40.
If looking to create a chic and easy picnic, you'll find excellent prepared foods in the center of town at the deli/caterer Breton Deauville, Place Morny.
Notable hotels in other categories in Deauville
La Villa Joséphine (3-star), 23 rue des Villas, Deauville. 02 31 14 18 00. I haven't stayed at this 3-star but a most reliable source tells me of the charms and refinement of this late-19th-century villa operated since 2005 by Joséphine Petit and located a few block from the center of town. Room rates are 118-348€ (excluding breakfast), discounted pricing possible.
Hotel de l'Espérance (2-star), 32 rue Victor Hugo, 14800 Deauville. Tel. 02 31 88 26 88. In the center of town though calmly situated, this clean, contemporary,10-room, budget-friendly, client-friendly hotel may have three less stars than the Normandy or the Royal and fewer knick-knacks than the Villa Joséphine, but it makes for a private or intimate escape, alone or with a lover. Patrick Bartert, owner along with his wife Murielle, is a former chef who willingly offers his view of the culinary offerings of Deauville and the surrounding area and explains his appreciation for the culinary traditions of Auguste Escoffier (1864-1935). Room rate 100-150€ in high season, 67-99€ in low season.
Between Deauville and Cabourg
Villers sur Mer
L'Outre-Mer (3-star), 1 rue du Marechal Leclerc, 14640 Villers sur Mer. Tel. 02 31 87 04 64. Full of charm and color, exuding playful flamboyance and a feminine touch, the Outre Mer is a friendly and joyful 14-room hotel on a coastal town between Cabourg and Deauville. Half of the rooms have a partial sea view, some with balcony. Romantic, yes, but with its moderate price and the beach across the street it's also worth considering for family travel or for a writerly pause. Room rates 98-185€ excluding breakfast. Even when your budget sends you to more stellar hotels the tea room here offers a cheery stop (with pastry) while exploring the coast.
Lunch at La Digue de Villers, a fish and seafood restaurant overlooking the beach from avenue de la République in the town of Villers sur Mer. Open daily.
Houlgate
La Villa des Bains (3-star), 31 rue des Bains, 14510 Houlgate. Tel. 02 31 24 80 40. The absence of a grand hotel in Houlgate means that it's typically ignored while driving between Cabourg and Deauville, but meander along the slopes a few hundred yards back from the coast and you'll find an astounding array of top-of-the-line mansions built in the late 19th and early 20th centuries. Meanwhile, in the commercial heart of town and two blocks from the be
ach (view from four of the upper rooms), Carine and Hubert Courtessi have thoroughly renovated this establishment and turned it into a welcoming streamlined contemporary 18-room hotel from which to explore the area. Room rates 95-160€ excluding breakfast. Hubert is a big fan of golf so golfers will get passionate advice on local courses—well, sometimes you need a break from romance.
To return to Dreams of Romance on Normandy's Flowered Coast, Part 1: Cabourg, click here.
To return to Dreams of Romance on Normandy's Flowered Coast, Part 2: Les Manoirs de Tourgéville, click here.
Comments may be left at the bottom of this page.