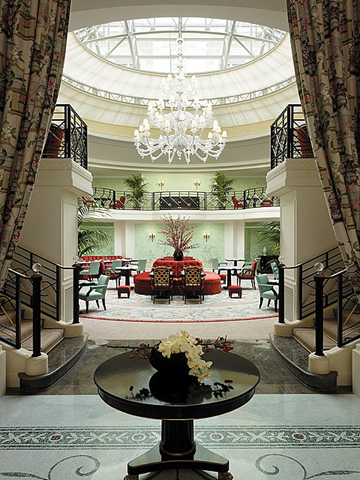 An evening at Le Bar and La Bauhinia at the Shangri-La Hotel in Paris reveals the seduction of an evening at a top-tier hotel… and a little cleavage.
* * *
Shangri-La, a welcome addition to the top tier of 5-star hotels of Paris, is a discreet establishment. Its discretion begins with its location, which is respectably askew from the glitter of the city's golden triangle.
Detractors cite its distance from the hubbub of high fashion and gastronomy in Paris. So do admirers. Count me among the latter.
The building at the heart of Shangri-La, the former Palais Iéna, was built 1892-1896 as the home of Roland Bonaparte (1858-1924), Napoleon Bonaparte's grandnephew. Shangri-La is an Asian chain (this is their first European venture) yet it has largely maintained the original patrician Parisian spirit of the ground-floor public rooms. They were and remain an ode to the marriage of aristocracy and industrial achievement. Shangri-La's public spaces successfully play the Parisian parlor game of showing class through restraint, with the occasional silk vest standing by to let you know that the Shangri-La chain is indeed based in Hong Kong.
I will write soon on France Revisited of the appeal of the rooms (which start at $1000 per night), of the 19th century themes of straight lines, dark wood, marble, bronze, gilt, of the beautiful wall paper, and of the Eiffel Tower views.
L and I, however, didn't come for the night. We came for the evening.
Le Bar
For a drinking tête-à-tête I'm generally not a fan of hotel bars at the front of the lobby, however fancy they may be, where people are constantly coming and going and you feel obliged to check out each and every one of them as they pass. So at Shangri-La we opted for a drink in Le Bar, further inside the building, rather than in the lounge (more of a teatime setting) off the front of the lobby.
Discreetly entered beyond the hotel's reception area, the contemporary Empire décor of Le Bar offers an easy-going invitation to dream of foreign and local adventures. There's a faux minimalism to the center of the bar that on first glance on a relatively empty evening can make it feel that something is missing from the décor, but then we realized that it was us—and here we were!
It all came together when we took a seat and got in deep conversation about a choice of a cocktail with head bartender Christophe Léger, who previously tended at the Bar Vendome at the Ritz for 13 years.
I'd felt duty-bound to ask for a Pink Lady since that's the house specialty, but Mr. Léger saved me from the embarrassment of sitting in front of a pink drink by explaining that the egg white and cream in it made it too heavy before dinner. After a brief bit of cocktail history—something at which the head bartenders at top hotels are known experts—Mr. Léger steered us to what can only be considered a women's drink (something slightly sweet) for L and a man's drink (some kind of sour) for me.
Forty minutes later there was a question of trying other concoctions and of considering a fine selection of olives and nuts as our appetizer, but then we remembered that an enticing dinner adventure awaited just down the hall.
La Bauhinia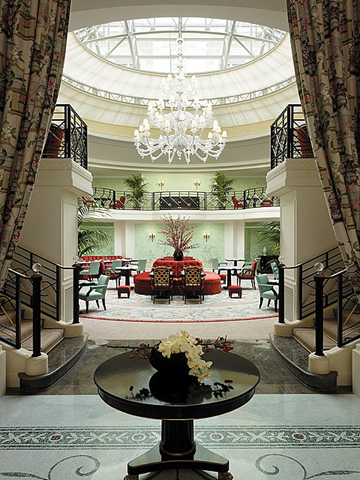 La Bauhinia is an airy east-meets-west rotunda sporting a Maurano 3-tiered chandelier and crowned by a glass canopy.
There's a wavering moment as you enter since you're aware that people sit at these same tables in the morning ordering veggie omelets or paying $50 for coffee and a croissant, and your enthusiasm deflates slightly at the thought that you've come to a hotel restaurant and not a real restaurant. But that impression goes away as soon as the waiter pulls out the table for your date to sit on the banquette and your date, rearranging her pearls, says, "Thanks for bringing me here, I thought this was just going to be a hotel restaurant but it's really quite nice," and you see how lovely and comfortable she looks against a background of celadon vases.
So we toasted our good fortune at dining together.
La Bauhinia, named for the flower on the flag of Hong Kong, serves polished cuisine that's largely French along with select Asian dishes. The hotel has a separate restaurant of more rarified gastronomy, the intimate and formal L'Abeille (The Bee), named for a symbol of the Bonaparte family. A third restaurant, Shang Palace, slated to open at Shangri-La this summer, will serve gourmet Cantonese cuisine.
We were testing La Bauhinia in springtime, so L started with a fresh salad of grapefruit, shrimp, peanuts and a spicy vinaigrette (photo below) while I took the white and green asparagus with a light leek sauce.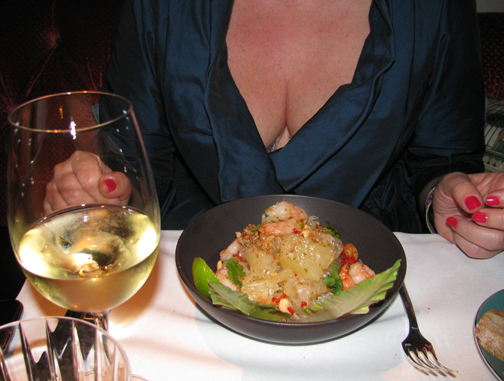 We then tried a second appetizer, a gift from executive chef Philippe Labbé, of braised endives with black truffles and a while truffle cream sauce—and a most pleasing gift it was, our shared favorite.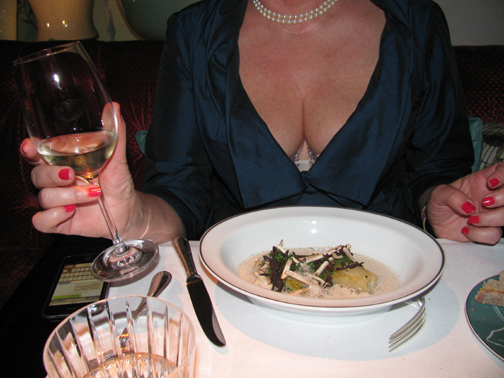 Makes you want to dive right in.
Next came L's lotte (monkfish) and my lamb. La Bauhinia serves well prepared, non extravagant gastronomy. It's the kind of meal one has when one wants to eat chic and well without having to deal with attitude or a picture-perfect plate. Here is L's dish of chunky pieces of sauced-up lotte.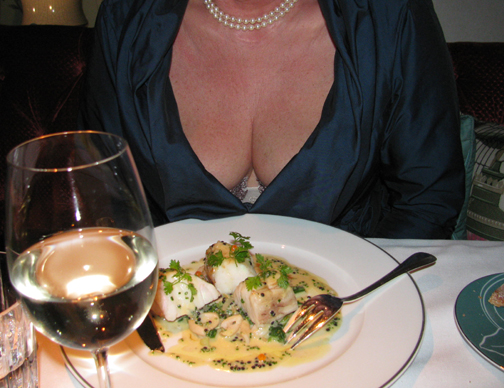 L's dessert was so pretty that we simply admired it. There was a question of rather to begin by forking or spooning it. L preferred to spoon.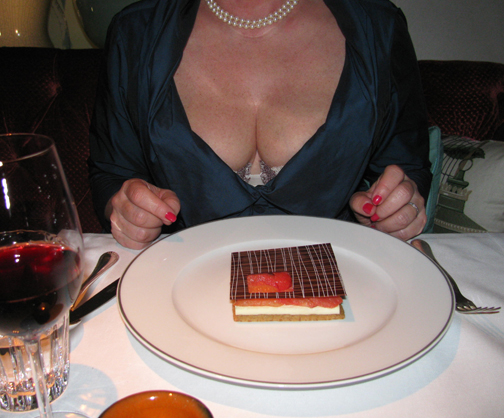 We followed the meal with tea, as much for the desire to prolong our communion at the table as for the pleasure of having the celadon color tea set on the table, with the vases over L's shoulder.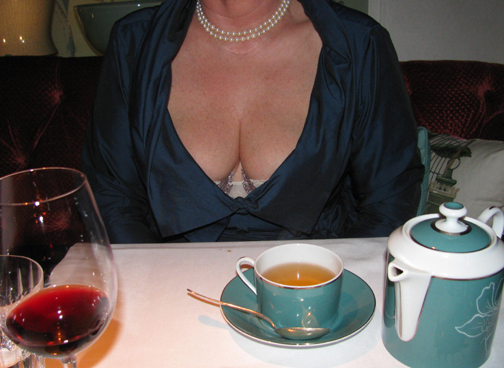 L then bore her soul to me and proffered a piece of chocolate.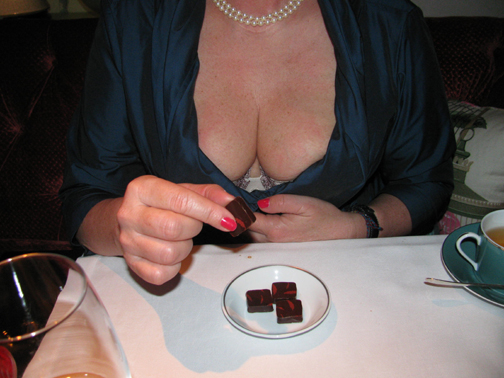 Neither overly refined nor overly brash, pricey but Parisian, an evening at Le Bar and La Bauhinia at Shangri-La is just right when you want to head confidently, though not excessively, upscale—and grab what life offers you with both hands.
Bauhinia at Shangri-La Hotel, 10 avenue d'Iéna, 16th arrondissement. Tel. 01 53 67 19 91. Open for breakfast, lunch, tea, dinner. Dress code: smart casual. For dinner count on 75-100 euros per person for 3 courses, without drinks, or 150-175 euros per person for an evening that begins at the bar and ends well.
Read the review of the Shangri-La Hotel, particularly its rooms, decor and location, here.
For the prequel to this article see In Transit: The Route to Shangri-La Is Paved with Good Intentions.