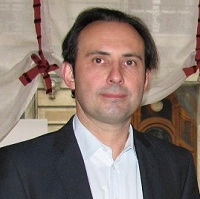 Fine restaurants are typically defined by their chef or location, but there is an often forgotten category of gastronomy whose prime asset is having the owner as front man, its maitre d' as master of the house.
The diner there has direct contact with the kingpin. He isn't someone who might stop by to see you later if he has time or who might have skipped town altogether to open a new venture in Japan, but someone who is in the dining room with you and who knows that you're there. You're free to ignore him, of course, but his role is to pay attention to you.
So it is with Jean-Frédéric Guidoni at his notable restaurant Jean in Paris's 9th arrondissement, a district between the Garnier Opera and Montmartre with an indistinct reputation and thus many surprises.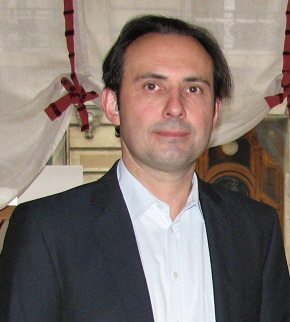 Mr. Guidoni mastered the skills of operating a dining room long before opening Jean in 2002. For twenty years, from 1981 to 2001, he served as maitre d' at the venerable Taillevent. Given that experience it's no surprise that the dining room at Jean runs so smoothly.
In addition to his front-man skills, Mr. Guidoni is no slouch at hiring chefs. The restaurant received a Michelin star in 2006 and has maintained its star since Anthony Boucher took over the kitchen in 2008. In 2011 Attilio Marrazzo replaced Anthony Boucher as chef. (Jean has maintained its Michelin star in 2012.)
This report follows dinner at Jean with my favorite co-tester L. We were given a corner table (the one behind the main actors in the photo above). I would call it "a romantic corner table" were it not for the fact L was recently married. We'd come to Jean to celebrate her good sense to marry a man who still lived 400 miles away.
Out of extravagance, hedonism and a mutual acknowledgement that we had the entire evening ahead of us, we ordered the 7-course wine-paired tasting menu. It's as though we'd entered Mr. Guidoni's home, thrown off our coats and called out "Bring us food. Bring us drink. Show us what you and the chef are worth. Show us a good time. A glass of Champagne to start, s'il vous plaît." Politely, of course.
Jean is a setting for poised and well-heeled lunches and dinners but it feels neither stiff nor overly formal. It can indeed be romantic in the evening—perhaps not young romance but comfortable romance.
Despite some hesitation from the younger servers, the teamwork here is evident, an advantage of having the quarterback in the dining room rather than in the kitchen.
While this is clearly a gastronomic restaurant, the décor is reminiscent of a luxury bistro or a classy tavern: red banquettes, fabric-covered walls, plush red drapes on the upper third of the wall, a glossy white ceiling. In another reincarnation this space could easily be transformed into an American-style saloon due to its pale wood show-bar with brass hand and foot rails, its old brass cash register on the counter and its wooden staircase in the back. There's seating for 38, with several cozy corner tables for 2 to 8, plus a private dining room upstairs best suited for a group of 10 to 12.
The décor creates an environment that is far from hip but isn't truly old-fashion. It's an attractive echo to a cuisine that is both classical and modern without being cutting edge. I imagine that those seeking the latest in décor and cuisine might wonder what era they've entered.
A fresh and sincere succession of dishes and a wise choice of wines followed: a tomato-goat cheese-zucchini-macadamia nut appetizer; escargot risotto; vivaneau (fish) with grilled eggplant and green pepper; a fine and delicate pigeon; a well-rounded selection of cheese (goat, brie, cantal). The well-conceived desserts were nevertheless a bit heavy as a finish to such an extensive tasting menu.
This is the kind of French gastronomy that wins friends more than awards. It's special without being unique, rich without being exclusive and served in a highly comfortable restaurant that's amiable without being chummy.
Jean hits a smooth, even note for relaxed yet fine dining… in the gracious presence of Jean-Frédéric Guidoni, the master of the house.
What's in a name?
The name of this restaurant, Jean, has no direct relation with the name of its owner, Jean-Frédéric Guidoni, though the two are now inseparable. When Mr. Guidoni purchased this restaurant it was called Chez Jean. He dropped the chez "because it sounded too much like a bistro," he said, however some still refer to this as Chez Jean or Restaurant Jean, and it is sometimes confused with the well-known L'Ami Jean (whose awning reads Chez L'Ami Jean).
To set the record straight then: the name of this restaurant is simply Jean, which is not a sign of self-indulgence on the part of the owner whose name is Jean-Frédéric. It's only natural, though, when he comes to your table, to want to call him Jean.
Jean, 8 rue Saint-Lazare, 9th arr. Metro Notre-Dame de la Lorette. Tel. 01 48 78 62 73. http://www.restaurantjean.fr/. Open Mon.-Fri. Fixed-price lunch menu at 46€. Fixed-price dinner menus at 48€ (3 courses), 65€ (4 courses) and 95€ (7 courses), without wine. About 70-75€ à la carte, without wine.
© 2011, Gary Lee Kraut