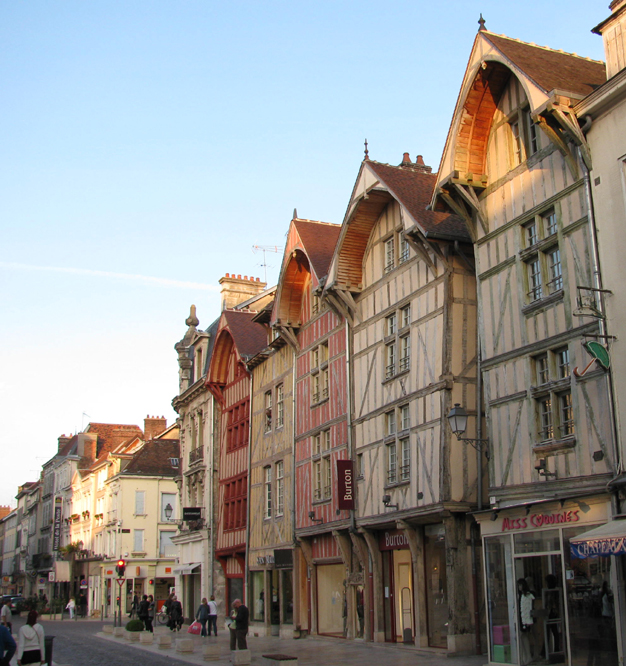 Half-timbered houses—maisons à colombages in French—, mostly dating from the late 15th to the early 19th centuries, can be found throughout France. Alsace and Normandy are especially known for them. Brittany and Burgundy and Champagne also have some fine examples, as does the town of Angers, just north of the Loire Valley.
One of the best places to enjoy their pastel charms is n the town of Troyes (pronounced like the French for three, trois), located in the department of Aube in the southern portion of the Champagne region, just north of Burgundy and 110 miles southeast of Paris. Troyes can be visited as part of explorations in Champagne (my own method for the purposes of this article) or when driving north from or south into Burgundy or even as a daytrip from Paris.
The skeleton of a maison à colombage is made from timbers that are further supported by various fillings such brick, chalk, plaster and most commonly an impermeable mix called torchis. Torchis is a mix of clay, chopped straw, lime, and sand that provides relatively good isolation. The filling or the entire façade may then be covered with roughcast or wooden or slate shingles.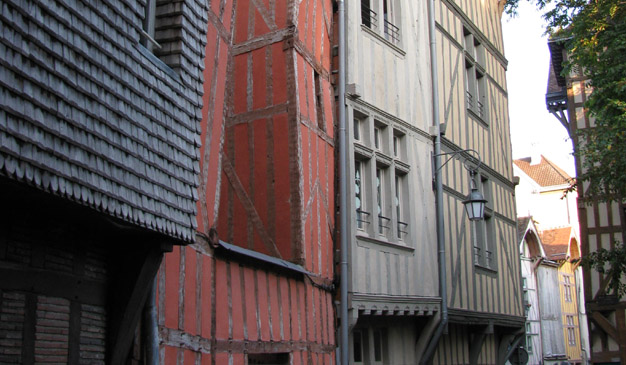 In the 17th, it became fashionable to fully cover half-timbered façades with plaster or roughcast so as to make the building appear less rustic, more luxurious. Nowadays, however, showing the timbers has the edge in terms of charm.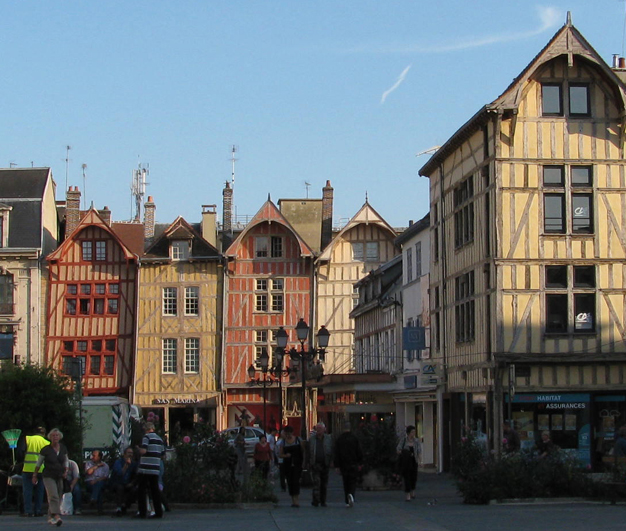 Troyes made its mark on the map of Europe in the 12th and 13th centuries due to major commercial fairs that were held here because of the town's privileged situation along the north-south trade route (the old Roman Agrippian way) from Italy to northern Europe and because of the relative independence of the Counts of Champagne, who controlled this region at the time.
Favorable trade winds returned to Troyes in the 16th-century and allowed for a handsome reconstruction of the town after a devastating fire in 1524, resulting in many of the half-timbered buildings seen today. The bon-bon colored commercial heart of the town is so attractive today thanks to a vast restoration project launched in the 1960s.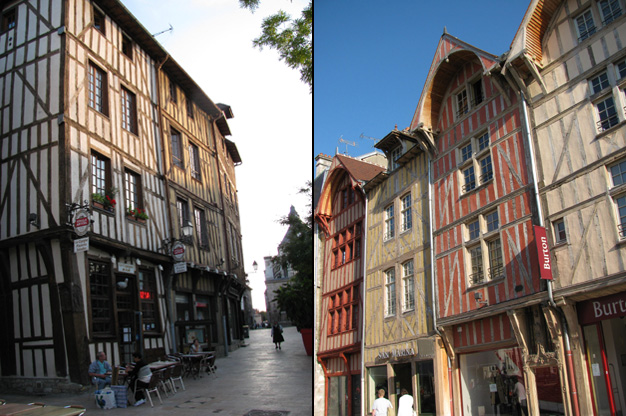 There nevertheless remains a certain rustic charm to the less rehabilitated zones just outside of the commercial center and to its non-restored buildings such as this.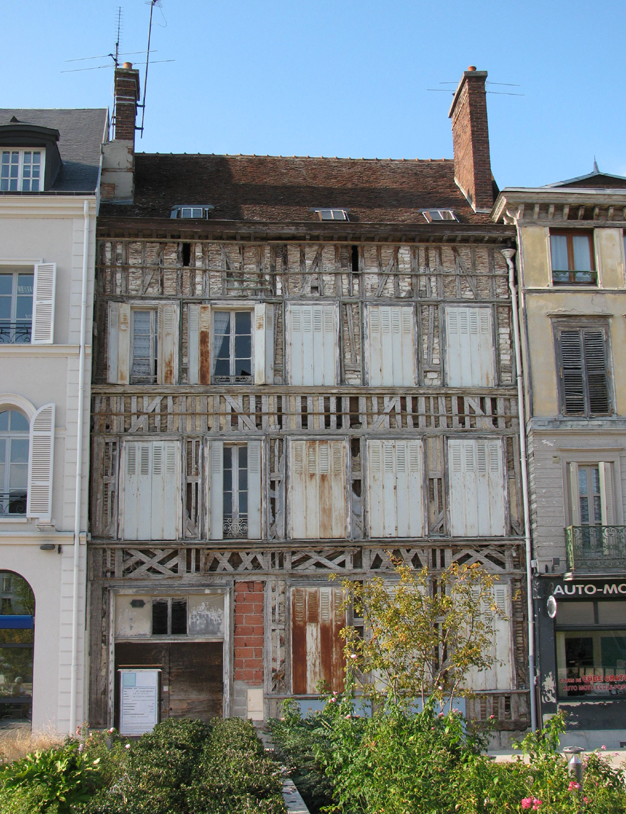 Portions of Troyes' cork-shaped city center is carfree, allowing for an attractive visit for a 2-3-hours walk-about if passing this way or for a full daytrip or an overnight. Other than the cavernous cathedral, the main views and squares and points of interest are in the body of the cork, including its most notable religious monument, Saint Madeleine Church, which has some beautiful wooden sculptures and intricate stonework…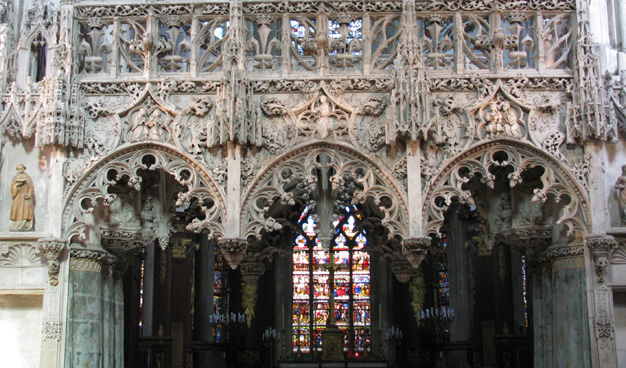 … but is especially noteworthy for its 16th-century stained glass windows, including this excerpt depicting the creation of the world by a man with a beard.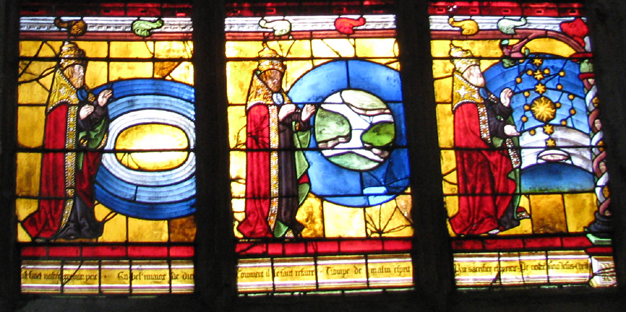 Another man with a beard and a hat associated with Troyes is Rachi (1040-1105), a foremost Talmud and Biblical scholar who lived in Troyes. The Rachi Institute is adjacent to a synagogue which occupies a 16th-century half-timbered former abbey, two blocks from Saint Madeleine.
La Maison de l'Outil et de la Pensée Ouvrière, a tool museum a library dedicated to "working class thought," isn't for everyone, but you know that manly thrill you get when looking for the precise screw or awe in a hardware store? Well, you'll find it in historic spades when visiting this collection of 10,000 tools particularly from the 17th and early 20th centuries. This is one of the best technical-minded museums in France. "Working class thought" is accounted for in books devoted to working-class life and culture and to technical studies.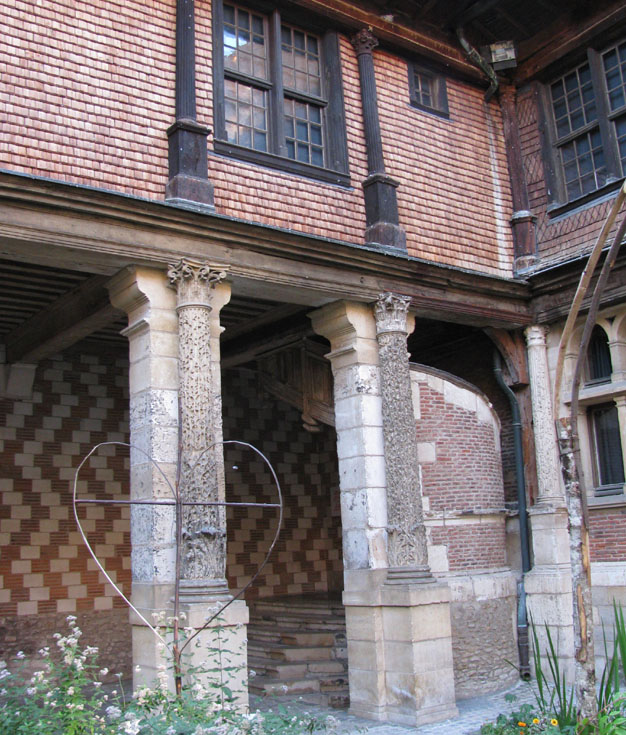 As for the feminine thrill of selecting stockings and other knitwear, Troyes's Musée de la Bonneterie/Hoisery Museum gives a wonderful glimpse of what Troyes was especially known for from the middle of the 18th century until the early 20th century.
Touring tips
Troyes, population 64,000 (120,000 with the suburbs),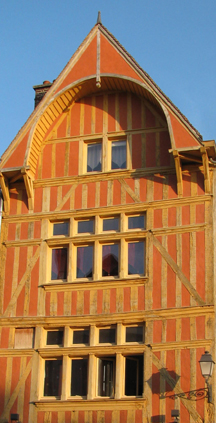 makes for an excellent daytrip from Paris (about 90 minutes by train) or for a stop while driving between Paris and Burgundy.
The textile industry is still present in and around Troyes, providing about 10,000 jobs, which explains the many factory outlets on the outskirts of the town at three main centers: Marques Avenue, Marques City, and McArthur Glen.
Though this area is removed from the heart of the Champagne-producing part of the region, a large swatch of Champagne grape vineyards lie 25 miles southeast of the town. If looking to visit a Champagne house in the area, Drappier would be a worthwhile choice, as mentioned in my 3-day Champagne Diary.
I enjoyed an overnight in the fine, central, contemporary 4-star hotel Relais Saint Jean. For good choices in all categories and for further practical information about Troyes, visit the website of the Troyes Tourist Office.
(c) 2010, Gary Lee Kraut