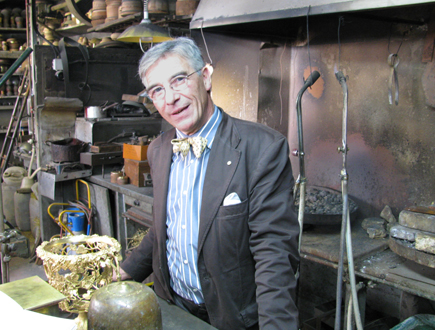 The formerly workaday neighborhood of the northern Marais has been increasingly gentrified over the past 15 years, but something that hasn't changed is the discreet presence of one of France's few remaining creators of luxury silverware, tableware and decorative accessory: Lapparra.
In an area that was once a hub of silver- and goldsmith works in Paris in the 19th century and beyond, only Lapparra maintains the tradition of creation and high craftsmen that are the duel hallmarks of the field—doing so at the same address since its founding in 1893.
While most other shops offering such high-end work in Paris are located in the 8th and 1st arrondissements, Lapparra is easily missed among the schlock jewelry shops that define commerce on this stretch of rue du Temple.
The shop feels as out of time as it does out of place. Various pieces may have an echo of Napoleon's Josephine or of a Tsar or of Arabian night, and there might be a hint of Art Deco or of Art Nouveau or of your grandmother's cutlery, however Lapparra doesn't set out to create period pieces but rather to uphold classic spirit of the exacting marriage of high design and fine craftsmanship.
Olivier Gaube du Gers is the man behind the 21st-century revival of Lapparra. He bought the company in 1998 with the intent of reaffirming both the artistry and savoir faire of its creations.
"We aren't only artists," he says, "we want to maintain the trades that allow that artistry to be expressed."
Wearing his signature bowtie and dandy smile, Mr. Gaube du Gers appears as at ease among the tapping, turning, firing, and precision pointing of his workshop as he does when presenting the final product to demanding buyers, or at least when showing those products to journalists.
Silver is the primary material used at Lapparra, but gold, crystal, porcelain, precious stones, and bronze are also employed here to make vases, cutlery, candlesticks and candelabras, dishware, trophies, and other ornamental pieces. Lapparra's website shows some of the exquisite creations of silverware, tableware and decorative accessories.
Lapparra's creations are designed to grace tables but its most publicly viewed works are the trophies lifted and embraced by winners of prestigious sporting events in France: Roland Garros (the French Open tennis tournament), the Le Mans 24-hour auto race, and the Grand Prix de l'Arc de Triomphe horserace, among others.
The famous Roland Garros salad bowl trophy, so frequently kissed in recent years by Rafael Nadal, was created by Lapparra in 1981. Under Mr. Gaube du Gers' stewardship Lapparra's workshop has also produced the exact copy of the bowl that's used for creating the tournament draw and it continues to produce the exact reduced-size versions of the trophies that the winners take home.
Lapparra is by far the lesser known of the top-of-the-line smithing houses in its field in France. Another smithing house that was also founded in the Marais (in 1820) and has since moved into chicer quarters, isPuirforcat, which has its showroom at 48 avenue Gabriel in the 8th arrondissement and now belongs to Hermes.
Closer to Mr. Gaube du Gers' heart is the grand old sliver- and goldsmith house Odiot, founded in 1690. Not only did Mr. Gaube du Gers get his start in the business of fine tableware and decorative accessories at Odiot but Odiot once belonged to him, and before him his father.
Mr. Gaube du Gers the elder had purchased that venerable house in 1973 and, in 1974 he asked his son, otherwise schooled as an architect, to come work with him for a short time. That short time turned into a lifelong calling, with Mr. Gaube du Gers eventually taking over Odiot on his father's death. A series of events, including a devastating robbery at Odiot's showroom by the Madeleine in 1993 and the opening of the Odiot's capital to investors, led to Mr. Gaube du Gers' departure from the company in 1996.
(Odiot now belongs to the holding company Investors in Private Equity (IPE) via the Compagnie Européene de Luxe et Traditions (CELT). The Odiot shop is located at 7 place de la Madeleine in the 8th arrondissement.)
After a brief stint as artistic director at Daum, the luxury crystal maker, Mr. Gaube du Gers seized on the opportunity to return to his core interests in artistry and craftsmanship with the purchase of Lapparra in 1998.
Puirforcat and Odiot naturally have a more worldwide presence through shops in major capitals. Nevertheless, 70% of Lapparra's production is exported. In 2005 Lapparra received the prize for "best creativity" by the French Exporters Club.
Lapparra, 157 rue du Temple, 3rd arrondissement. Tel 01 42 72 16 20. www.lapparra.com. You may not immediately notice the sign for Lapparra but will surely see the sign ORFEVRE, meaning goldsmith/silversmith, over the entrance at the back of the courtyard. While Lapparra's showroom/shop is open to the public, this is largely a house for connoisseurs and clients of prestige. Feel free to stop by, but if interested in customized work it's best to call ahead to make an appointment either by calling ahead or through the contact form on their website.
© 2010, Gary Lee Kraut