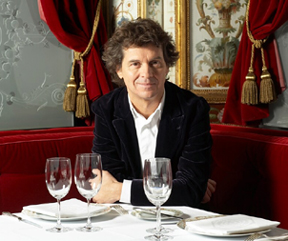 Earlier this summer I investigated the culinary universe of Guy Martin, one of the most recognizable names of high gastronomy in Paris. Chef of the irrepressibly romantic and stellar Grand Véfour by the garden of Palais Royal, the Guy Martin signature also appears on a number of other culinary offerings in Paris: the polished Sensing, the evocative Cristal Room Bacarrat, the cooking workshop Atelier Guy Martin, and the self-service sandwichie Miyou.
I lunched at all of these for the purposes of an article that will appear in France Revisited's Food & Drink section in September. It isn't that I've gone gaga over Guy—though I have indeed come to appreciate the smooth consistency of the man's gastronomic reach—rather I wanted to examine his various signature offerings to see if I could find in this culinary branding some essential piece to the real Guy Martin.
Guy Martin is one of a handful of name-brand chefs that I could have selected for such an investigation, so before working on the final article I want to explain here why I chose him and introduce readers to various chefs encountered along the way who work within his universe.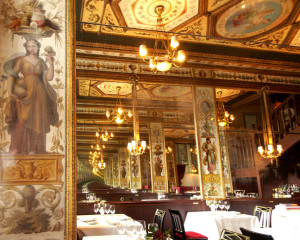 Selecting Guy Martin involved a combination of memory, editorial choice, and journalistic opportunism.
Memory. I'd eaten at Grand Véfour twice before this year, once about 15 years ago and once about 10 years ago. (Guy Martin has ruled the ovens there since 1993.) The sense of elegance and romance of those meals have stayed with me even though my dinner companions have been forgotten, or at least their elegance and romance have.
I don't know why those two dining experiences have stayed with me in a way that other fine dining experiences have not. Perhaps it was simply the jewel-box setting of the late 18th-early 19th century—now timeless—restaurant that anchors the northern end of the garden of the Palais Royal. I can't judge Le Grand Véfour critically now for what it was 10 years ago (it currently has 2 Michelin stars if that means anything to you), and 10 years ago I knew far less about gastronomy than I do now, so I'll simply conclude that I remembered Le Grand Véfour because something about being there felt special.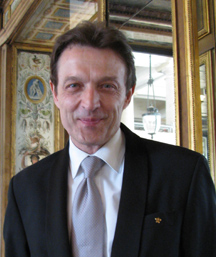 Editorial choice. Last year I contacted gastronomic portraitist Fabien Nègre about the possibility of my translating for readers of France Revisited one or more of his "Portaits de chef" appearing on the French site Restos.com. When he and Alain Newman, creator of Restos.com, agreed, I selected Guy Martin because of the vague memory of those long-ago meals. Fabien's portrait, translated by me, can be read here.
Journalistic opportunism. Months later the chef learned of the text on this site in English and, though his contact with Fabien, invited the two of us to lunch. (More on that lunch in the upcoming article.) With that meal under my belt, I set on a series of lunchtime investigations to get to know Guy Martin's other culinary businesses in Paris.
I ate at two of those—Sensing and Atelier Guy Martin—at a press lunch with a group of food bloggers. For the two others—Miyou and Cristal Room Baccarat—Fabien and I went on our own. I was invited to all of these by the establishments themselves. My intent in getting acquainted with these establishments was, as I've said, to gain a sense of the essential Guy Martin, not simply to take the critical snapshot for the purposes of a restaurant review.
The chefs. Enough has and will be said on this site about Guy Martin himself. For now I'd like to introduce you to other chefs, working under the Guy Martin banner, whom I interviewed along the way.
[2013 update: The restaurant described below, Sensing, has since been transformed though it remains under the umbrella of Guy Martin. It is now devoted to Italian gastronomy and bears the name Guy Martin Italia. The information that follows regarding the cuisine is therefore no longer valid.]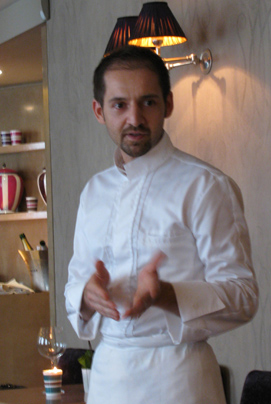 Sensing: Rémi Van Peteghem
Sensing is a peaceable and polished restaurant in the Montparnasse Quarter, it's cuisine straightforward and refined. Since chefs tend to resemble their restaurants the way dogs resemble their owners, it was no surprise—nevertheless quite refreshing—to find that Rémi Van Peteghem, the 32-year-old chef of Sensing, came across as humble and gracious when he met with us after the meal.
If the strength (some say limitation) of French cuisine is its use of fresh seasonal products that reveal a taste of their essence, as well as of the earth, the sun, and the sea from they come, and that polished French cuisine is the culinary equivalent of the French garden—the graceful and geometric taming of nature—then Mr. Van Petegham's work is a brilliant exemple of what such cooking is all about. His verbal and culinary articulation of polished French cuisine is clear, coolly passionate, and sincere. It's like a pastel drawing that's warm and skilled yet unpretentious. The same can be said for Sensing's décor which aims for comfort rather than thrill. The atmosphere is all yours to create with your tablemates.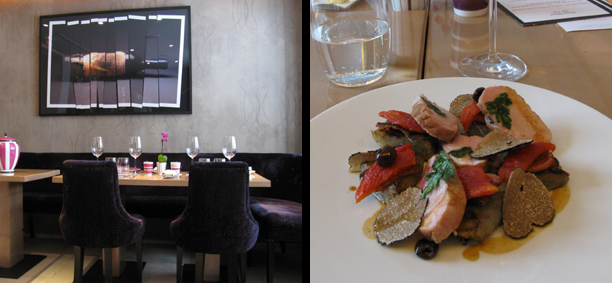 Sensing, 19 rue Bréa, 6th arrondissement. Metro Vavin or Notre-Dame-des-Champs. Tel. 01 43 27 08 80. Closed Sunday. Lunch menus: 2 courses, 25€, 3 courses 35€. The more expressive 55€ lunch menu and 75€ dinner menu includes drinks. Tasting menu of 95 euros (140 euros with wine pairing). Count 65-75€ à la carte + drinks.
Cristal Room Baccarat: David Angelot
[Update: David Angelot is no long the chef at Cristal Room Baccarat, though the restaurant still has great romance and charm.]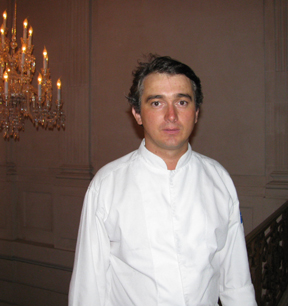 Housed in a late-19th-century mansion that is now headquarters of the crystal-maker Baccarat, Cristal Room hit the gastro-touristic news big time when it opened several years ago. As a showplace (the building also houses the Baccarat showroom and museum), the restaurant gained a reputation as being more remarkable for the value of its Philippe Stark décor than the value of its cuisine.
Now a new chef has taken the reins beneath Guy Martin's signature. In March 2010 Mr Martin, who "orchestrates" (Baccarat's word) the kitchen here, appointed David Angelot as onsite, more or less independent chef. In a brief conversation after lunch, Mr. Angelot came across as ambitious and confident, a study contrasts with the first impression of modesty and serenity given by Mr. Van Peteghem at Sensing. It's as though Guy Martin had meditated on the décor of each dining room then selected the personality that best corresponded to it, and the preparations followed in line with both the personality and the décor.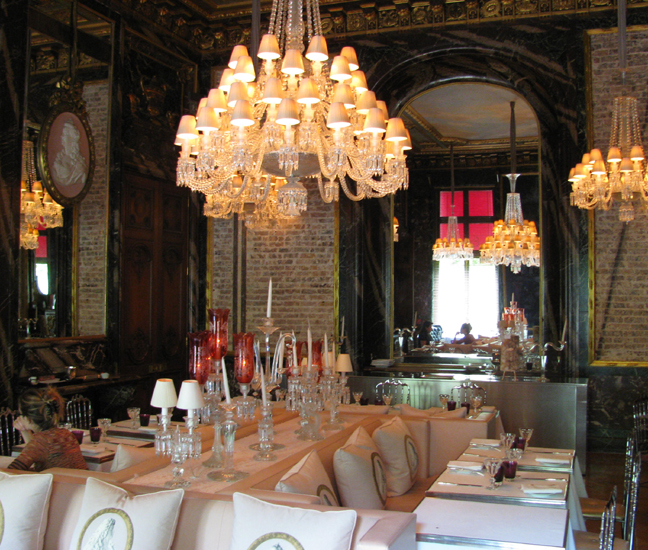 At the top of an eye-catching stairwell, Crital Room's décor presents a unified mix of historical chic, designer kitsch, and Baccarat show-pieces: gilt-framed brick walls, noble portrait medallions, crystal chandeliers, pale pink couches, prominent stemware and candleholders.
Echoing this from the kitchen, Mr. Angelot's cuisine is handsome, showy, and frank. The culinary playing fields on which trendiness and gastronomy attempt to coexist are heavily mined, and service will inevitably suffer from lack of traction, but Mr. Angelot and the staff do a good job of trying to find the balance between the two.
Case in point is the appetizer below which may look like some kind of sea creature but it was actually an entertaining appetizer that was a delight to dissect and eat. It's called tranche d'aubergine snackée, (snacked slice of eggplant), in which the eggplant is a base for dried tomatoes, squid, tapenade, parmesan compote, tomato sorbet, and a bourage flower. It was wonderfully modern, tasty, and kitsch, like a fancy, edible hat, and while it isn't the type of appetizer for which one earns stars, it was in deliciously in keeping with both the showiness of the dining room.
If you allow yourself to get into the spirit of the place and don't take it all too seriously, a meal here won't be flawless but it will be part of a very romantic day, especially if you're staying a fine hotel within walking distance.
Cristal Room Baccarat, 11 place des Etats-Unis, 16th arrondissement. Metro Boissière or Iéna. Tel 01 40 22 11 10. Closed Sunday. Priced about the same as Sensing, slightly more à la carte.
Miyou: Thierry Molinengo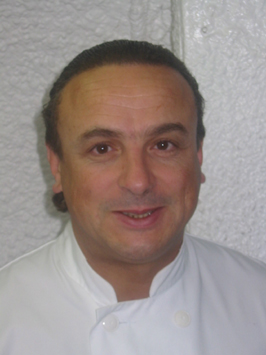 Thierry Molinengo's talents shouldn't be reduced to those on display at Miyou, but that's where I met him when I went for lunch at this sandwich shop/lunch/snack-room in the upscale Bon Marché department store. Mr. Molinengo was there that afternoon trying out various recipes for Miyou. He invited me to try an apricot dessert wrap that was in test phase—and for the sake of Miyou I gladly agreed that it was probably better with strawberries. He was also working on a salmon millefeuille whose colors, he said, he hadn't yet gotten right. In any case, it was clear that Mr. Molinengo was not simply here to see that the smoked salmon was fresh.
Mr. Moleningo appears to be a kind of roving right-hand man to Guy Martin. In addition to testing recipes and keeping an eye on Miyou, he can be found sous-cheffing at Grand Véfour or giving cooking classes to English-speaking groups at Atelier Guy Martin. It's rather reassuring to know that someone of Mr. Molinegno's stature spends time in the kitchen at Mr. Martin's department store eatery.
Calling itself a luxury sandwich shop, Miyou opened on the second floor of the main building of the Bon Marché department stores in March 2010. Miyou prides itself on offering great freshness and a mix of savors, whether in salads, soups, and sandwiches (baguettes, wraps, and clubs) pre-prepared throughout the day or in burgers and hot dishes made to order.

There's naturally much competition for lunchtime and snacktime attention in this area, notably from the luxury grocery store and purveyor of freshly prepared food at the Grand Epicerie, in the building next door, as well as in the cafés and bakeries in the area. So Miyou cannot stand out on the basis of sandwiches and luxury mineral water alone. Nevertheless, the freshness and lightness of the offerings, the airy setting, and the amiable presence of manager Antoun Khater ensures an easy-going lunch or mid-afternoon snack stop for those looking to rest their weary shopping feet.
The more basic sandwiches here are priced only slightly higher than what one would find in a local bakery. When one adds a salad or dessert and something to drink the cost is in keeping with lunch at a local café, about 18€.
Miyou, 3rd level of the Bon Marché department store, 24 rue de Sèvres, 7th arrondissement. Metro Sèvres Babylone. Open 11am-7pm. Closed Sun. Wifi connection.
Atelier Guy Martin
The photo below was taken on the day I joined a dozen food bloggers for a lunchtime cooking class at the cooking workshop Atelier Guy Martin. Since I was one of the chefs of the day (I cut an onion and a tomato, stirred a sauces, and filled a soufflé cup), I'm proud to stand alongside the real chefs of the Atelier, left to right, Louis Tocheport, head pastry chef; Laurent Mosset, sous-chef of the Atelier; Antony Courteille, executive chef of the Atelier.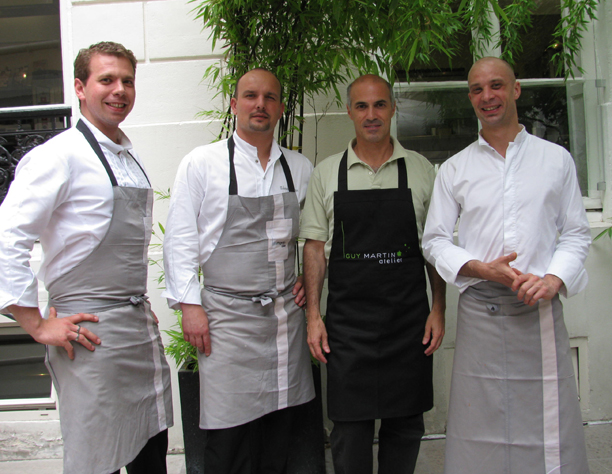 Atelier Guy Martin, 35 rue Miromesnil, 8th arrondissement. Metro Miromesnil. Tel. 01 42 66 33 33.