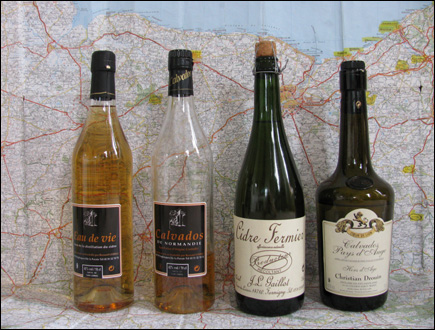 Travelers naturally associate France with vineyards and wine but Normandy, one of the rare French regions whose climate has inspired no vineyards, offers not the fruit of the vine but that of the apple tree. Apples, and to a lesser extent pears, thrive in this region, providing the hungry traveler with apple-laced sauces and the thirsty traveler with cidre (hard cider), Calvados (apple brandy), andpommeau, (a combination of the two).
The major apple-growing area in Normandy is situated in and around the department of Calvados, which is the regional sub-division (something like a county) whose beaches were the main staging area for the D-Day Landing of June 6, 1944, and a central battle zone throughout the Invasion of Normandy. (Only Utah Beach, which is situated in the neighboring department of Manche, lies outside Calvados.) Another cluster of orchards is found in the upper part of Normandy, just north of Rouen.
Cidre
All three of the region's apple-based beverages involve the production of cidre (spelled on this site with re rather than er so as to avoid confusing it with the non-alcoholic cider that we know).
A good cidre begins with the right mix of sweet, sour, and bitter-sweet apples, of which numerous varieties are grown in Normandy. Some cidres use up to two dozen varieties. After the apples are harvested in fall (sometimes into December), they are stored in a dry, well-aired place from several days to several weeks before being pressed. The pulp is then slowly pressed, with the resulting liquid placed in air-tight vats, typically stainless steel, and allowed to ferment naturally over a period of six weeks to three months. It can then be filtered and pasteurized, depending on production methods…. or distilled to make brandy.
Cidre, like Champagne, it can be either brut/dry, which is about 5 percent alcohol, or doux/sweet, which is about 3 percent. I recommend sticking with the brut since bad doux still has taste and goes down easily while good doux is only good for a few sips. And rather than think of cidre in Champagne terms, it's best thought of as Norman beer, or Norman and Breton beer since Brittany is France's other major cidre-producing region.
Cidre is an inexpensive drink, with liter bottles sold in stores in Normandy for 2 to 5 euros and in restaurants for 7 to 12 euros. It goes with any thirst that beer would go with, whether on its own or with a meal, but since it goes down easier than beer and has an apple taste it will likely appeal to many non-beer-drinkers and can be fun for the whole family. The whole family? Indeed, without encouraging underage drinking, it's worth noting that in France you won't get arrested for giving your kids a few sips, though you could get arrested if you've had a few too many sips yourself before driving.
Cidre is the traditional accompaniment for savory buckwheat crepes, traditional regional fare from Normandy and especially Brittany, in which case it is typically served in a bowl called une bolée. Cidre fermier is cidre that has been made on the very farm where the apples were grown.
The French term for the production of cidre and other beverages described here is cidriculture. Though I've call these products apple-based, many also contain pear. When pears dominate in the mix poiré or perry is produced. Sweeter than most cidres it is typically served as an aperitif. Those of the appellation Poiré Domfront, produced in an area south of the department of Calvados, around the town of Domfront (see point A on the map), are considered the top of the crop. In producing Calvados, a mix containing at least 30% pears is actually required in the Domfrontais area in order to receive that appellation.
Calvados the brandy
Cidre has been distilled into brandy in Normandy, and specifically this area, since the 16th century. The generic term for apple brand is eau-de-vie de pomme or eau-de-vie de cidre.
In 1789, soon after the revolutionary government began wresting power from the king, the new National Assembly understood the need to divide the country into administrative departments, eventually leading to the creation of the department of Calvados that is our primary aim in this article and in visits to the D-Day Landing Beaches.
By the early 1800s the brandy produced in this area began taking on the name Calvados, that of the department at the heart of the production area. Calvados is one of three famous brandies made in France, the other two being Cognac, which comes from an area north of Bordeaux, and Armagnac, which comes from an area southeast of Bordeaux/west of Toulouse.
Cognac and Armagnac are made by distilling wine, so when the phylloxera bug ravaged French vineyards in the second half of the 19th century, cidre and Calvados production increased significantly. The increase in quality, however, is a more recent phenomenon. At its best Calvados lacks the dryness of Cognac or Armagnac without having the sweetness of a liqueur.
Calvados—affectionately known as calva—is appreciated as an after-dinner drink or digestif and is increasingly promoted for use in cocktails, yet prior to WWII it was probably best known as a way of convivially ending a meal in the form of café-calva, still practiced, whereby a shot of brandy is served at the same time as a shot of espresso. The café and the calva are then either be downed—first the café then the calva—each in its own receptacles or by drinking the café then pouring the calva into the warm coffee cup. The imbibing of a café-calva is to be performed with a sense of pastoral well-being or old chum camaraderie rather than like a student on spring break partying with a tequila chaser. Nevertheless, when ordering a café-calva in a café in Normandy or elsewhere keep your expectations law as to the quality of the calva. A good Calvados is better reserved for a distinct moment after the meal or late in the evening.
Calvados is made by single or double distilling cidre then maturing the liquor in oak casks, hence the amber color. It's said that making a good Calvados requires losing a lot of Calvados in the process.
After aging, Calvados is more or less 42 percent alcohol. (Pre-war calva was often of a far higher percentage.) There are three appellations for Calvados defined by geography and method of production:
– Calvados Pays d'Auge, which is a double-distilled and produced in Pays d'Auge, a lush, rural area which lie mostly on the eastern side of the department of Calvados and over the border into neighboring departments;
– Calvados Domfrontais, a single-distilled brandy containing at least 30% pear and produced just south of the department of Calvados;
– Calvados (without further specification), typically single-distilled but sometimes double-distilled, which represents about three-quarters of the production of apple brandy in Normandy and is produced throughout much of Lower Normandy and portions of Upper Normandy east and west of Rouen.
Outside of these designated areas or in non-compliance with the specs of the appellation, apple brandy simply bears the label eau-de-vie de cidre.
Depending on the appellation, Calvados must be barrel aged for two or three years before going on sale. (Good ol' American applejack, by contrast, is traditionally made by freezing hard cider, which allows the alcohol to separate from the rest of the liquid, and then siphoning off the liquor while your brother stands nearby with a rifle in case the police arrive.)
Calvados can be an assembly of productions from various years, in which case the age noted on the bottle indicates the youngest ingredients. E.g. an assembly whose label indicates that it was aged for 10 year may also contain older brand.
Calvados uses many of the same terms as Cognac and Armagnac to indicate the time spent ageing in casks. For Calvados, the following terms are used:
– Fine, Trois étoiles, Trois Pommes, and VS (Very Special) indicate that the brandy has been aged for a minimum of two years;
– Vieux and Réserve for a minimum of three years;
– VO (Very Old), Vieille Réserve, and VSOP (Very Superior Old Pale) for a minimum of four years;
– Hors d'Age, XO, Très Vieille Réserve, Très Vieux, Extra, and Napoleon, for six years or more.
A trou Normand (Norman hole) sometimes appears on fixed-price menus in the region. In olden days it was customary to take a shot of Calvados as a way of burning out room for additional digestion in the middle of a meal, say between two main courses (imagine a 19th-century 7-course meal in honor of a wedding or of a visiting dignitary). If you come across a trou Normand today it's more likely to be a tumbler of unexceptional Calvados poured over a ball of apple sorbet.
Pommeau
Pommeau de Normandie, a combination of Calvados and cidre (the must), typically in proportions 1 to 2, is produced throughout all the zones where the various Calvados appellations are produced. Served chilled as an aperitif, it contains 17 percent alcohol.
Cidreculture for travelers: stopping for a tasting
Driving throughout the Landing Beach Zone you'll invariably pass by stone or timbered farm buildings offering tasting (dégustation) and sale (vente) of cidre, Calvados, and pommeau. Feel free to stop unannounced into any of these farms. These are generally very informal places where appointments aren't necessary (though you may wish to call ahead for those noted below). The worst that can happen is that no one will answer the bell. More typically, you'll be offered a free tasting, though some might charge a few euros.
Drinking and driving is a non-non in France and can be particularly hazardous on narrow Norman roads, so the driver is content himself with jus de pomme (apple juice), but no harm in picking up a bottle of cidre for a picnic or some Calvados for an evening sip.
Truth be told, apple brandy, as all brandies, may not be your taste. Furthermore, that charming old farmhouse promising a cidre-pommeau-calva tasting may produce some pretty harsh calva. But don't let that stop you from visiting a cidreculteur since the attraction of this stop isn't simply the taste or the orchards but the way in which they—and their owners—reveal a part of the life of the region now as they were at the time of WWII and long before.
Meeting some of the smaller producers, irrespective of the quality of their products, can offer an insightful glimpse into the agricultural life of Normandy and, in many cases, the family history that is a part of it. That family history may further provide you with a view of Normandy during the German Occupation and during the Invasion of Normandy, which is, after all, the reason you'll come exploring in these parts.
Here below are a few suggested producers you can visit, but don't hesitate to follow your own sense of adventure and make an impromptu call anywhere that promises a dégustation. Local tourist offices also have a list of producers offering tastings and visits.
Between Point du Hoc and the American Cemetery: My own wanderings in the Landing Zone led me to hazard six or seven years ago upon the apple farm of Bernard Lebrec. As with many of the large farmhouses along the coast, that of Mr. Lebrec's grandfather's was requisitioned by the Germans during the war. Then, after the landing, they was occupied by the Americans. The American 147th Engineer Combat Battalion made this their headquarters and built an airstrip in the family's apple orchard in the early days of the Invasion of Normandy. The bikes in the courtyard formed by massive farmhouses from built over 300 years and the baby in the arms of Mr. or Mrs. Lebrec as they come out to see who's in the driveway are for me wholly part of the Landing Zone experience.
Mr. Lebrec's apples go into the three main apple-based beverages: cidre, pommeau, and brandy. The farm, originally purchased prior to the war by his grandfather, is located in Englesqueville la Percèe along the road between between Pointe du Hoc and the American Cemetery. Bernard Lebrec, tel. 02 31 22 70 72, e-mail b.lebrec@wanadoo.fr. See map, point 1.
Others in the area will have their own story and even your own history to tell.
For a tasting that's easy to find and to include in your itinerary, Ferme de la Sapinière is located just outside of the American Cemetery. Route de Port en Bessin, 14710 Saint Laurent sur Mer. Tel. 02 31 22 40 51.  See map, point 2.
Near Bayeux: Just east of Bayeux, Les Vergers de Ducy is an organic producer. 14250 Ducy Sainte Marguerite. Tel 02 31 80 28 65.vergersducy.izispot.com. See map, point 3.
Pays d'Auge: Much of the best calvados production comes from the Pays d'Auge area, which is located just south of Deauville and the Flowered Coast, to either side of A84, the highway on which you enter the Landing Zone when driving to or from Paris.
The Christian Drouin distillery at Domaine Coeur de Lion is a few miles off the highway at Coudray Rabut, near Pont l'Evêque (of cheese fame). Christian Drouin took over a farm that his father had purchased in 1960 and has since transformed it into a cidre, pommeau, and calvados producer distributed worldwide. His son Guillaume is now fully involved as the third generation. Though neither Drouin may be present when you stop by and though you may encounter some group tourism here, Coeur de Lion offers an accessible opportunity to visit both old and modern facilities, to understand how these apple-based beverages are produced, to have a thorough tasting, and to purchase, if you like, some quality Calvados Pays d'Auge. Domaine Coeur de Lion, Route de Trouville (RN 177), 14130 Coudray-Rabut. Tel. 02 31 64 30 05, www.coeur-de-lion.com or www.calvados-drouin.com. See map, point 4.
Finally, if you'd like to lose yourself in the back roads of Pay d'Auge and familiarize yourself with some high quality off-the-beaten track Calvados Pays d'Auge, head a bit further east and several miles south of A84 to La-Lande-St-Leger, where the Camut family has been producing fine Calvados for three generations. Adrien Camut was one of a handful of producers who after WWII set out to give Calvados its letters of noblesse.
Calvados Adrien Camut is non-filtered and produced using the family's own organic apples in a production of 15,000 bottles per year. Come this way if truly interested in fine Calvados or brandy in general, but be sure call in advance or send an e-mail since visits are for a limited public and by appointment only. Calvados Adrien Camut, Domaine de Sémainville, 27210 La Lande Saint Leger. Tel. 02 32 57 82 01. E-mail calvadosadriencamut@orange.fr. See map, point 5.
Further information
For further information on the production of Calvados, pommeau, cidre, and poiré (the pear version of cidre) see the official site of the cidriculture appellations. The site also gives recipes for cocktails using Calvados.
© 2009, Gary Lee Kraut