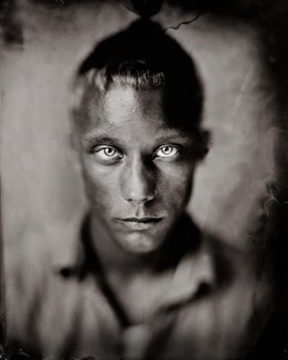 "Glass Memories," intense and haunting portraits by American photographer Quinn Jacobson, at Centre Iris… pour la photographie in Paris, March 10-June 19, 2010.
* * *
Centre Iris… pour la photographie is disconnected from the gallery landscape of Paris both for its situation north of the Pompidou Center and its exhibition space in a vaulted white-washed basement.
That's a disconnect that makes it perfectly suited for the intense and haunting portraits by American photographer Quinn Jacobson in an exhibit of his work entitled "Glass Memories," showing until June 19, 2010.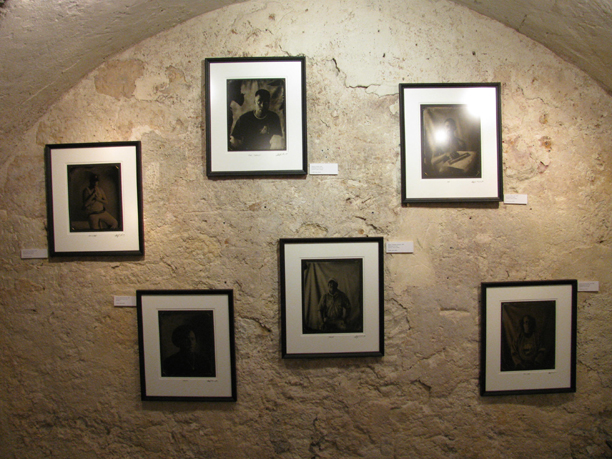 Jacobson used the photographic technique known as the wet plate collodion process in creating the images for the show. Most are on glass (ambrotype), with several on metal (ferrotype).
Wet plate collodion photography, developed in the 1850s, is fairly primitive in photographic term. It competed with daguerreotype and other technical developments of the time, and by the 1880s it had all but disappeared in favor of dry plates.
The process gives a brownish-gray coloring that has the immediate mark of memory. In using it Jacobson stays clear of nostalgia in favor of an accentuated present, a kind of what-was-still-is or what-is-harkens-to-what-was. The fact that the sitter must remain still for several seconds or more while being photographed using this process give an intensity to their otherwise flat expressions, as though he or she is trying to stay still and unflinching while blood is being drawn. To help the sitter remain still, an eerie head-support is sometimes used during the shooting, making it appear as those individuals were part of an experiment.
Jacobson has written: "Collodion's unique esthetic gives a half-remembered dream quality evoking the feeling of memory. It's hauntingly beautiful and reveals deep, poignant qualities about the people I photograph. It also allows me to interact with the sitter in ways traditional photography doesn't. Because of the commitment (time, complexity and stubbornness) of the process, I feel that the sitter co-creates the image with me."
The exhibit focuses on two subjects/locations. The first, entitled "The Portraits of Madison Avenue," introduces us residents of a low-income neighborhood in Ogden, Utah. The second, "Vergangenheitsbewaltïgung," examines the relation of the present to the past in Germany relative to Kristallnacht and the Holocaust. Jacobson was born in 1964 in Ogden, Utah. A descendant on his father's side of European Jews, he now lives in Germany.
The Portraits of Madison Avenue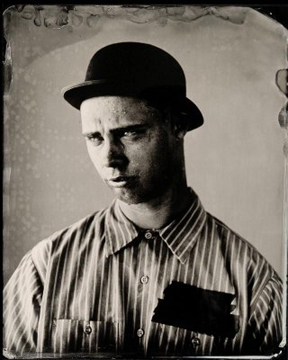 Jacobson's Madison Avenue is far removed from New York's Madison Avenue. It is a street in Ogden where his father owned a low-income apartment complex. In creating this series of portrait he visits his own memories of traveling there with his father in the early 1970s by photographing individuals who live there today. These were and are people who, he notes, live "on the fringes of society. They fascinated me then and have deeply affected me to this day."
Here are Kayla, an African American Jehova Witness, Dale, a paranoid Schizophrenic, Tim and Gale, day laborers, Dusty, a convicted sex offender, Keith, a biker, Merrym, who lost her leg to a flesh eating bateria, and others.
Reading those tag lines, which are actually titles, one might imagine that the images show individuals on the down and out. Yet this is not an exhibit of afflictions but rather of acceptance, fate, and of individual gazes. There are several frightening images (e.g. a man holding a gun to his head), but we are not repulsed by these individuals; instead we are drawn to them, we want to meet them. They invite reflections on the humanity of our own Madison Avenues.
Jacobson considers his use of wet plate collodion for these portraits "as a metaphor as it relates to abandonment. The process was abandoned and forgotten, just as most marginalized people are by the mainstream. I also embrace it for its imperfections; echoing our human imperfections."
You can view many of the images from that part of the exhibition here.
Vergangenheitsbewaltïgung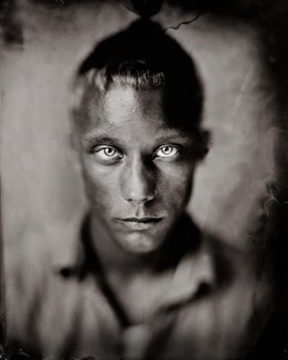 The tangled German title of the second half of the exhibition means "Struggling with coming to terms with the past." As Jacobson explains, "My project deals with the tension between the memory of these events and the idea of 'the other' today in Germany." The project is also an exploration of the photographer's own Jewish roots and the Holocaust through people and place in Germany today. Jacobson has a series of Stars of David tattooed on his arm. He now lives in Germany.
These portraits, along with some landscapes and settings where he's "felt a certain kind of 'presence' of the past, offer a more personal vision than Madison Avenue. Here, Jacobson is searching for some understanding and/or connection while pursuing the watchwords, "Never Forget."
There are a couple of attractively ghostly landscapes in this series, a superb portrait entitled "Nordic Man" (the photographic technique and the stillness of the subjects produces portraits whose intense gaze is accentuated in lighter-color eyes), and a power self-portrait entitled "Jewish DNA," though on the whole I find these images less telling than Madison Avenue. Unlike the Madison Avenue portraits, where the photographer is like a nurse drawing blood, there is a distance between the photographer and his German subjects.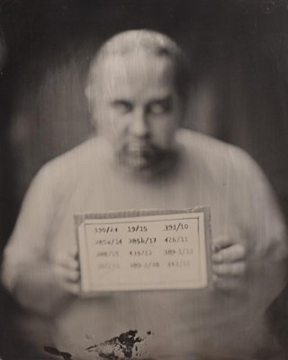 You can view some images from that part of the exhibition here.
Together, the two parts of the exhibit make for a worthwhile detour to a gallery to watching.
* * *
"Glass Memories" by Quinn Jacobson, March 10 to June 19 at the Centre Iris… pour la photographie, 238 rue Saint-Martin, 3rd arrondissement. Metro Arts et Métiers. www.centre-iris.fr/. Open Tues.-Sat. 2-7 p.m.
Here's a video in which the photographer explains and demonstrates the process.
Jacobson refers to works using this process as "handmade artifacts." Each image is unique. Prices of these single-sample works run from 600 to 3000 euros.
© 2010, Gary Lee Kraut