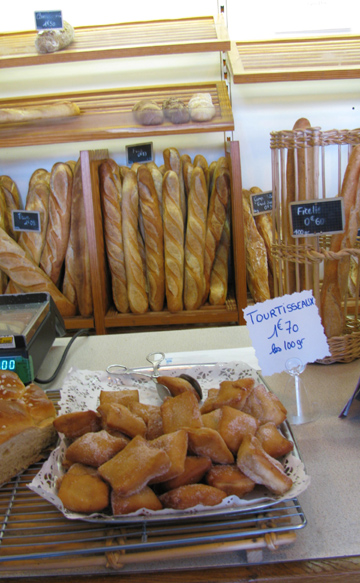 Today is Crepe Day in France as well as in other countries with crepe traditions, such as Belgium and Switzerland. Americans think of it as Groundhog Day. Crepes and groundhogs both mark the midpoint between the winter solstice and the spring equinox. The day's Catholic name is la Chandeleur in France, in recognition of the candles (chandelles) that are/were brought to the church in remembrance of the day when baby Jesus was first brought to the Temple. Whatever you call it, Feb. 2 is the way the northern hemisphere acknowledges that winter is still here but that we're all now ready for the countdown to spring.
No, those aren't crepes in the picture—they're tourtisseaux, which are traditional Mardi Gras beignets or fritters and so also in the spirit of the season. Tourtisseaux come in different shapes: square, rectangular, diamond-shaped. They're basically cheap, greasy donuts. They go by other names in other regions, but Vendée and Poitou, the area just south of the westernmost portion of the Loire Valley, call them tourtisseaux.
I took that picture yesterday while in a village in Vendée, a few miles from the coast. Tourtisseaux may have been replaced by crepes in the bakery today, but more likely the bakery has both crepes and tourtisseaux. I'm not sure that the crepes are big sellers though since everyone in Vendée knows how to make a crepe at home but not everyone knows how to make a tourtisseau. Actually, they probably do know (it's basically the same recipe just fried) but would rather flip a crepe at home than fritter a tourtisseau.
I don't know what's in that bakery today because I'm now back in Paris, a town that isn't big on tourtisseaux and their brother beignets. Parisians prefer more sophisticated sweets. Anyway, there's better mark-up for the more convivial galette des Rois, the falky pastry tart with a frangipane filling (and a little token or effigy inside), that's traditionally associated with Epiphany (Jan. 6).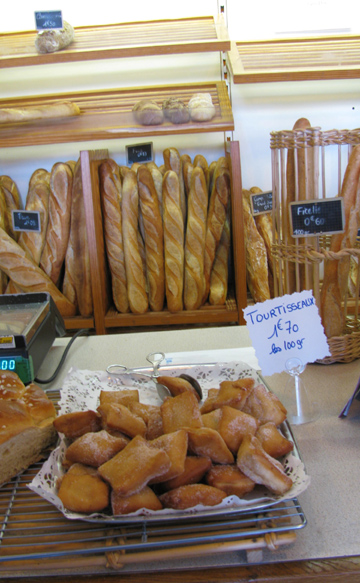 The "growing" season for the galette des Rois traditionally ends by mid-January, but with global warming and the Church's absence of influence in the pastry industry of late, the season now extends throughout the month of January.
When I returned from Vendée last night I found an envelope in front of my door, which could only mean that my neighbor was planning a party. He's very nice about warning us neighbors about his parties so that in case we feel like going to sleep before 3am we have time to reserve a room at a hotel for the night. He even includes his phone number just in case we feel like giving it to the police so that they don't have to drive over.
This time his letter announced "une petite soirée pour fêter la chandeleur," a little party to celebrate crepe day. I figured that had to be a euphemism for something because I couldn't understand why someone would have a petite soirée to fete Groundhog Day on a Tuesday and if so why we would need to be warned about it. But I've been home all evening and I've barely heard a sound, so I imagine that they actually did spend the evening next door flipping crepes.
My friend Didier, whom I was visiting in Vendée, made crepes for his family today. Years ago I asked him for his recipe because before then I was the only person in France who'd never made them. Here it is in French and in English.
Didier's crêpe recipe (in French and in English)
Mélanger :
½ kilo de farine
4 oeufs
1 petite boite de lait concentré non sucré
1 litre de lait frais
Extrait de concentré de vanille
Un peu de huile (2 cuillères à soupe)
1 verre de bière
Laisser reposer 2-3 heures en dehors du frigo. Il est ensuite possible de mettre le mélange au frigo.
Faire les crêpes.
Mix together:
1 lb of flour
4 eggs
1 small can of (unsweetened) evaporated milk
1 quart of whole milk
1 teaspoon of vanilla extract
2 tablespoons of vegetable oil
1 cup of beer
Allow to rest for 2-3 hours out of the refrigerator. Mixture may then be placed in the refrigerator or used immediately.
Make crepes. (Circumflex optional if you don't have one handy)