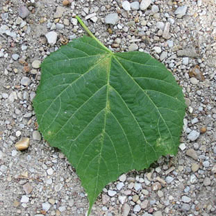 The linden, le tilleul, has for centuries been a favored tree of European cityscapes, most famously along Berlin's Under der Linden, which leads from the Brandenburg Gate.
Schoolyards throughout France are often planted with a checkerboard of lindens. Village squares frequently have well-trimmed lindens. So do palaces parks as part of their French formality. Lindens of various species grow in the wild, with major forests of them in Provence and Roussillon.
In Paris, the Garden of the Palais Royal and Place des Vosges are two prime examples of parks with orderly rows of linden trees. The photo below is from an alley of lindens at the Palais Royal. These are silver lindens.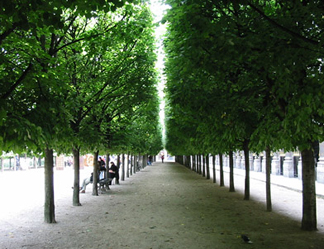 When visiting the Landing Zone in Normandy, you can see some tremendous old lindens in the town of Bayeux in the square called Place Charles de Gaulle. The square took on the name of the general because it was there that, eight days after D-Day 1944, he made his first speech on French soil since fleeing to England in 1940, but the one hundred lindens bordering the square are much older, dating from 1840.
The branches of the linden of the linden are sharply pruned in February, and they begin to bud in March, but it's as their leaves unfold with the arrival of spring that the romance begins. April is typically a rainy month. You might walk around for two or three days with your collar up and your head down, but then the rain will stop and you'll look up and find the linden's young, pale green, heart-shape leaves decorating the branches. Like love, one half may be longer or wider than the other, and the edges are more or less serrated.
By May lindens cast full shadow, then in June yellow-white flowers blossom, releasing a sweet fragrance, from mild sweet to sickly sweet. That's the smell of linden tea, one of most familiar herbal teas in France. Linden-mint is another. There is also linden flower honey.
The shade of summer gives way, in September or early October, to the brief yellow-brown flush of coloring of autumn in northern France before the leaves fall.
– Text and images: GLK