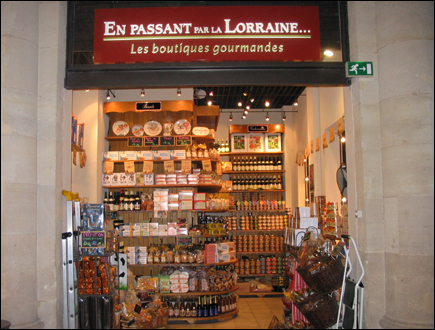 Sandwiched in eastern France between Champagne and Alsace, the Lorraine region doesn't have the international or even national distinction of its neighbors. Champagne naturally calls to mind vineyards and bubbly wine, while Alsace has forged an identity out of historical French and Germanic borderland politics. But Lorraine?
Even when historians speak of Alsace-Lorraine they're mainly speaking of the former, since all of Alsace was included in that once-disputed region but only a part of Lorraine.
Furthermore, there isn't much of the way of distinctive Lorraine cuisine to promote outside of the region. Even in Paris, the only mention of Lorraine that you'll ever find on a menu is quiche Lorraine.
Unlike L'Alsace, a winning, cliché-heavy restaurant on the Champs-Elysées that does an excellent job of promoting Alsatian cuisine, the brasserie La Lorraine, off the Champs on Place des Ternes, ignores its namesake in favor of brassy, upscale Parisian brasserie fare. And along the street in front of Paris's Gare de l'Est, the East Station, from where trains to Alsace and Lorraine depart, the brasserie La Strasbourgeoise (named for the capital of Alsace) is another good choice for Alsatian fare while Le Bistro Lorrain is a…. pizzeria.
Truth be told, there isn't much in the way of Lorraine cuisine even within the region, where the harsh soil has allowed for little culinary fantasy beyond pork dishes, including the pork-and-cabbage stew/potée Lorraine, and the famous, bacon-enhanced quiche Lorraine. There's a good amount of perch and trout from the rivers but no special fish dish that has left a mark outside of the region. And with all due respect for its wine (vin gris de Toul and Moselle), its local beer-making traditions, and its spring water from Vittel, none of those drinks is cause alone to travel, as satisfying as they may be.
Lorraine as a name remains unevocative in part due to the historical incongruence of its cities: there's photogenic Nancy, marked by Renaissance flourish, 18th-century refinement, and Art Nouveau curves; there's Metz, which brings together French classicism and German monumentalism; there's Verdun, which calls to mind the horror and sacrifice of the trenches of WWI. Each of those worthy destinations (to be explored in future articles in the Northeast France section this site) is easily accessible from Paris. Since 2007 high-speed trains from Paris can rush a traveler to Nancy or Metz in 1:30 or to Verdun in 1:40, but it's unlikely that the traveler will think of himself as going to Lorraine but rather to Nancy or Metz or Verdun.
Nevertheless, inside Paris's Gare de l'Est the boutique En passant par la Lorraine… attempts to evoke an unevocative region with what little there is to unify it: the mirabelle plum and a 16th century folk song.
En passant par la Lorraine is the name of that song. It's a little ditty about a woman passing through Lorraine in her clogs and it has given the shop its name and its kitsch little clogs for sale. The mirabelle plum has given it most everything else.
If visiting France anytime mid-August through September, be sure to put on your list of food experiences a trip to any market to pick up some mirabelles, sweet yellow-golden plums that are likely to come from Lorraine, which assures about 80% of the world production. Also keep an eye out for mirabelle tarts in the bakeries.
Since En passant par la Lorraine… doesn't sell fresh produce, you won't find any fresh mirabelles here, or even a mirabelle tart, but you will find most anything else imaginable one can do with mirabelles. You'll find them in jams, in preserved terrines, in canned stews, in mustard, in soap, in biscuits, in chocolate, in candy, in liqueur, in beer, and in brandy.
Two other traditional dry cakes from the region decorate the colorful shelves in this shop, Madeleines de Commercy and Marcarons des Soeurs, along with regional beer and brandy (eaux-de-vie), jams and preserves made from other regional fruits (particularly blueberries/myrtilles), and various fruit-flavored bon-bons (notably bergamots de Nancy), all with a regional bent.
For heated and/or refrigerated regional fare, you'll have to go across the street from the train station and one region to the east to the deli-caterer Schmid, which considers itself "The ambassador of Alsatian gastronomy in Paris since 1904." There you'll find the staples of Alsatian culinary regional identity: choucroute (sauerkraut, served with potatoes and a choice of sausages, bacon, and/or pork), kuglehopf (a molded cake with raisins), Munster cheese, and strudel. Though 400,000 of Lorraine's Mirabelle trees are "protected" by the appellation "Mirabelle de Lorraine," plums don't stop at the regional border, so Schmid offers the aforementioned mirabelle tarts. Canal Saint-Martin, a 10-minute walk from here, is the place of choice for a picnic in the area.
Both Lorraine and Alsace are known for their Christmas markets, which begin around December 6, the Feast of Saint Nicolas. An alleged relic of Saint Nicolas, his phalanx, was brought from Italy in the late 11th century to the Lorraine town that now goes by the name Saint Nicolas de Port. Eventually Nick was named patron saint of Lorraine. It's nevertheless neighboring Alsace, evocative as it is, that most highly promotes its Christmas markets. In December stalls selling Alsatian food and products are set up in front of Gare de l'Est, led by sausages, Gewürztraminers, and Rieslings.
Lorraine is far more discreet. So the shop En passant par la Lorraine… is your best bet for information—and at least some bon-bons—if curious about the region or before taking the train east. Chances are 50-50 that you'll come across manager Jean-Paul Lacroix, himself an excellent ambassador from the region. He can tell you (in English) the history of these various products, such as how candy made from bergamot oranges from Sicily came to be used in a specialty of Nancy. If asked politely, he might even sing a little song, as he did for me: En passant par la Lorraine/Avec mes sabots… oh oh oh, avec mes sabots.
© 2009, Gary Lee Kraut
Practical information
-Boutiques
En passant par la Lorraine… Gare de l'Est, 10th arr. Metro Gare de l'Est. Tel. 01 40 35 47 80. Open Mon.-Sat. 7am-8pm. En passant… has other shops, all in the Lorraine region.
Schmid 76 boulevard de Strasbourg, 10th arr. Metro Gare de l'Est. Tel. 01 46 07 89 74. Open Mon.-Fri. 9am-8pm, Sat. 8:30am-8pm.
-Restaurants
La Strasbourgeoise 5 rue du 8 mai 1945, 10th arr. Metro Gare de l'Est. Tel. 01 42 05 20 02. Open daily noon to midnight.
L'Alsace 39 avenue des Champs-Elysées, 8th arr. Metro Franklin D. Roosevelt. Tel 01 53 93 97 00.  Open 24/7.
La Lorraine 2 place des Ternes, 8th arr. Metro Ternes. Tel. 01 56 21 22 00. Open 7am-1am.