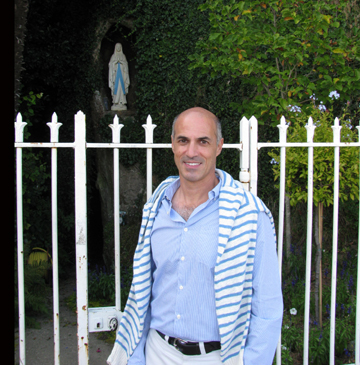 The Rance River separates the old port town of Saint Malo with the 19th century seaside resort of Dinard. Dinard remains a luxury-minded town, the kind of place where one is invited, as Henri and I were, to a party whose bilingual invitation reads: "Dress code: smart casual – blue and white of course!" on the English side and "Tenue marine de rigueur: en bleu et blanc naturellement!" on the French side.
My brother Jon would have loved Dinard. He liked anything with the word resort in it: beach resort, ski resort, island resort, tennis resort. Wearing "smart casual" or "resort casual" came natural to him. After he died in a plane accident in 2006 my three other brothers and I inherited his clothes. They either didn't fit the others or they weren't interested, so I brought some back to Paris.
I rarely wear any of them but when I received the invitation to the party in Dinard I immediately remembered they were in my closet.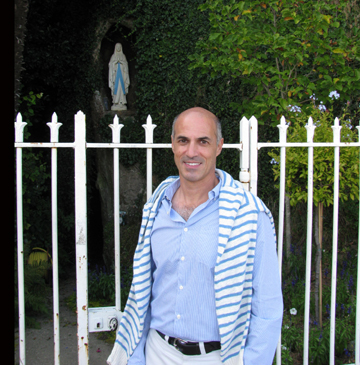 In this photo I am dressed in Jon's clothes in Dinard, the sweater studiously thrown over my shoulder as it should be in such places. The photo doesn't show my (brother's) blue loafers.
The invitation called for blue and white not only because those are the colors of seafarers but because those are also the colors of the Virgin in the grotto along the Promenade du Clair de Lune at Dinard, which is where I am posing. This Virgin echoes the highly celebrated one in Lourdes, which is where one of the hosts of the party is from.
To me, the strangest thing about this photo is that I find that I'm not only wearing Jon's clothes but also his smile. He would have loved having his picture taken on his way to a party in Dinard.
The couple hosting the party held a brunch beginning at noon the following day, which required another set of smart blue and white clothes. The invitation was actually unclear as to whether blue and white was de rigueur for the entire weekend or just for Saturday evening, so while some guests treated the Sunday brunch as an afterthought others kept up appearances.
I don't often shop with "smart casual – blue and white of course!" in mind, and to be honest I don't often shop at all, so for Sunday brunch I looked for my mother for inspiration.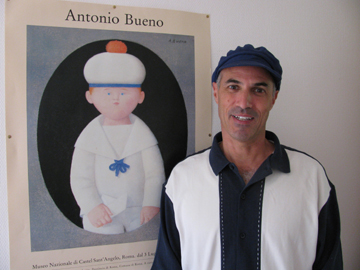 At my age you might think it would be embarrassing to admit that my mother sometimes dresses me, but in my family we're never too old to be given clothes by our mother. For nearly 55 years—for 9 children, then 28 grandchildren, and now 2 great-grandchildren—she has had an uncanny ability to spot a shirt or hat or a pair of pants from yards away and know exactly who it will fit and who might wear it. And if she gets it wrong she simply gives it to someone else.
Before going to the Sunday brunch, I had Henri take this photo so as show my mother that I finally found the occasion to wear that shirt and that hat she gave me last time I visited. You need to imagine the white short and the sandals—I'm sure my mother can.
Travel, as I like to say, isn't just about where you're going, it's also about where you come from. I now add that it's also about where your clothes come from.