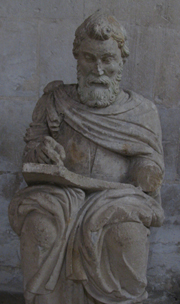 Henri and I had never taken a road trip together, so we had no way of knowing how compatible we would be in deciding which towns and sights to visit along the way and where to stop for lunch or coffee or even a pee.
But we'd both been invited to a party in Dinard, in Brittany, so we decided to rent a car in Paris and do some visiting along the way.
Between car rental, gas, and tolls, a Paris/Brittany round-trip can cost about the same as a week in a 5-star hotel in Tunisia, flight included, but Henri and I found a comparatively decent price with an agency called Rent-a-Car-with-One-Taillight-Missing. The car came with a quarter tank of gas, which may or may not have been what the guy meant when he told us that we were getting an upgrade.
Anyway, the car moved and Henri managed to avoid getting us crunched by a bus (i.e. he almost got us crunched by a bus), so by the time we made it out of Paris I wasn't worried about compatibility so much as survival.
Dinard is just past Saint Malo, which is just past Le Mont Saint Michel, so we had a choice between the north route going through Normandy or the southern route going past Chartres and Le Mans. Henri didn't care as long as there was a palace to visit along the way—all Henri wants to do is visit palaces—so I decided that we would take the southern route and told him to pull off the toll road at La Ferté Bernard.
La Ferté Bernard doesn't have a palace. It doesn't have much of anything, to tell the truth, but part of the interest of a road trip is to stop where there isn't much of anything, otherwise it isn't a road trip but an itinerary. Henri only agreed to stop at La Ferté Bernard because I told him that something really important had happened there in the 15th century. Being French he couldn't stand the idea that I might know something about his country that he doesn't.
La Ferté Bernard is a very nice town as far as towns with nothing to see go. Its main attraction is the church Notre-Dame-des-Marais that's a mix of flamboyant Gothic and let's just finish the damn thing. I took the picture of the scribe (above) there.
There's also a late-15th-century entrance gate to the old town, below left, where Henri stopped complaining about the lack of a palace at La Ferté Bernard long enough to pose. Henri's face is not normally as blurred as in these photos but you really don't want to see his expression here. I also got him to pose on the other side of the gate, below right, without him seeing that I'd placed by a sign that says "I'm waiting for my master."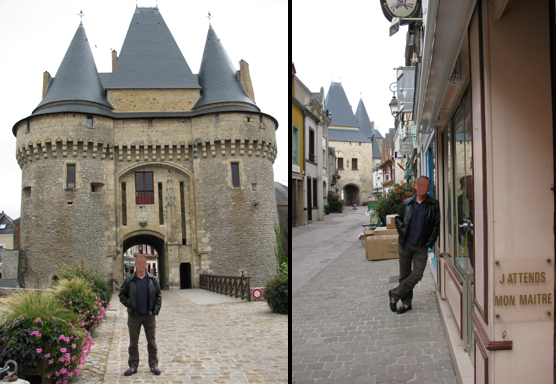 One of the nicest things about La Ferté Bernard is that at lunchtime, when the streets are deserted, you can have a pee by a plane tree without worrying about passersby.
La Ferté Bernard is only a few miles off the A11 toll road, so it was well worth the 30-minutes stop, though we didn't realize at the time that in addition to paying something like 200 euros to get off the toll road we had to pay another 200 to get back on.
By now we were getting hungry so we took a vote as to where we should stop for lunch. Henri voted for a quick lunch at a rest stop so that we would have plenty of time in the afternoon to visit palaces. I voted for Laval, which is an actual town where I told him there was lots to see. We went to Laval, not because my argument was so convincing but because I was driving.
Laval, as far as we could tell, is famous for having parking unimeters so far from most of the parking spaces that you risk getting a ticket during the 10 minutes it takes you to find it.
We had lunch on the terrace of a brasserie by the River Mayenne facing the ramparts and fortress castle that define the old town. I don't care much for omelets but I ordered one anyway because road trips are for eating things you don't normally eat (I'll tell you sometime about my meal at Shoney's when driving through South Carolina last April.) I regretted the omelet as soon as it arrived, but the view was indeed quite nice from where we sat, the sun was out, and Henri tends to complain less when he's eating.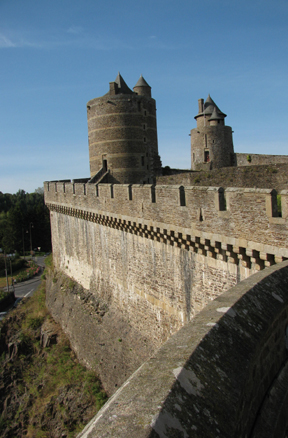 We then headed into Brittany through less traveled roads so as to visit Fougères, which actually does have a palace. Well, sort of. It's actually a fortress-castle, half in ruins, but Henri bounded from the car as though we'd just entered an oasis after three days in a cultural desert.
Like other fortress-castles on the former border between the Duchy of Brittany and the Kingdom of France, the castle was built, rebuilt, and refortified from the 12th through 14th centuries at a time when Brittany when trying to stave off advances by the French kings with the Normans lurking nearby. Between the castle and the under-visited town nearby, Fougères is a great introduction to the growth and medieval history of France and to the slate and schist that defines Brittany's architecture as well as a great example of the pleasures of traveling in off the main tourist paths, even with Henri for company.
Actually, Henri's mood had changed by the time we cross the drawbridge into the castle complex. He was now in full, Euro-cultured glory. It's quite amazing to see how connected Europeans feel at times to the full length of their national and continental history. At most, even well-educated Americans will connect to only a portion of their history—for example, the "In God We Trust" part or the free market part or the pioneering part or the immigrant part or the I-can-eat-pray-etc-anyway-I-want part—but Europeans, particularly when they have a diploma or two on their CV, have a way of embracing their entire past no matter how obscure it may appear.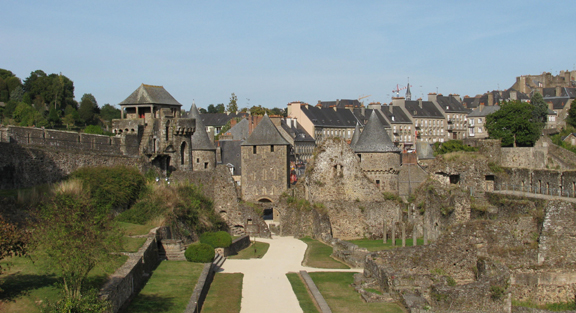 We were lucky enough to have arrived shortly before a guided tour was setting out. The guide gathered together the entire crowd of visitors that afternoon. There were three of us: me, Henri, and a woman who looked like she was trying to escape a bad marriage only to realize that the ruins of an old fortress were not the answer. But for Henri this was the answer. He was now in ecstasy.
Here is a glimpse of Henri's smile against a backdrop of the Château de Fougères.