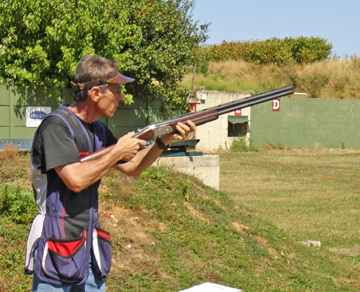 Please don't think that I'm looking to enter the fray of the hot-button topic of gun control in the United States when I tell you that I miss my shotguns now that I'm in Paris. I've been out shooting anyway, and doing so has given me a glimpse of what some consider as much a part of French culture as wine and cheese and baguettes.
Firearm regulations tend to be stricter in Europe than in the United States, but France has a long tradition of hunting and target shooting, and individuals who avidly participate in these sports constitute a strong political force.
It might surprise you to learn that the private ownership of shotguns and hunting rifles by individuals with clean criminal records is very common in France. There are numerous shops right here in Paris where you can buy guns and ammunition.
In order to purchase them you have to be in possession of either a hunting license (permit de chasse) or a sport shooting license (license sportif de tir). The hunting license is more difficult to obtain in France than in the United States because it requires you to actually know something about hunting, gun safety, and shooting. You have to pass a fairly rigorous test before you are granted a hunting license in France. The sport shooting license is much easier to obtain. You merely have to have a clean criminal record and be a member of one of the many shooting clubs in around the country. There are special exceptions to these rules for foreigners who are coming into France for a specific hunt or to compete in an international shooting tournament.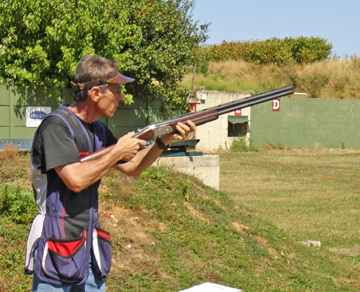 The last time I spent an extended period in France, I brought my favorite shotgun with me and obtained a sport shooting permit after I arrived. I even bought another gun while I was here and brought it back to the United States. I didn't bring a gun this time, however, because of a sticky new regulation requiring anyone in possession of firearms of any description in France to have a gun safe in their home. Well, our apartment in the Marais came with a great coffee machine but no gun safe, and I was not interested in buying a 500 euro safe for a stay of only one year, so this time I left my guns at home. That doesn't prevent me from shooting in France, however, because I either borrow or rent a gun at my club, le Ball-Trap Club de Gonesse.
Ball-trap is the French word for what we call "clay target sports," which include skeet, trap, and the various forms of sporting clays. The club is located in the middle of vast grain fields in the town of Gonesse, about 14 miles northeast of Paris, not far from Charles de Gaulle airport. The town of Gonesse was prominently mentioned in the news in 2000 because that was where the Concorde supersonic jet crashed. When the planes take off from de Gaulle, they pass directly over the shooting club. Shooting clubs tend to be located in places like that. We have a club in Atlanta that was built directly on top of a former landfill.
Perhaps the most amazing thing about the BTC de Gonesse is that I can get there from Paris using public transportation. Granted, I do have to walk about a mile from the last bus stop, but for me, that just adds to the appeal, because I get to mix some exercise in with my shooting. Everybody else who shoots at the BTC de Gonesse is a permanent resident of France, and they all have cars.
On previous stays in Paris I would rent a car, at a daily cost of about 100 euros, every time I wanted to go shooting, but when visiting Paris once on a ten-day trip, without a gun or any ammunition to carry, I figured out by pouring over the metro map and consulting Google Earth that I could take the #7 metro to Fort d'Aubervilliers followed by the #250 bus to its final stop in Gonesse, which brought me within easy walking distance of the club. In addition to saving a huge amount of money on my shooting, this mode of transportation has allowed me to see parts of the working class suburbs of Paris that I would otherwise have missed.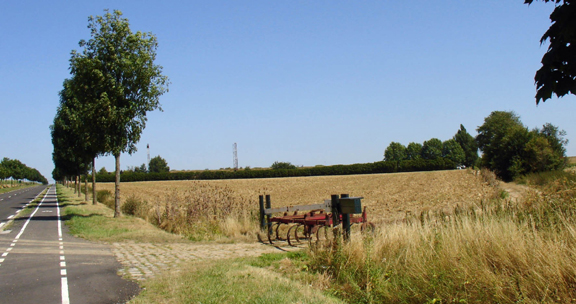 The BTC de Gonesse is a shotgun shooter's paradise. It has three or four combination international skeet and trap ranges as well as five or six sporting clays (parcours de chasse) layouts and a running boar target. It offers very inexpensive gun rentals, and reasonably priced ammunition is available. There are also experienced instructors on hand for beginners or for experienced shooters who want to perfect their skills. The staff and the other members of the club are friendly and helpful. I've yet to meet anyone there who speaks English. For someone who doesn't speak French, or someone who is not very familiar with all of the clay target sports, a trip to Gonesse could prove to be a confusing and frustrating experience. My French is far from perfect, but I made it a point to learn all of the vocabulary involved in shotgun shooting before my first outing to a French shooting club. In addition, I am a very experienced shooter and I serve as a referee for shotgun tournaments and even write a blog for my club back in the United States.
Even so, they simply do things differently at a shooting club in France compared to back home. It takes a while to catch on to all the procedures, but I was able to do that just by watching what everybody else was doing. For example they have a really fun shotgun sport in France that they call match po'. They shoot it when a large number of people want to shoot at the same time. The shooters are divided randomly into teams of perhaps ten shooters each. Each team lines up behind its first shooter at two different spots on a sporting clay layout. A series of targets is thrown from the different traps on the layout, and the two teams alternate shooting the targets from their respective positions on the field. After every shooter from each team has shot twelve targets from the first position, the teams switch places and the target sequence is repeated. Usually an additional target is thrown at the end to make for 25 total. At the end of a round of match po', there is an individual winner and a winning team. Even though you may not know half of the people you are shooting with, a sort of team spirit is instantly created and you naturally root for the other guys on your squad, and of course, deride the guys on the other squad.
At the end of a day of shooting at the BTC de Gonesse, I asked some other guys in the clubhouse why the sport was called match po'. They consulted with each other in very rapid French that I was not really able to follow and finally came up with a satisfactory answer: "That's just what it's called."
BTC Gonesse: Route de l'Europe, 95500 Gonesse. Tel: 01 39 87 52 03
A list of ball-trap clubs in the Paris regions: http://www.balltrap-idf.fr