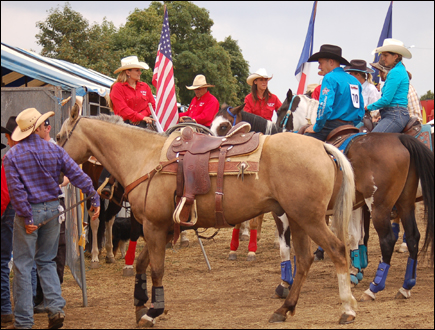 On a typical day nothing about the remote town of Saint-Agrève (pop. 2,600) would allow the rare visitor to imagine that its inhabitants have the slightest interest in Americana.
But for five days in mid-August, Saint-Agrève welcomes the thump of the mechanical bull, the cry of the rodeo caller, country musicians, line-dancers, and cowboy hats, and even allows burgers and fries to be sold in dollars (of a sort), as 25,000 visitors come from far and wide to attend Equiblues, Europe's largest American-style rodeo.
Equiblues was launched in 1996, the brainchild of Philippe Lafont, a local resident in the masonry business, who dates his passion for rodeo to a childhood love for westerns, an adolescent affection for horses, and an adult awe of wide open space. What began as a more or less large-scale village festival was such an immediate hit that by 1998 Equiblues had developed into a full-scale rodeo. Mr. Lafont still leads the charge.
Here in the rural and generally bypassed upper plateau of Ardèche, the rodeo competition now draws 200 competitors, but it's the atmosphere and entertainment of Equiblues that draw the crowds, with four evenings of country music (mostly American bands but with a few French as well), line-dancing, line-dancing lessons, a mechanical bull, Texas barbecue, bull-riding lessons, a Texas barbecue where "Equiblues dollars" are currency, and a "village" of stands in which manufacturers and craftsmen display their wares relative to horse and cowboy.
While vacation on the opposite side of the Rhone this summer Brandon Eckhoff drove over to Saint-Agrève to check out the scene at Equiblues, inspiring him to create this audio slide-show. (Article continues below)

In summer, foreign visitors may occasionally wander into the southern portion of Ardèche, across the Rhone River from northern Provence, but the northern portion of Ardèche where Saint-Agrève is situated remains very much unexplored. Soon after the rodeo ends at Saint-Agrève, it goes back to being a well-off-the-beaten track dot on the map of deep France.
That mean that there's little in the way of accommodations in the area of Saint-Agrève. Most of those attending Equiblues either stop by on a daytrip or camp out or come by RV.
But don't let that off-the-beaten-trackness fool you. As with other typically bypassed areas of rural France, you shouldn't be surprised to find a fine chef in town. The culinary hotspot of Saint-Agrève is Philippe Bouissou's table at his Hôtel Faurie.
With seating for just eight in the restaurant and only three rooms at the inn, Hôtel Fleurie is like a 3-star guest house where your host is an excellent chef—excellent enough to sport a Michelin star within a year of its opening in 2007. Mr. Bouissou offers a delicious and convivial bite of contemporary French gastronomy, a far cry from the rodeo fields of Texas, but within spittin' distance of Equiblues.

Hôtel Faurie, 36 avenue des Cévennes, 07320 Saint-Agrève. Tel. 04 75 36 11 45. www.hotelfaurie.fr. The website is intentionally inexplicit about the restaurant, says Mr. Bouissou, so that visitors can better discover it on their own.

Equiblues: For more information about this summer's rodeo festival see www.equiblues.com.