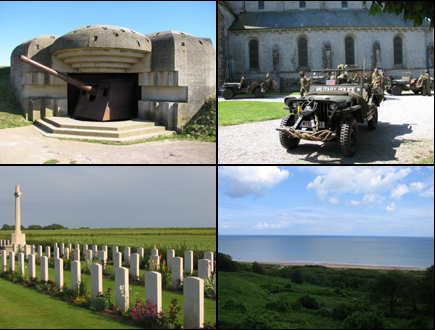 Reaping the personal rewards of visiting the D-Day Landing Zone and surrounding area of Normandy, whether on a guided D-Day tour or on your own, involves finding an insightful combination of sights, cemeteries and museums, of views and tastes of contemporary life in the area, and of human encounters along the way.
You can seek those rewards in a single day, opt for a more expansive view with an overnight or two, or slow down for three, four, even five days of explorations that will allow you to get intimate with this corner of France. Whatever time you're willing to devote to visiting the area, you will come away with a greater sense of the significance and events of the Invasion of Normandy and, on more than a daytrip, a sense of the life and history of this part of Normandy (for this is indeed only a part) beyond that period the events of the war.
Having created numerous customized itineraries for Normandy and personally accompanied a wide variety of travelers (WWII vets, sons and daughters of veterans, a Hollywood actress, honeymooners, foodies, adults of all ages, children of all ages, my own family, etc.), travelers who have in turn enriched my own sense of the possibilities in the region , it goes against the grain for me to present generic, one-size-fits all itineraries.
The information and itineraries presented here is therefore not intended to dictate a specific way of visiting the area but rather to give a sense of the logistics and possibilities in and around the Landing Zone.
A D-day daytrip from Paris
A daytrip from Paris requires a 3½-hour drive—about the same for a train+drive—to the Pointe du Hoc/Omaha Beach area of the Landing Zone, so a daytripper typically has about five to seven hours to visit the sights these and other sights. This is true whether on a DIY daytrip or a daytrip with a guide. Of course, a guided tour also provides much information while in transit.
Due to the limited time in Normandy during a daytrip from Paris, any tour therefore focuses on several of the most evocative sights, among them: Pointe du Hoc, the various national cemeteries, in particular the Normandy American Cemetery lying as it does above Omaha Beach, the remnants of the artificial harbor at Arrommanches, and Pegasus Bridge. British travelers naturally want to include a visit to a British cemetery, Canadian visitors a Canadian cemetery and German visitors a German cemetery.
Travelers also often want to catch a glimpse of the Bayeux Tapestry—a magnificent historical "document" about William's conquest of England in 1066—thereby reducing the time available to visit the WWII sights. Seeing the tapestry takes about 20 minutes, but you need to count an hour between parking, buying tickets and possibly waiting in line to see it.
Despite time constraints, a DIY daytrip is nevertheless well advised to take at least a few minutes here and there to walk around a village, to stop into a local café, to visit a Calvados producer, even to walk on the beach.
The Mémorial de Caen, a major war museum, organizes daytrip excursion that include a visit to the museum. Worthwhile for those with an interest in spending the morning in the museum but less so for those who prefer to devote their limited time to the sites close to the beaches.
An overnight from Paris
An overnight can give a good glimpse of the Landing Zone without too many frills but nonetheless with a sense of life, landscape, and seascape in this area. Your exact itinerary for an overnight excursion depends on what time you arrive and to a lesser extent on where you're staying. Suggestions for hotels and other lodging will be provided in an article to be posted within the next week.
For an overnight or for longer stays, there are two notable stops on the way into Normandy from Paris that might be considered since they're within ten minutes of the highway: Giverny and La Roche-Guyon.
War buffs interested on the German effort to reinforce the Atlantic Wall might wish to stop at the town and castle of La Roche-Guyon, Field Marshall Erwin Rommel's headquarters in winter and spring 1943-1944 after his appointment by Adolf Hitler to beef up the Atlantic Wall. La Roche-Guyon, which is on the edge of the Paris region, is just over an hour from the center of Paris. There's actually little to see at La Roche-Guyon from its wartime history other than casemates dug into the cliff containing an exhibit about that period, but irrespective of its wartime history, the castle (open late March to late November) is a fascinating mishmash of additions from various centuries, beginning with its 12th century dungeon, and the Seine-side town itself is quite pretty. You might feel a bit pressed for time if including this on an overnight trip into Normandy, but should definitely be kept in mind if headed out for a long stay. The fact that relatively few visitors stop here (especially considering its proximity to Giverny) is a further attraction.
Six miles away, just over the border into Normandy, is Monet's House and Gardens at Giverny (open late March-early Nov.). For most travelers, Giverny takes precedence over La Roche-Guyon. To understand why, you need only imagine the look on your wife's face when you tell her that you've decided that it would be more interesting to visit the cave where Rommel stored weapons than the world-famous garden that Monet painted. I've received dozens of requests over the past years that ask different versions of the same question: how do we reconcile the interest of the women in the group to visit Giverny, Honfleur, and Deauville, with the interest of the men in WWII. (I reserve the response of that particular form of travel therapy to individual requests.)
If you've left Paris by 9am and stopped to visit Giverny and/or La Roche-Guyon, then you'll reach Bayeux in the middle of the afternoon. You might then have time to visit all of the sights of Bayeux: British Cemetery, Battle of Normandy Museum, Bayeux Tapestery, cathedral, and a walk around town.
If driving without detour from Paris or arriving by train then renting a car at the station you could be ready to explore the Landing Zone by early afternoon, in which case it might be possible to fit in either Utah Beach and Sainte Mère Eglise or Pointe du Hoc and the American Cemetery/Omaha Beach. Utah Beach is the most distant beach so on an overnight you would need to choose between Utah and Saint Mère Eglise on the one hand and Pegasus Bridge and the Merville Battery on the other.
Generally speaking, 10 hours of sightseeing in the Landing Zone provides a good introductory view of the events of D-Day even though it's impossible in that time to see all the major sights and the two or three museums that are required "reading" in and around the Landing Zone.
Your explorations on that second day will also naturally depend on your interests and nationality and to a lesser extent the time of year. For Americans, a full day from Bayeux would consist of the German Cemetery at La Cambe, Saint Mère Eglise (the church and the Airborne Museum), Utah Beach, Sainte-Mairie-du-Mont (a quick stop in a village but possible to stay for lunch at one of the café-restaurants by the church), Pointe du Hoc, and the American Cemetery/Omaha Beach. Whether you visit all or some of those, I recommend touring in that order. (To those horrified by the suggestion to visit the German Cemetery I can only say "Get over it.")
On the western (American) end of the Landing Zone, the museum and film at Sainte-Mère-L'Eglise provide the best introduction to the sights and events of D-Day while on the eastern (British) end, Pegasus Bridge and the Pegasus Bridge Museum are the best introduction. The airborne landing began in those two areas on night of June 5-6, 1944 so they make for good entry points for exploring the Landing Zone over two days or more.
If visiting on an overnight, you'll naturally want to stay a good part of the day in the Landing Zone before starting on the drive back to Paris or into other regions in the late afternoon.
Two nights
A two-night stay is a good way for a traveler to get an overview of the Landing Zone along with a sense of life, food and drink in that immediate area and perhaps visit the Flowered Coast for a few hours on the way to or from Paris. Travelers often opt for a two-night visit when they want to make a thorough excursion from Paris or when visiting two or three regions during their trip, perhaps some combination of Champagne, the Loire Valley, Brittany, and Normandy. You might also consider renting a car from the airport when you first arrive in France in order to begin your stay in Normandy, saving Paris for later in your stay.
With two nights you might devote 1½-2 full days of D-Day touring, which allows for detailed explorations of the Landing Zone without testing the patience of co-travelers lesser interested in the war. (Actually, everyone gets interested once they're here.) Staying anywhere from Bayeux to Caen works for this length of stay.
If you've had the chance to visit Bayeux on your arrival afternoon, then on the next day you might explore the western end of the Landing Zone—Utah Beach to Omaha Beach—and on the following morning and early afternoon the eastern end—Arromanches to Merville Battery.
Alternatively, if not everyone in your group has your passion for visiting war-related sights then simply designate the second day of your trip, i.e. your first full day in Normandy, your D-Day day. Then, on the final day, include a war sight or two in the morning before spending the afternoon on the Flowered Coast (some combination of Cabourg, Deauville, and Honfleur) or in the Pays d'Auge (e.g. Beaumont-en-Auge, a Calvados brandy stop, a cheese picnic).
If not returning to Paris, you can head to Le Mont Saint Michel and spend the next night in the area of Cancale or Saint Malo to get a taste of Brittany.
Three nights
Now we're talkin'! I'm a fan of the three-nighter for those with a true interest in WWII, including Utah Beach, and a desire to get a wider view of the department of Calvados. This is particularly recommended for France revisitors who are taking 7-10 days to visit two regions, say, Normandy and the Loire Valley, or Normandy and Brittany.
In three nights, meaning two full days in the Landing Zone plus an arrival and departure day in other areas, you'll get to good sense of the historical and contemporary offerings throughout, enjoy an afternoon or more on the Flowered Coast, and still feel (if the weather wasn't too gray) that wish you had more time to explore. You might spend a first night out from Paris somewhere from Honfleur to Caen and the next two nights near Bayeux or all three nights in or around Caen.
Four nights
Members of the slow-travel movement take note: You'll actually need four nights to include all of the areas mentioned just above and to have a broad sense of the Landing Zone, the Flowered Coast, and the rural greenery of Pays d'Auge. You might also be able to include a game of golf (there are a number of courses around) or a day of biking. Travelers who have ever considered barging in Burgundy or biking along the Loire Valley will understand the attraction of staying in a single region for a full four nights.
Add yet another night and you could take a daytrip to Mont Saint Michel. Otherwise, for any of these itineraries, you can head off to Mont Saint Michel as you leave Normandy. (If heading off for a daytrip to Mont Saint Michel or planning to stop there on your way to Brittany or south, it's advisable to plan to arrive before 11am. That's when the major of tour buses coming from Paris and elsewhere start arriving.)
© Gary Lee Kraut
Useful links
Normandy Tourist Board: www.normandie-tourisme.fr
Calvados Tourist Board: www.calvados-tourisme.com (the Landing Zone lies within the Calvados department of Normandy except for Utah Beach/Saint Mere Eglise and surroundings, which are in the Manche department)
Manche Tourism Board: www.manchetourisme.com
Bayeux Tourist Office: www.bayeux-tourism.com
Caen Memorial: www.memorial-caen.fr
For personalized advice and guidance for D-Day tours and broader tours in Normandy in the spirit of France Revisited see here.