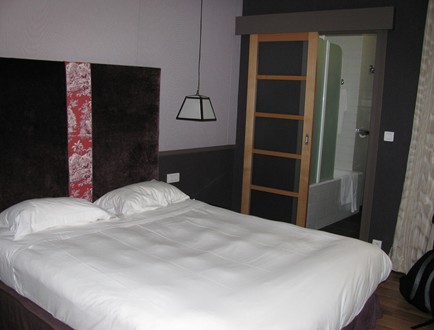 [Editor's note: This hotel, known as Hotel Aviatic at the time of this report, is now called Hotel Louison.]
I crossed the city by bike one late afternoon and checked into the Hotel Aviatic so as to test the hotel and investigate the surrounding neighborhood. Within 10 minutes I sensed that the Aviatic could hold its head high in its category, that of the 3-star Left Bank charmer. First there was the warmth of the welcome. Then the fact that the receptionist took my unusual request for a safe place to keep my bike for the night seriously and immediately sought a solution (the kitchen, until the luggage storage room could be rearranged). And the fact that the 42-room hotel seemed empty, even though it was nearly full. And finally my room: neat, well-appointed, recently renovated, and quiet.
Satisfied with that first impression I then set out to explore the neighborhood. Earlier in the day I'd called a photographer I'd been corresponding with who lives on this side of the city and asked if he'd meet me at the corner café by the hotel. We'd never met before and France Revisited was then considering adding a photography blog to the site. When we met that afternoon he, too, made a good first impression with his easy-going eye to detail, which was further apparent in his observations as we then investigated the surrounding area for the 3-minute radius guide below. (He is now a regular contributor to France Revisited's Photography section under the lens name Va-nu-pieds.)
It was mid-August, many of the shops and eateries in the 3-minute radius guide were closed for vacation. So I returned in the fall to visit the neighborhood in full bloom. This edge of the 6th arrondissement, around the corner from the heart of the Montparnasse Quarter, is removed from the dense zone for 3-star charmers situated near Boulevard Saint-Germain and the Luxembourg Garden, yet the hotel is well situated on a relatively calm street that's parallel to Rue du Cherche-Midi, a street that is as appealing for a sweet, sophisticated stroll as any in Paris. This is a fine place to call home for a few days or longer.
Despite the claustrophobic décor of vintage posters in the breakfast room, the Aviatic is peaceably decorated. In its promo documents, the hotel is described like Willy Wonka's Chocolate Factory—"walls the colour of raspberries, café-crème coloured paintwork, chairs in chocolate, cherry and vanilla stripes…" rooms with "warm chocolate, taupe and cherry colours…" or "subtle sea-green and Clementine tones…"—but I can assure you that it's truly a hotel and a comfortable one at that.
The Hotel Aviatic has air conditioning, as do most central 3-star hotels and all 4- and 5-star hotels. Apart from hotels, air conditioning remains a rarity in apartments in Paris, a city with few sweltering nights. Those who live on a quiet street, as I do, or whose bedroom is on quieter courtyards, as was mine at the Aviatic, sleep in summer with the window open. Therefore, having grown unaccustomed to air conditioning, I didn't turn it on at the hotel but instead opened the window.
We're also unaccustomed to flying insects in Paris, which explains the absence of screen windows. Coincidentally, Va-nu-pieds and I had been speaking about mosquitoes while visiting the area. He claims that there are never more than ten mosquitoes in Paris at any one time, but that nine of them happen to live in his neighborhood. If so, then I found the tenth on the August night that I spent in the Hotel Aviatic.
Her bzzz entered my Willy-Wonka dream of raspberry walls, chocolate chairs, and vanilla stripes. I first swatted at my ears, then threw (nice) pillows at ghosts. In my apartment, the rare sound of a mosquito in the night inspires me to plug a toxic strip into the wall in the hopes that my nervous systems will resist it better than the mosquito's. But here at the hotel I had no choice but to turn on the light and set out for the hunt.
It was brief hunt, actually, for within a minute I managed to applaud her to death.
After that, I tried the air conditioning and slept quite well.
In the morning, the deep, distant rumbling of the metro can be felt in apartments and hotels throughout Paris that lie near subway lines. So it is at the Aviatic. It isn't a disturbing rumble but rather a dreamy purr, a reminder that that a great, livable city is at hand, one that I would have the pleasure biking through that morning on my way home.
Hotel Aviatic (now Hotel Louison), 105 rue de Vaugirard, just off Boulevard du Montparnasse in the 6th arrondissement. Metro Falguière or Saint-Placide. Tel. 01 53 63 25 50.
* * *
YOUR HOTEL AVIATIC/LOUISON THREE-MINUTE RADIUS GUIDE
This 3-minute radius guide mainly focuses on addresses in the neighborhood to the northern side of Boulevard du Montparnasse, with several forays onto the boulevard and one block south.
You never know when you'll need one
-Your pharmacy: Pharmacie Necker, 134 rue du Vaugirard. Founded in 1857. Closed Sunday.
-Your uplifting view from the street corner: Down the boulevard to the Eiffel Tower.
-Your scenic morning jog: Right on Boulevard du Montparnasse, right on Boulevard des Invalides to end, left on rue de Grenelle, then right across the Esplanade des Invalides to the Seine. Distance one way: 1.6 miles.
-Your public swimming pool: Beneath the Montparnasse Mall.
Your hunger and thirst
-Your comfortable corner café on a noisy boulevard: La Marquise, corner Rue de Vaugirard and Boulevard du Montparnasse.
-Your local old-time café-bar where it feels like you've entered "The Twilight Zone": Bar des Artisans down Impasse de l'Astrolabe, an alley with a funky name across Bd. du Montparnasse from the hotel.
-Your neighborhood grocery story: Franprix, 48 rue du Montparnasse.
-Your organic grocery and healthy whatnot shop: Bio Génération, 68-70 rue du Cherche-Midi.
-Your cute little fruit and vegetable stand: Le Potager du Midi, 108 rue du Cherche-Midi.
-Your classic, old-fashion, quality bistro specializing in meat dishes: Joséphine (Chez Dumonet), 117 rue du Cherche-Midi. Tel. 01 45 48 52 40.
-Your cozy bistro and tearoom: L'Horloge, 72 rue du Cherche Midi.
-Your basic neighborhood bistro sans chi-chi: Bistrot des Amis, 67 rue du Cherche-Midi.
-Your sweet little lunch and tea room: Mamie Gateaux, 66 rue du Cherche-Midi. Open 11:30 a.m. – 6 p.m.
-Your light Berber-leaning lunch and tearoom: Chez les Filles, 64 rue du Cherche-Midi. Open noon – 6 p.m. "Berber Brunch" served Sunday 12:30-5:30 p.m.
-Your delicious, Paris-priced cupcakes: Synie's Cupcakes, 123 rue de l'Abbé Grégoire. There's a cake shop, L'Atelier des Gateaux, next door.
-Your neighborhood chocolate shop: Puyricard, a chocolate company based in Provence that has about a dozen outlets in Provence and along the Riviera and two in Paris, one of them at 106 rue du Cherche-Midi.
-Your organic wine shop: Le Gastronaute, 117 rue du Cherche-Midi.
-Your Italian wine shop: Enoteca, 77 rue du Cherche-Midi.
-Your basic selection of ethic restaurants: Run of the mill Chinese, Japanese, and Indian restaurants around the corner on Boulevard du Montparnasse. Also large brasseries and fish/seafood options nearby.
Your notable shops
-Your Paris wedding gown: Les Mariées de Provence, 24 rue de l'Abbé Grégoire.
-Your luxury dog accessories: Dog & Design, 110 rue du Cherche-Midi. www.doganddesign.fr.
-Your second-hand clothing etc. shops: Chercheminippes, 102, 109, 110, 111, 114, 124 rue du Cherche-Midi. Yes, six different shops.www.chercheminippes.com. Open daily.
Historical notes
-Henri Queuille (1884-1970), President of France (more precisely President of the Council of Ministers) during three brief periods from 1948 to 1951, lived at 100 rue du Cherche-Midi from 1933 until his death.
-The composer Maurice Jaubert (1900-1940) lived at 98 rue du Cherche-Midi from 1931 to 1939. He composed the music for a number of famous French films, including by René Clair, Marcel Carné, and Jean Vigo, and his music was also used posthumously by Francois Truffaut. He was mortally wounded in combat during the German Blitzkrieg into northern France in June 1940.
-A museum you've otherwise never heard of: Musée National Ernest Hebert, 85 rue du Cherche-Midi, a home-museum dedicated to the artist Ernest Hebert (1817-1908).
-Rue de Vaugirard is the longest rue in Paris, running 2.5 miles through the 6th and 15th arrondissements.
-I spent a night at Hotel Aviatic in August 2009.
© 2009, Gary Lee Kraut