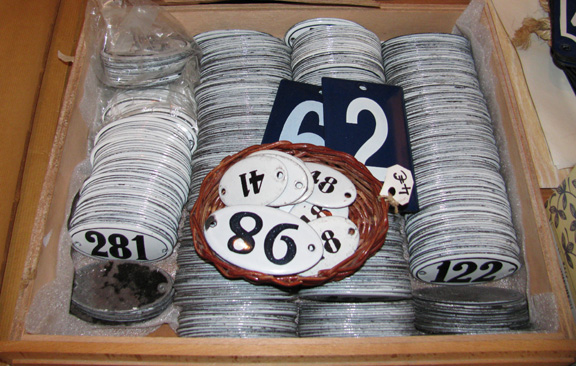 July 2009 – My favorite little shop in Paris, Plaques & Pots, one of the last living vestiges of the historical belly of Paris that was the Les Halles Quarter recently closed.
It had been a long time coming–rather, going. Selling enamel plaques, enamel street numbers, butcher's paper and pottery handmade upstairs had some time been an anomaly in an quarter otherwise devoted to cafés, clubs, restaurants, and mass fashion. I stopped by to see owner and friend Josette Samuel, below, as she got ready to move on.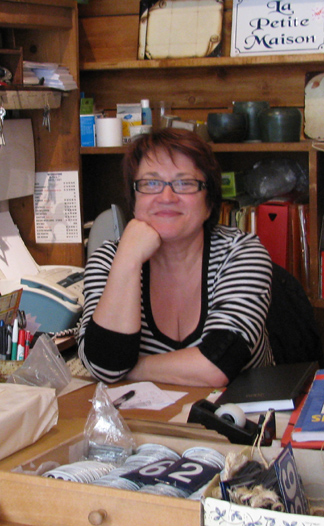 Her shop was one of the last authentic remnants of Les Halles, even if for some time already it had been a vision of the passing of time in the quarter as it pursued its drive to urban uniformity.
The wholesale and retail food industry left this area for modern installations in Rungis, south of Paris, in 1969, so the goods sold here long ago lost their place at Les Halles. Still, I've to got applaud her stubborn gumption in taking over in 2004 the shop at 12 rue de la Ferronerie formerly called Papeterie Moderne and trying to make a go of selling old-fashion practical-cum-decorative products in a space that's probably smaller than your kitchen.
At Plaques & Pots Josette sold antique street numbers…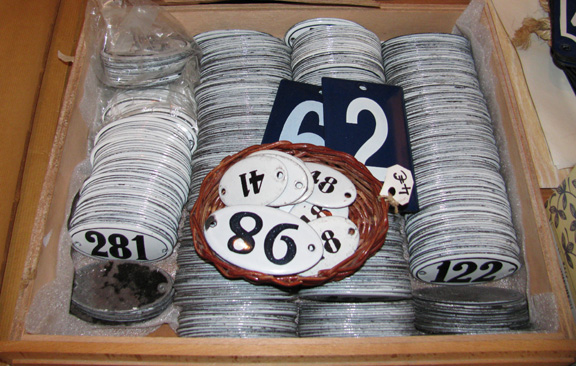 old street signs (left) and even old butcher's paper (right) that she inherited from the previous owners.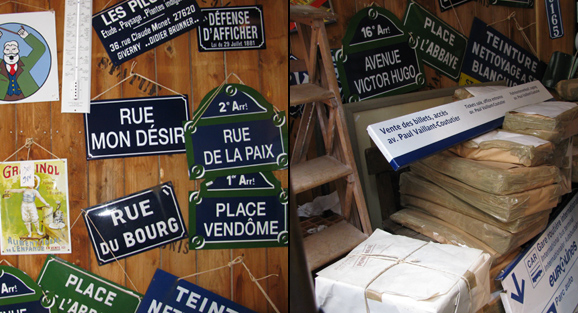 Josette added her own clay pottery to the mix.
Knowing that I've always been a fan of this shop, both in her hands and in those of the prior owners (whom I first interviewed in 1991), Josette gave me this green pot as a farewell-to-the-boutique gift. Handmade in the Les Halles Quarter.
Several other vestiges of Les Halles from its by-gone centuries as the center of the food trade in Paris continue to hold their own. Among them:
– E. Dehillerin, a family-operated store for kitchen and pastry utensils and cookware, 18-20 rue Coquillière.
– La Poule au Pot, a bistro with a décor dated 1935, serving traditional rustic fare including one of the best onion soup's in Paris, 9 rue Vauvilliers.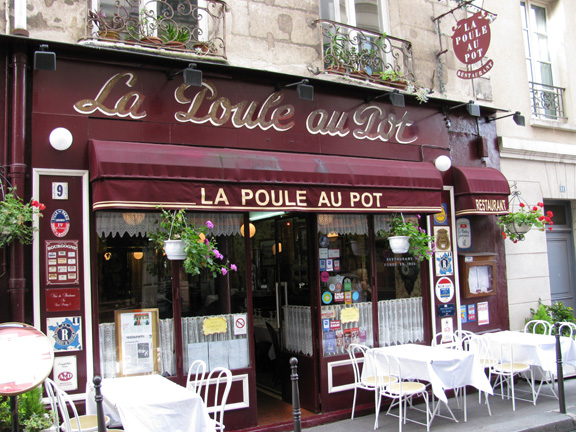 – Julien Aurouze, a family-run pest exterminator that was trapping rats around Les Halles as early as 1872, 8 rue des Halles. Those are sewer rats caught in the quarter in 1925 hanging in the window on the right below.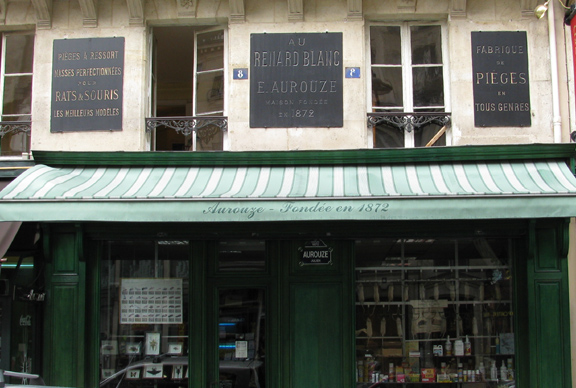 The oldest and most lasting of the remnant of historical Les Halles is the Church of Saint Eustache, 1532-1640, which may well be the most under-visited, touristically speaking, of the major churches of Paris. It's a Renaissance church within a Gothic body with great accoustics for its famous organ.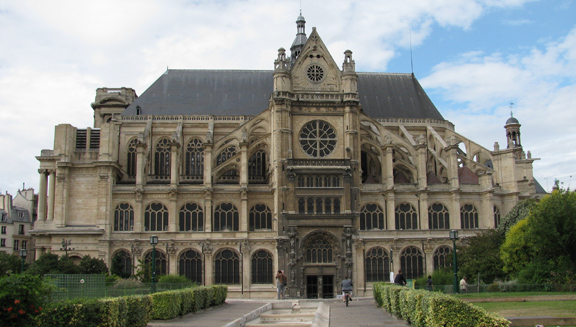 The enormous proportions of its interior are worth a look, but I've come here today to photograph one of the most endearing church sculptures in Paris, "Departure of the Fruits and Vegetables from the Heart of Paris 28 February 1969" by Raymond Mason.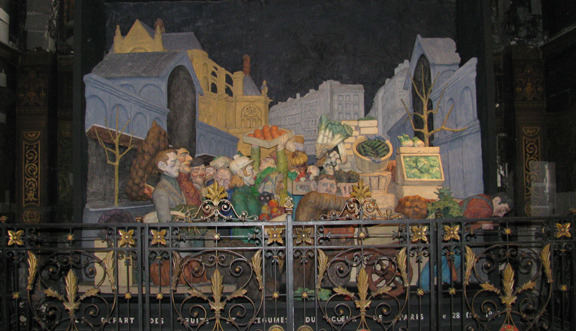 "Departure" (completed in 1971) is so fitting at Saint-Eustache not only because the central food market that had existed since the Middle Ages was the raison d'être for the church but because this is a wonderful sculptural retelling of Paradise Lost, the departure from the Garden of Eden. (Also reminiscent of the departure from Anatevka at the end of Fiddler on the Roof.) Or, as the sculptor has written of that departure 40 years ago, "It's the man of the Middle Ages that's leaving."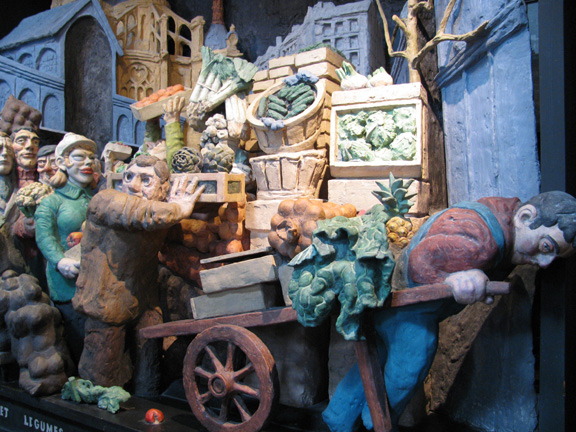 Plaques & Pots, formerly Papeterie Moderne, now joins the procession in the departure of signs and numbers from the heart of Paris July 2009.
Wishing Josette all the best in her future endeavors.