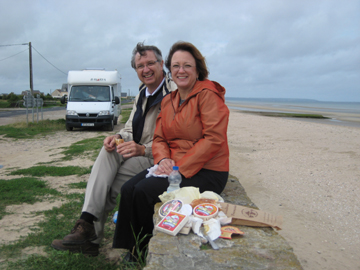 What's the best way to get to known four famous Norman cheeses—Camembert de Normandie, Livarot, Neufchatel, and Pont-l'Eveque? A cheese picnic. And if you're in Normandy for D-Day touring then make that a cheese picnic at a Landing Beach.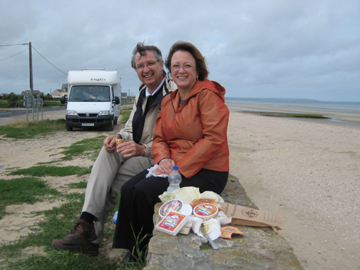 That's exactly what I did while visiting the Landing Zone then with Tom and Cathy Fuller of Atlanta, Georgia. Along a seawall near Ravenoville, a few miles north of Utah Beach, we unwrapped four ripe cheeses and tore apart fresh baguettes and… continued the war tour.
The Utah Beach landing site was actually intended close to where we sat, but tides and misnavigation pushed the initial waves of troops a mile south from the intended site. Despite the confusion that ensued, that was actually to the American's advantage since German artillery pieces were positioned just a couple miles from our picnic wall.
Outside of July and August, this part of Normandy appears quite desolate for much of the way up the coast toward Cherbourg, which about 35 miles away.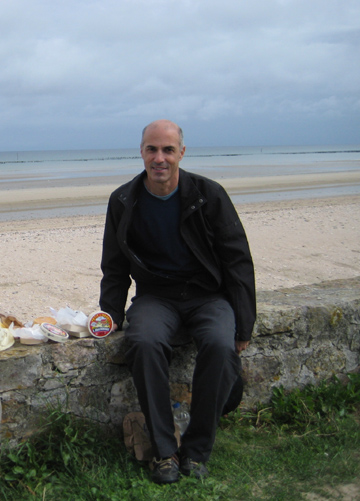 Here I am, same place, same cheese, same picnic. In the background a view of how far water draws back at low tide.
The first landing craft arrived at Utah Beach at 6:30 a.m., at low and rising tide, on D-Day. The major German battery at Saint Martin de Vierville that would have posed great danger to landing operations at Utah had been destroyed by sunrise. The other German positions along the landing site were silenced or surrendered by 9 a.m.
Of the 20,000 Americans who landed that day 197 were killed in action and 60 missing, making this the least bloody of the five Landing Beaches. It was also the most successful in terms of reaching and maintaining the day's objectives.
The black line you see just offshore are part of a mussel farm. Closer to Utah Beach, and better known, is the Utah Beach oyster park. To learn more (in French) about Norman oysters click here.
Written with fond memories of Norman oysters, Norman cheese, war touring and a picnic by the beach.