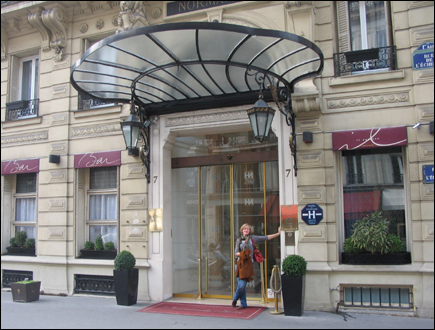 This review is specifically written for travelers who would like to stay in a 4-star hotel in Paris but have a less stellar budget. It's a review of a hotel that has seen better days but that still displays enough of its grandeur at an address that shouts "location, location, location" to warrant looking into when in the search for a central hotel at a 3-star price.
In April, I accepted to be a France Revisited guinea pig and test the Normandy Hotel for a weekend in Paris, where I was rendez-vousing with two cousins from America. My assignment: Have a good time, meet Gary (editor of France Revisited) for lunch, send an honest hotel report.
The hotel has a must-be Right Bank location, especially if it's your first time in Paris. You're within a few blocks of the Louvre, Place Vendome, Opera Garnier, the Tuileries Garden, window shopping galore, many restaurants (naturally tourist-leaning), and several convenient metro lines. I'd been to Paris a number of times before but this was a first for the cousins. But no matter how many times you've been in Paris, you can't go wrong when you're staying in a hotel where there are about six gourmet chocolate shops within a five minute's walk, including the famed hot-chocolate venue Angelina. So the fun part was assured, as was lunch with Gary (a Japanese restaurant on rue Sainte-Anne, see the 2-Minute-Radius Guide that follows below this review). Now for the honest hotel report.
The Normandy Hotel is a former grand hotel that has clearly seen better days and that is biding its time while awaiting the corporate go-ahead for a thorough refreshing. So I'll begin with the conclusion: if you're looking for a good price on a central-as-can-be hotel that clearly has history and don't mind a haphazard, somewhat worn décor then you've come to the right place. The cousins and I felt that we'd come to the right place.
The Normandy Hotel, like the other large hotels near the Louvre and the Tuileries Garden (Meurice, Ritz, Louvre, Westin, etc.), was built to cater to the British clientele who would arrive in Paris after debarking in Normandy. It opened its doors in 1877. The overwhelmingly British clientele of the period also explains why this is called the Normandy Hotel rather than the French name and spelling Hotel Normandie.
We were able to check in early, which is another advantage of choosing recession-era travel since hotels are less likely to glower at you for arriving even a minute before check-in time. However, oddity number one, we checked in at the reception, but then we received our key at the concierge's desk on the opposite side of the lobby, as though following some 19th-century logic. Not a problem per se; it just seemed strange. The concierge was always helpful and best of all there was a distinct lack of snobbery in his attitude. Same goes for other members of the staff. In general, service was fine.
Though in need of refreshing, the Normandy really is quite appealing in a 19th-century sort of way, a welcome change from the modern minimalist hotels that have you trying to figure out what some Philippe Stark-like contraption is doing in your bathroom or wondering where they hid the TV and the mini-bar.
The décor throughout the hotel is a comely mix of French styles, with a clear longing for the Belle Epoque of the late 19th century. I didn't notice the styles at first because I was immediately struck upon entering the lobby by two chandeliers, a mix of art deco boldness and Florida resort opulence, looking for all the world like big, ungainly slabs of cut glass stuck into wood. They were undoubtedly once a sign of elegance, but now they mostly look like suicide tools for spurned lovers. Gary commented that sometimes the point of decoration in a hotel (or a resort) is simply to be noticed and to let you know that someone had to be awfully careful hanging the damn thing. I did, however, like the circular marble staircase at the back of the lobby, leading to the room; it reminded me of European museums that you visit as much for the space as for the art.
The part of the hotel that truly exudes luxury is the breakfast room. That's in part because it's the one area of the hotel that has been restored since it recently made an attempt at being a chic Italian restaurant. It didn't quite have the right sauce for that, so the restaurant closed, but it makes for a stunning breakfast room with its high ceiling decorated with the gilded initials of the hotel, NH. The breakfast buffet served there was typical and plentiful, including eggs, bacon and sausages for the Americans, cheese and sliced deli meats for the Germans and wonderful croissants, pastries and cereals for the French.
Though the hotel is no longer defined by its British travelers, the bar still leans stiffly to England with its dark wood and stuffed leather chairs. As with many English-style bars it comes off as a rather masculine place. Unfortunately, the cousins and I didn't find any men there, by which I mean barmen, since it was always closed when we rolled in after midnight with thoughts of a nightcap. That may be the natural result of staffing shortage in a delightfully faded hotel, or perhaps just someone's way of telling us that we'd had enough and should go straight to bed.
We had modest rooms that were ideal for our needs and budget. The bedding in our rooms was superb and everything was clean. Bizarrely, all rooms come with two heaters; the real heat comes from the heater/ac floor unit that, quite frankly, is not pretty and takes up valuable floor space in the more modest rooms. What were the vents in walls near the ceilings for, I wondered? Bizarre point number 2: my room came with a whirlpool bath, but there was no way to turn it on. Someone had sealed up the controls. Now, I did not ask for a whirlpool bath when reserving the room, and I was simply excited at the prospect of having a bath—my apartment in Nice only has a shower—but I was a bit disappointed to find that the whirlpool bit did not work. The bath though was heavenly. A white, fluffy robe completed the bliss.
On a tour of the hotel with Gary and the hotel's assistant director, I also visited three different junior suites, all spacious, airy and decorated in 19th century British or French style and colors; the ceilings were tall and had the original cornices. We sometimes had our doubts about the details but didn't mind the old-fashion atmosphere. The décor in some rooms is a bit threadbare and faded; not in a way that put me off, but it was obvious that the hotel group that operates the Normandy had also sealed up the knobs that control the flow of refurbishment money. Though the assistant director assured us that funds were on their way, she just couldn't say when.
The rack room prices posted on the back of bedroom doors run about 300-500 euros but that's just someone being hopeful. Gary and I decided that as the hotel now stands (spring 2009) the Normandy Hotel is a worthwhile choice for travelers if you can get a room for under, say, 180 euros (under $250 at the current exchange rate), and a very good chose at under 160 euros for the standard room, perhaps up to 190 euros more for those worn yet spacious junior suites.
For travelers not on a 4-star budget, let's hope that the funds don't flow anytime soon so as to take advantage of current pricing as found on the hotel's website and further discounted on sites such as Expedia. Breakfast may or may not be noted as being included in the indicated price, but when contacting a hotel directly, there's never any harm in asking them to include breakfast in that indicated price.
Allow me to repeat my conclusion mentioned above: if you're looking for a good price on a central-as-can-be hotel that clearly has history and don't mind a haphazard, somewhat worn décor then you've come to the right place. We did.
Normandy Hotel. 7 rue de l'Echelle, 1st arrondissement. Metro Pyramides or Palais Royal. Tel. 01 42 60 30 21. www.hotel-normandy.com. The Normandy is part of the Hôtels de Paris group of hotels, www.leshotelsdeparis.com.
© 2009 Stephanie Sommers
Your Normandy Hotel Two-Minute-Radius Guide
By Gary Lee Kraut
Half your guidebook is filled with sights and museums within a mile radius of the Normandy Hotel, so plenty to discover on foot from here. The quarter might be defined by tourism and luxury but that doesn't make it any less a neighborhood. Here is the two-minute-radius guide for the neighborhood.
Places to keep in mind for:
Your morning jog: Tuileries Garden. See Paris on the Run, an article joggable garden and parks in Paris.
You introduction to the business of operating a café-brasserie: Le Musset Café, 5 rue de l'Echelle. There's no better introduction to witnessing how things operate in a large café-brasserie in Paris then sitting at any time of day at the copper counter across the street from the hotel.
Your gas station if you forgot to fill the rental car before entering Paris: Esso, 342 rue Saint Honoré
Your grand view: Standing on Avenue de l'Opéra with a view of the Garnier Opera, the Comédie Française, the Hotel du Louvre, the Louvre, and the metro entrance circa 2000.
Eating and Drinking
Polished bistro: L'Absinthe, 24 place du Marché St Honoré. Tel 01 49 26 90 04.
Old-fashion wine bar: Le Rubis, 10 rue du Marché St Honoré. Tel 01 42 61 03 34.
Japanese restaurants: Rue Sainte-Anne, on the opposite side of Avenue de l'Opéra, is full of Japanese restaurants since food-wise it is Paris's Little Japan.
Charming little café terrace: Le Passage Saint Roch, 15 rue des Pyramides.
Chocolate: Michel Cluizel, 201 rue St. Honoré. As mentioned in the review above, there's more chocolate beyond the 2-minute radius, including hot chocolate at Angelina, the famous tea room.
Fine hotel bar, when yours is lifeless or closed: Hotel du Louvre, Place André Malraux. The Hotel du Louvre was the first luxury hotel of Paris when it opened in 1855 at what is now the Louvre des Antiquaires, across the square from the current location, which opened in 1887. The hotel is mentioned in several of Arthur Conan Doyle's Sherlock Holmes stories. Sigmund Freud stayed here in 1910 while trying to figure out the relationship between Mona Lisa's smile and Leonardo de Vinci's childhood.
Also in the 'hood
Unique boutique: Le Comptoir de l'Aviation, 3 rue d'Argenteuil. Articles for aviation enthusiasts. Tel. 01 42 60 26 66.
Oh la la!: L'Abys, a swinger's club at 13 rue d'Argenteuil.
Museum: Musée des Arts Décoratifs, 107 rue de Rivoli. Click here for museum site. Click here for article about its permanent collection on France Revisited.
Historical notes
Famous Frenchmen entombed nearby: Pierre Corneille (1606-1684), playwright; André Le Notre (1613-1700), father of French gardens; Charles de l'Epee (1712-1789), abbot who codified sign language; Comte de Grasse (1722-1788), count who fought in the American Revolution, notably the Battle of Yorktown, and who is honored by a plaque placed by the Cincinnati Club of France in 1931. The tombs of these men are found in Eglise Saint-Roch, corner rue St. Honoré and rue St. Roch. St. Roch is a handsome parish church whose first stone was laid in the presence of young Louis XIV in 1653 and that was completed 70 years later early in the reign of Louis XV.
Famous Frenchwoman who lived nearby: Olympe de Gouges had a pied à terre at 270 rue St. Honoré. Born 1748, widowed at 18, she was ahead of her time as a female combatant for social equality under the monarchy and then during the Revolution. She made her voice known as an abolitionist deploring black slavery and as a feminist who drafted the "Declaration of the Rights of Woman and of the Citizen" (1789) at a time when the men expanding the Revolution were touting "Declaration of the Rights of Man and of the Citzen" (1791). She famously declared that if a woman has a right to climb the scaffold (i.e. go to the guillotine) she has the right to climb the rostrum (i.e. to speak out). During the Terror she spoke out against the dictatorship of those who had taken power and of the need for greater democracy, which led to a cursory trial where she wasn't allowed to be represented by a lawyer, and the "right to climb the scaffold" in November 1973.
Stephanie Sommers spent two nights at the Normandy Hotel, April 2009
Two-minute-radius guide © 2009, Gary Lee Kraut