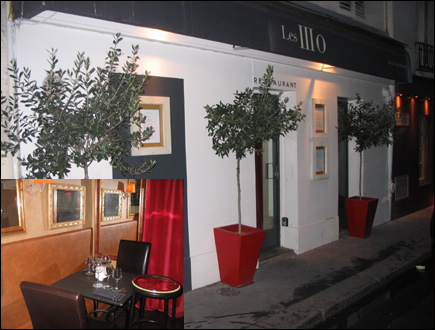 Mystery Cuisine (formerly Les III O), a confidential little restaurant near Palais Royal in the center of Paris, has the feel of an exclusive swingers club: intimate, theatrical, its offerings a luxuriant mix of chemistry, quality, and craft. That doesn't mean that you'll eventually be sharing a bed with the couple at the next table, only that you and they are bound to exchange knowing smiles.
With seating for only about 10-14 diners in a well-finished, two-room cave, Edouard Desrousseaux De Vandière's quirky and highly personalized restaurant will hold special appeal to adventurous romantics open to gastronomic seduction.
Experiencing the adventure of Mystery Cuisine isn't so much about what you want but about what you'll find, so even though I've eaten here several times I'd rather leave the details of the plate for diners to discover on their own. That may sound unfairly vague for a restaurant review, but either you arrive chez Edouard with a sense of adventure or you go elsewhere. (There's a decent Thai a couple of plants further up the street).
Suffice it to say that Edouard uses fine products in preparations that are at once distinctly French and clearly contemporary, while Vietnamese influences and molecular cuisine add to the mystery. Aiming for balance, harmony, and surprise, his dishes take the form of skipped stones across a pond or exotic insects on a banana leaf.
I don't think of the dishes served here as high cheffed so much as thoughtfully prepped, which is what allows Edouard to be so present the dining room throughout the meal. That owner-chef tableside presence is a significant part of the attraction of Mystery Cuisine since Edouard is available to explain each course—in amiable English if you like—and provide culinary theater along the way. Meanwhile, his wife Thuha stands like a Greek chorus behind the bar counter as she calmly prepares the shots and "fireflies" that introduce and close each act.
The price tag of a meal chez Edouard is about 120 euros per person for the full tasting menu, which is what I recommend. Wine is extra. That may seem elevated to those with a notion of more traditionally elegant dining in Paris. In fact, at first glance the décor exude only mild elegance and warmth. But that's because Edouard's Mystery Cuisine offers a form of private theater, where the gastronomic curtain opens only after you've taken a seat.
Viewed in a certain light Edouard's gastronomic cave might feel gimmicky, but arrive with an open sense of adventure and you'll leave with an enormous feeling of delight, knowing smiles all around.
© 2009, 2011 Gary Lee Kraut
Mystery Cuisine. 37 bis rue de Montpensier, 1st arrondissement. Tel. 01 40 20 03 02. Open evenings only, Tuesday-Saturday. Dress code: whatever the description above inspires.