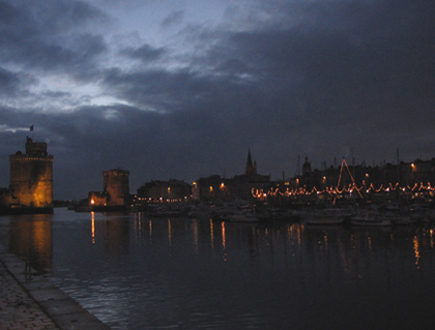 I've just checked into a mundane hotel in La Rochelle, a port town for all seasons situated along the Atlantic between Bordeaux and the Loire, three hours from Paris by train. I set down my bags, verify that my room overlooking the trashcans is quiet, suitable, and heated, and then go out.
I am not a seafaring man. My ancestors took several billions of years to evolve from the deep; I see no reason to go back. But give me a safe old port town on a misty evening, even on a cold winter's night like this, and I'll wander about for hours as if looking for chance.
It's Friday evening, late December. Church bells have just rung 6 o'clock. The streets are full of townies, visitors from the countryside, and Brits on holiday.
This is my fourth or fifth visit to La Rochelle in the past 15 years. I've visited in different seasons; I've stayed in several of its better hotels and now one of its lesser; I've come on a romantic getaway, on a weekend writing retreat with a friend, and on a press trip. The love lapsed, the writer friendship cooled, and the book long out of print, the only trace I have of those visits is my fondness for wandering this town.
This time I've come for a 24-hour portside pause before my good friend Didier comes to pick me up to spend a few days with him, his wife, and their three little girls in the flat, soggy landscape of Vendée to the north of La Rochelle.
Despite the cold, or perhaps because of it, I'm looking forward to those countless steps that are necessary to find the perfect place to come in from the cold—steps of indecision that no lover, or friend, or press attaché would endure. Having company requires making decisions, otherwise someone is sure to get edgy. Solitary wandering thrives on indecision, edgy comfort being one of the rewards of such travels.
The shops are busy and brightly lit, the weekenders have arrived, young folk are text messaging where and when to meet, little kids are getting cranky, lines form in the bakeries, and no one stops at a stand of local writers selling their wares at the little square in the pedestrian zone.
I speak with one of the writers long enough to feel guilty that I'm not going to buy his murder mystery that takes place on Ile de Ré, an island two off the coast, and so promise him that, not wanting to carry a book around with me all evening, I'll be back tomorrow. "I'll be here," he says, well aware that I won't.
I enter the courtyard of City Hall, the centerpiece of the Old Town. A dozen others mill about examining the details between the showy crenellation of the outer wall and the decorative stonework of the arcades. I find the details that I remember from previous visits: there's Prudence, there's Justice, there's Force, there's Temperance adding water to her wine; there, decorating a keystone in the corner, is the sculpted head, circa 1600, of an American Indian child with headdress. There's the ceramic statue of Henri IV, France's Protestant-cum-Catholic king, overlooking the courtyard.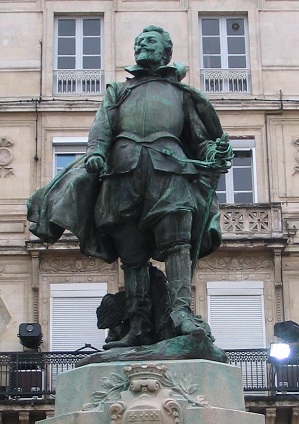 There on the square outside City Hall, stands a statue of the mayor during the latter half of the great siege of 1627-1628, Jean Guiton, chin forward, right fist clenched, left hand on his sword.
I walk on through the Clock Tower to the Old Port and leave the crowds for a nighttime view from the other side of the port, where I see La Rochelle's three main medieval towers and the lights strung along the waterfront. There's the Chain Tower and the Saint Nicolas Tower at the entrance of the port. There, further back, is the Lantern Tower, one of France's oldest surviving lighthouses.
I'm cold. I should go inside somewhere. I head back to the active side the port then walk up rue Saint-Jean-du-Pérot, La Rochelle's main restaurant row, where tables are beginning to fill. The end of the street is like a barrier beyond which no pedestrians venture on this cold night. I continue on though, past Richard Coutenance, the town's premier restaurant, past the small zoo I know to be back in the dark in the park, and over to Le Mail (The Mall), the long stretch of lawn bordered one side by a row of elegant homes and apartments and on the other by a hedge of bushes and trees. Behind the bushes there's a beach. I stand there for a minute in the bone-chilling damp looking out to the estuary at night. No, I am not a seafaring man. I return to Le Mail.
I look into the restaurant also called Le Mail. The restaurant is stunningly Hopperesque at night, full of light and grief and solitude and warmth. A wonderful sight, as well as a nice place for ice cream, I remember, on a sunny day.
Across The Mall there's a casino. I go in. I show my passport, as one must when entering the gaming room of a French casino. It's too early in the evening for the tables to be open, just the slots.
Thirty minutes later I leave the casino disappointed, not by the loss off 10€ in the slots but by having guessed so wrong in the oyster weighing contest. This is how it went: Two men rolled a cart through the slot machine zone, stopping every few feet to invite gamers to lift the wide tray on which there was a basket of local oysters and to guess the weight to three decimal places. When it came to my turn I guessed 11.250 kilos. The true weight, announced 10 minutes later, was 7.325. I kicked myself because as I saw the cart coming down the aisle of poker slot machines I imagined that it would weigh about as much as my cat, who weighs about 5.5 kilos, to which I could add the weight of the tray, which I guessed to be a little less than two kilos. If I'd done that I would have been very close. Instead I'd picked it up and said 11.250 kilos.
I console myself by imagining that I wouldn't want to be carrying around a box of oysters anyway. After all, I hadn't even wanted to carry around a murder mystery by a local author. But if I had won the oysters I would have taken them back to the hotel and then given them to my friends tomorrow—they would have liked that.
I return to the hotel anyway to put on a second sweater then head back out.
I have a pint in a bar on the port where the bartender and I watch without commentary the World's Strongest Man competition on TV.
I have a second pint in a bar on the far end of the port where everyone is half my age and seems to be anticipating the smoking ban set to go into effect in three days by smoking incessantly. I didn't want the second pint, I just wanted to go into that bar because it might be the last smoky bar I enter before the ban goes into effect; I would remember it that way, as former smokers will remember where they were when they had their last cigarette. The people are quite friendly in here, as am I, so that I'm almost tempted to order another beer, until I remember three things: I'm looking forward to the smoking ban, two beers is enough for me, food is important in France.
I examine every menu along the port and on rue Saint-Jean-du-Pérot, the town's premier menu trolling street. I examine them again. And finally enter a restaurant because I like the placement of an empty table.
There are three couples nearby: two late teens on a first date that appears to be going exceedingly well; an English couple in their mid-30s examining the menu and looking about the room as though surprised to find that they'd been teleported here from their local pub; a French couple in their mid-50s who may have been the model for The Eagles' "Life in the Fast Lane."
I take notes. I eat well.
Then I return to Le Mail, past the Hopperesque restaurant of the same name, and back into the casino.
There are lots of people there now. The two roulette tables and two blackjack tables are fully occupied and surrounded by dozens of onlookers. I hear five languages: French, English, Dutch, Arabic, and something being muttered by a woman to a man whom I replace when he gets up empty-handed from the roulette table.
I don't really want to play, just to sit there, but as I did with the second pint I get some chips. They're green.
Soon enough I find myself thinking numbers, as one inevitably does, twos and threes in this case. For over an hour my stacks of chips rise and dwindle like better judgment, and just before they're extinguished I share my last 15 chips between the numbers 2, 3, and 27.
The winning number is 23.
If I'd followed my instincts a little more I'd now have a basket of oysters, a lot of green chips, and possibly a murder mystery signed by a local author. Instead I have a long, cold walk back to the hotel.
© 2008 by Gary Lee Kraut