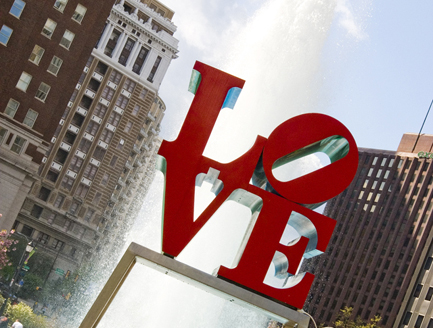 There's no single must-do approach to traveling overseas, even less so to an extended stay abroad. The 11 portraits, some joint, that follow reveal the various ways in which individuals have found and made their personal connection between the City of Light (la Ville lumière) and the City of Brotherly Love (la Ville de l'amour fraternel).
1. Benjamin Franklin. A worthy goal of every native English-speaker traveling to Paris would be to channel his or her inner Benjamin Franklin, the Franco-Philadelphian par excellence. That's how I contacted him for the purposes of this article. There's much to be learned from Franklin's wiliness, wisdom and ambition, yet one of his great lessons to a traveler is that it's possible to enjoy the snobbery of good-living in Paris without actually being a snob oneself. Not an easy thing to do since possible to get so caught up in the etiquette of the heirs to the French Court that you begin advocating "the French way" like a sermonizing fundamentalist, to the detriment of the humanist approach that is at the root of most rewarding foreign encounters. Franklin, who lived in France from 1777 to 1785, knew the rules of high society and could be opinionated in his own right, but he managed to charm Parisians and the French on his own terms. Click here for France Revisited's article about Franklin's time in Paris.
2. Heather Stimmler-Hall, author of "Naughty Paris: A Lady's Guide to a Sexy City," grew up in the Philadelphia's western suburbs (Norristown, Skippack) and has lived in Paris since her early 20s. She has fond memories of soft pretzels bought on the side of the road, tomato pie from Italian bakeries, Philadelphia-made Tastykakes, the King of Prussia Mall when it was just one building, and cheese steaks from Palermo's in Blue Bell. As a teen she ventured into downtown Philly to hang out at South Street and Chinatown because they didn't card there at the time. Heather's adult life has largely been spent exploring Paris by day and by night, walking her dogs, and writing extensively about the pleasures and possibilities of Paris. See this interview with Heather.
3. Raphaël Dana, originally from Lyon, went to Philadelphia for six months in 2001 as part of an exchange program for young lawyers between the Lyon and Philadelphia Bars. At 23, he found the city so welcoming and friendly and the work so interesting that he stayed on for another six months. He worked at the law firms Duane Morris then Reed Smith. "The best year of my life," he told me. "I met tremendous people there and am still in contact with most of them." Upon his return to France, Raphaël pursued his law career in Paris. Despite fond memories of the people and the streets of Philadelphia and of the city's great farmer's market, Reading Terminal Market, he admits that it was nice to return to French food and particularly to the variety of French cheeses. Practicing business law, he is a partner at Sarrut Avocats, where he does a significant amount of work in English for international companies doing business in France.
4. Henri, a friend of mine who asked that his last name not be used, is as cultivated, refined, and depressed as any Frenchman you would hope to meet. He is also deeply intrigued by American life. Like Raphaël, Henri went to Philadelphia when he was 23, though in Henri's case that was in the 1980s, when he spent two years in Philadelphia at Wharton, the famed business school at the University of Pennsylvania. In addition to confirming his faith in the free market and the belief that when possible one should work for oneself, it's hard to say how his American experience influenced his life since so much of it seems to be spent dreaming of 18th-century European nobility. Still, he's told me many times that he became a man in the City of Brotherly Love, and though I'm not sure precisely what that means in his case, I suspect that it's something he carries with him to this day.
5, 6. Paul Kleindorfer, Wharton's Anheuser-Busch Professor of Management Science (now emeritus) took the reverse commute when he and his wife Stephanie came to France on sabbatical for the 1999-2000 academic year. As their stay came to an end they vowed to return, and in 2005, after more than 30 years in Philadelphia, they sold their home, packed up, and moved to Paris, where they settled into a "deliriously happy" life in the 6th arrondissement. Stephanie, having worked as a clinical psychologist in Philadelphia, has since become a registered psychologue in France, working for English-speaking clients. Paul, retired from Wharton, is currently doing research and teaching on the area of sustainable development with INSEAD, one of Europe's premier graduate business school, in Fountainebleau. Despite the Anheuser-Busch of his Wharton title, Paul prefers good French wine over beer.
7, 8. Ann Armour and Philip Rakita were living in New Jersey working for separate companies in the chemical industry when, in 1989, Philip was offered a position in the company's headquarters in La Defense, the corporate-heavy suburb of Paris. Ann then inquired about and obtained an assignment there from her company. What they expected to be a 3-4-year assignment for both of them turned out to be a long-term love affair with Paris. When Philip was transferred to Japan in 1992, Ann opted not to take on the role of the "trailing spouse" without work. Too involved in her Parisian life to give it up just yet and looking to put her evolving insights to work, she stayed on. After fulfilling her initial work contract with the chemical company, she switched gears and, with two other Americans, started a company teaching English and business communications skills to French executives. "Dealing with different legal systems, human resource approaches, and starting your own business overseas, tests your ability to cope," says Ann. "I absolutely loved it." Phil returned to Paris after two years in Japan, then in 1997 they moved to Philadelphia's Society Hill neighborhood, secure in the knowledge that they could return often to Paris since by then they owned an apartment here. In 2006 they moved to western North Carolina, where they work together through Armour Associates, a consulting firm in the chemical industry. They continue to make frequent trips to Philadelphia and to Paris, two "very attractive places to go back to," says Ann.
9. After a career as an engineer, Philippe Simionesco (pen name Simiot) took up the mantle of historical fiction started by his father Bernard, who published under the last name Simiot. Bernard created the fictional Carbec family of Saint Malo (Brittany), whom he followed in his first two novels (Ces messieurs de Saint-Malo, Le Temps des Carbec) through important moments in French history in the 17th and 18th centuries. In the third book, Rendez-vous à la malouinière, he leapt to the first half of the 20th century, before returning in book four, Carbec, mon empereur, to the Napoleon and post-Napoleon years of the early 19th century. In 1815, Napoleon's definitive exile led some of his supporters to find haven in the United States, including the fictional Carbec. As Bernard's pen weakened, Philippe took up the project and completed that fourth book, therefore signed Bernard et Philippe Simiot. And so began Philippe's Philadelphia connection as he followed Carbec overseas to do research. He then pursued the saga on his own with Carbec, l'américain. During his research he encountered a real figure in Franco-Philadelphia history, Etienne-cum-Stephen Girard, a Frenchman from Bordeaux who became one of the first U.S.-made millionaires. Stephen Girard then became the narrator of Philippe's most recent historical novel, Le banquier et le perroquet (2006), written in the form of Girard's diary. The title translates as "The Banker and the Parrot," however the book is available only in French (published by Albin Michel, now in Livre de poche). Girard eventually willed his fortune to the city and causes of Philadelphia (particularly Girard College), to the consternation of his cousins in Bordeaux.
10, 11. No Franco-Philly round-up would be complete without a love story. And this one has the added spice of being a Germano-Franco-Philly love story. In 1960, Michael Rutenberg, from Philadelphia, met Brigitte, from near Dusseldorf, when they were both students in Paris. In 1961 Brigitte moved to Philadelphia, Brigitte became an artist, Michael a lawyer, they married, had children, and for about 18 years, as their children were growing up, they summered in the south of France and frequently visited friends in Paris. In 2007, approaching a 50-year love affair with Paris and with each other, they purchased (with a partner) an apartment in the 3rd arrondissement that they now use whenever possible. Brigitte is currently working on her own series of portraits inspired by faces encountered in France. She told me that what she has always appreciated about Paris is that "Parisians know how to enjoy their city." Apparently Philadelphians know how to enjoy it too.
© 2009, Gary Lee Kraut